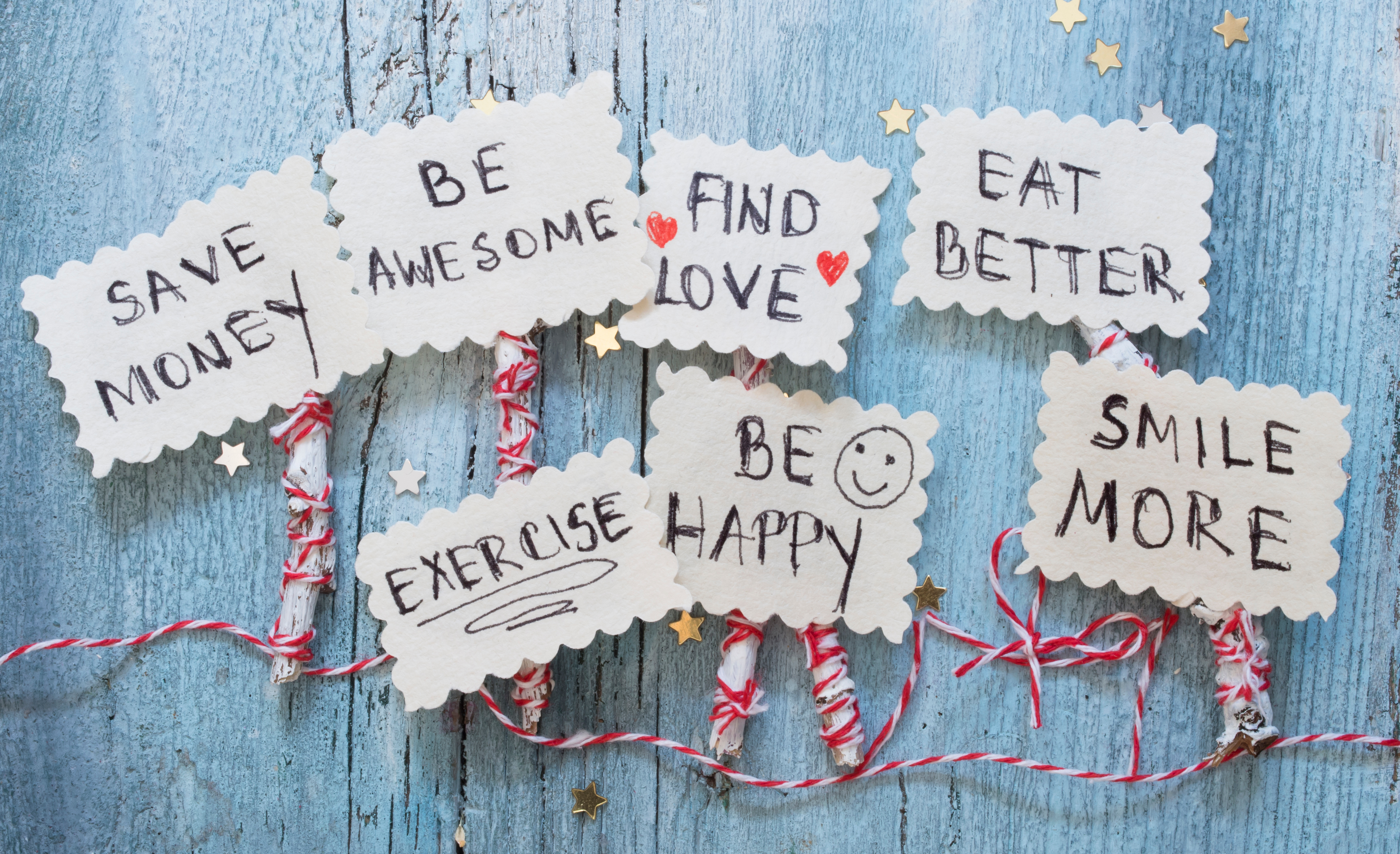 Pre-reading questions
I will read each question. Then, please answer them.
講師がそれぞれの質問を読むので答えましょう。
Do you have resolutions for this year?
Do you believe in New Year's resolutions?
Vocabulary
I will read the words, meanings, and sample sentences. Then, repeat after me.
単語、意味、例文を読みます。講師に続いて音読しましょう。
achieve /uh-CHEEV/

[verb] – to succeed in finishing something or reaching an aim, especially after a lot of work or effort
Sara finally achieved success in the art industry.

goal /gohl/

[noun] – an aim or purpose
Shin's goal is to be a doctor.

divide /dih-VAHYD/

[verb] – to (cause to) separate into parts or groups
Please divide the documents into smaller parts.

mistake /mi-STEYK/

[noun] – an action, decision, or judgment that produces an unwanted or unintentional result
There's been a mistake with my home address.

the key to (something) /thuh kee too/

[idiom] – the best or only way to achieve something
The key to being healthy is eating fruits and vegetables.
Article reading
Please read the whole article. Then, I will check your pronunciation and intonation.
記事を音読しましょう。講師はあなたの発音とイントネーションを確認します。
The new year is the perfect time to rebrand, refresh, or reset. How can we set goals that are easy to achieve?
Make value-driven resolutions
It's easier to stay focused on your goal if it matches your priorities. Ask yourself: What is the most important thing in life?
Be specific with your goals
Be more specific when setting goals. For example, if you want to do more volunteering, think about the day, time, place, length, and mode of transportation.
Break down your resolution into smaller goals
Major changes can be challenging. Divide your resolutions into smaller tasks so they're easier to do.
Reward yourself
If difficult experiences are rewarded, they feel more enjoyable. If you plan to read more, reward yourself with a delicious drink when picking up a book. Or treat yourself to sushi after a yoga session.
Be prepared
See mistakes as chances for growth rather than failure. Keep in mind that persistence, not perfection, is the key to achieving your goals.
Make a detailed list of your goals, and don't let failures stop you from moving forward!
True or False:
Read the sentences and identify if they are true or false based on the article.
文章を読んで、記事に基づいて正誤を答えましょう。
It is easier to be focused on your goal if it matches what you want to achieve.
Goals should be specific.
It is not good to divide your goals into smaller ones.
Rewarding yourself makes difficult challenges enjoyable.
Perfection is the key to achieving your goals.
Fill in the blanks
Choose the correct word from the table then fill in the blanks.
適切な言葉を選んで空欄を埋めましょう。
| | | | | |
| --- | --- | --- | --- | --- |
| achieve | goal | divide | mistake | the key to |
Our _______ this year is to help more children.
Education is _______ success.
I made a _______ in my order. Can I cancel it?
They were not able to _______ the target sales this month.
I'd like to _______ the students into five groups.
Listening