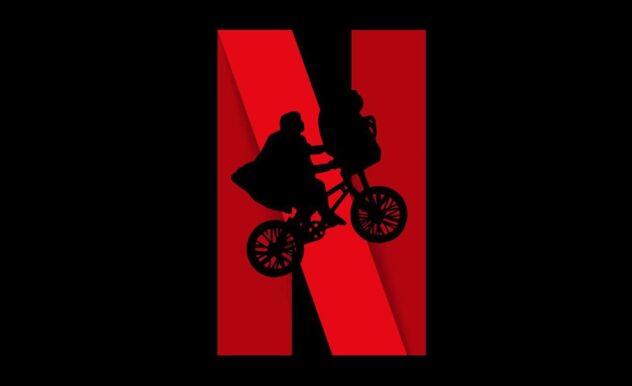 ©Chris Burns via slashgear.com
Pre-reading questions:
I will read each question. Then, please answer them.
What are your favorite movies?
Do you watch movies and/or other shows on Netflix?
Vocabulary:
I will read the words, meanings, and sample sentences. Then, repeat after me.
team up /TEEM-uhp/

[phrasal verb] – to join another person, or form a group with other people, in order to do something together
Famous sports apparrel brand Adidas teamed up with American rapper Kanye West.

partnership /PAHRT-ner-ship/

[noun] – an agreement between organizations, people, etc. to work together
Taco Bell announced its partnership with American snack brand Doritos.

producer /pruh-DOO-ser/

[noun] – a person who makes the practical and financial arrangements needed to make a film, play, or television or radio program
Kevin Feige is the leading producer in Hollywood.

variety /vuh-RAHY-i-tee/

[noun] – the characteristic of often changing and being different
A wide variety of products can be found in the gift shop.

access /AK-ses/

[noun] – the right or opportunity to use or look at something
The local government started to give free Wi-Fi access to the public.
Article reading:
Please read the whole article. Then, I will check your pronunciation and intonation.
Amblin Partners of the famous American filmmaker Steven Spielberg has teamed up with media streaming giant Netflix for several films per year. The deal does not entirely involve any movies to be directed by Spielberg, but it could bring impressive ones, depending entirely on the partnership's criteria.

Amblin Partners includes filmmakers and producers that use the banners of Amblin Entertainment and DreamWorks Pictures. It also includes Amblin Television, Reliance Entertainment, Alibaba Pictures, Entertainment One (eOne), and Universal Pictures. "At Amblin, storytelling will forever be at the center of everything we do, and from the minute Ted [Netflix's chief content officer] and I started discussing a partnership, it was abundantly clear that we had an amazing opportunity to tell new stories together and reach audiences in new ways," Spielberg said.
Amblin has helped produce a wide variety of movies besides Spielberg's, such as "Green Book" and "1917." Amblin and Netflix have also previously partnered in the movie "The Trial of the Chicago 7," which it co-produced and sold to Netflix. When his 2019 issue about being "unsupportive" of streaming innovation was brought up, Spielberg clarified that a great story is the most important and everyone should have access to great stories, whether on a small or big screen. The beloved filmmaker is also set to release "West Side Story" in December with Disney's 20th Century Studios.
Comprehension questions
I will read each question. Then, please answer them based on the article.
What is the name of Steven Spielberg's production?
According to Spielberg, what is the center of everything he and his production do?
Aside from the films directed by Spielberg, what other movies have the production successfully created?
When asked about his unsupportiveness to streaming platforms, what did Spielberg clarify?
What Spielberg movie, in partnership with Disney's 20th Century Studios, is set to release in December?
Discussion questions
I will read each question. Then, please answer them.
What types of movies do you enjoy watching?
What movie have you watched recently? Please tell me more about it.
If you were to produce a film/show, would you sell it to Netflix as well? Why or why not?
Do you agree with Spielberg's reported "unsupportiveness" against streaming platforms?
What kinds of movies should Netflix stream more in the future? Please explain your answer.