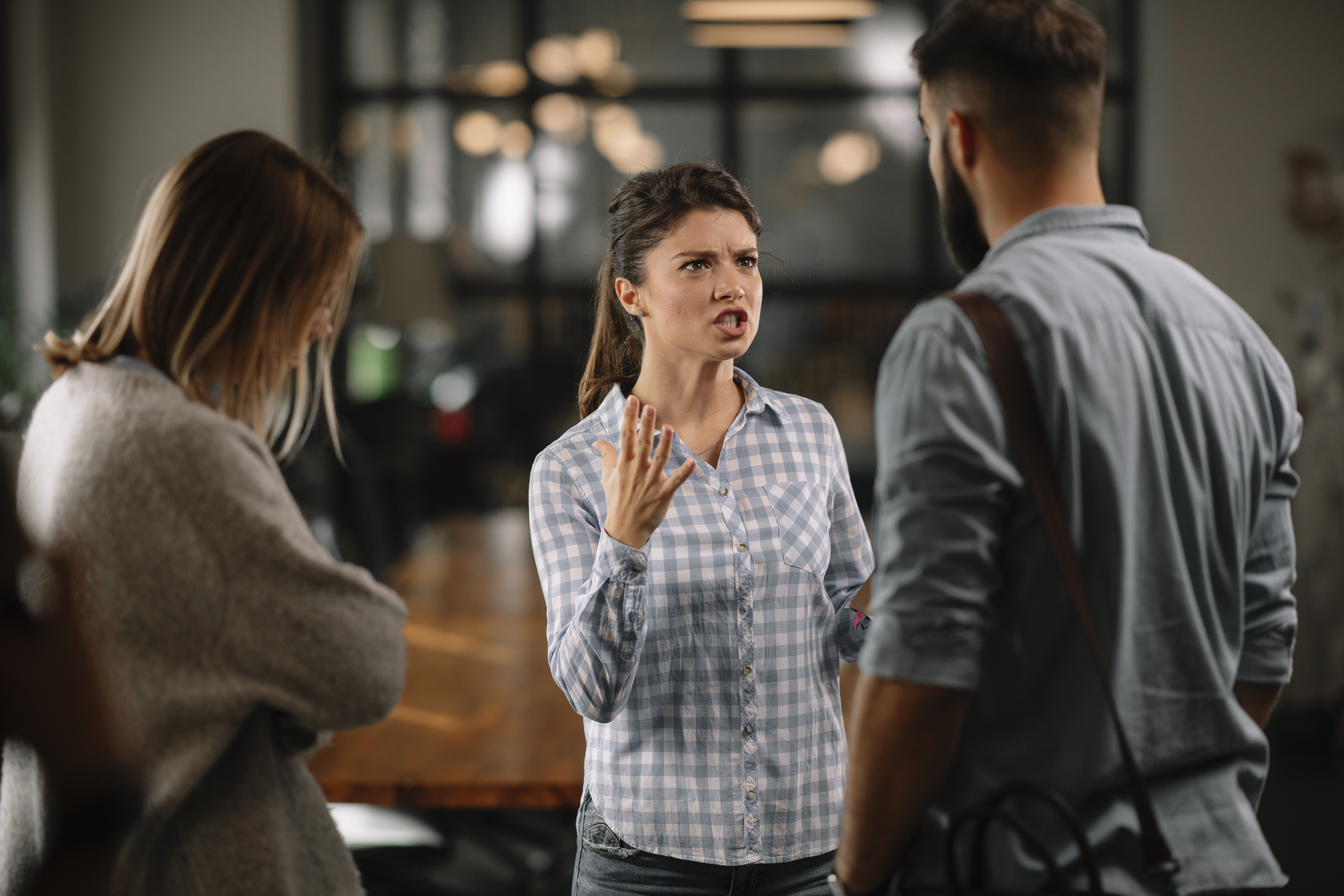 Pre-reading questions:
I will read each question. Then, please answer them.
What are some situations that make you angry?
Do you think getting angry has benefits? Why or why not?
Vocabulary:
I will read the words, meanings, and sample sentences. Then, repeat after me.
bitterness /BIT-er-nis/

[noun] – a feeling of anger and unhappiness
He explained his side of the story with bitterness.

settle /SET-l/

[verb] – to reach a decision or an agreement about something, or to end a disagreement
It's been a month but they haven't settled their argument yet.

grudge /gruhj/

[noun] – a strong feeling of anger and dislike for a person who you feel has treated you badly, especially one that lasts for a long time
Yuzuru seems to still hold a grudge against Akio.

aggressive /uh-GRES-iv/

[adjective] – behaving angrily and violently towards another person
Yuki sounded aggressive during her exit interview.

genuine /JEN-yoo-in/

[adjective] – if something is genuine, it is real and exactly what it appears to be
I'm convinced his dedication to the company is genuine.
Article reading:
Please read the whole article. Then, I will check your pronunciation and intonation.
Painful words and actions can leave long-term feelings of bitterness. We want nothing else but to get past them, but is it that easy?
Settling arguments is easier said than done. When we're holding grudges, we retaliate by playing pranks, responding rudely to requests, or talking behind people's backs. They give us a sense of personal authority over the situation but doing so brings more risks of intensifying the conflict. Lindie Liang of Wilfrid Laurier University in Canada recommends using "symbolic retaliation" to help us get over our grudges. Try writing an aggressive email to the person involved without sending it to vent your rage. But do keep in mind that this is just an outlet for your anger. No amount of vengeance can compensate for a genuine act of forgiveness. Director Karina Schumann of the Conflict Resolution Lab at the University of Pittsburgh explains that restoring self-humanity through forgiveness brings more positive feelings and emotional benefits.
"Forgiveness makes us feel more moral – that we've acted in this elevated way – and that restores our sense of humanness," Schumann added. Remember to at least have little faith in people even if you feel mistreated.
Comprehension questions
I will read each question. Then, please answer them based on the article.
According to the article, how do people retaliate when they hold grudges?
What does Lindie Liang recommend using to help us get over our grudges?
What is one example of symbolic retaliation?
What does Karina Schumann explain about forgiveness?
According to Schumann, how does forgiveness make us feel?
Discussion questions
I will read each question. Then, please answer them.
Do you keep or hide your anger inside or express it freely? Please tell me more about it.
How long does it take for your anger to disappear?
What would you do if someone mistreated you in public?
Do you agree that there are situations where we cannot forgive somebody?
What do you think are other effective ways of symbolic retaliation?
Listening: