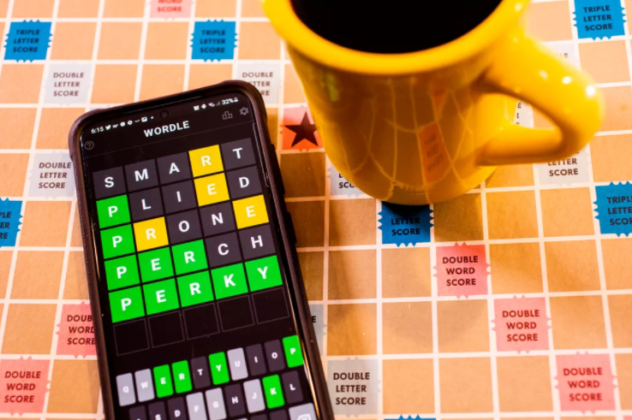 ©Sarah Tew/CNET
Pre-reading questions:
I will read each question. Then, please answer them.
講師がそれぞれの質問を読むので答えましょう。
Do you play word games?
How would you describe yourself in one word?
Vocabulary:
I will read the words, meanings, and sample sentences. Then, repeat after me.
単語、意味、例文を読みます。講師に続いて音読しましょう。
daily /DEY-lee/

[adjective] – happening on or relating to every day
Exercise has become part of my daily routine.

collection /kuh-LEK-shuhn/

[noun] – a group of objects of one type that have been collected by one person or in one place
He has a huge collection of stamps.

develop /dih-VEL-uhp/

[verb] – to invent something or bring something into existence
Johann Carolus was the one who developed the first newspaper in the 17th century.

wherein /wair-IN/

[conjunction] – in which, or in which part
Mary went to a program wherein she learned more about her country's history.

provide /pruh-VAHYD/

[verb] – to give something to a person, company, or organization, or to make it available for them to use
This study provides a deep understanding of cultural art.
Article reading:
Please read the whole article. Then, I will check your pronunciation and intonation.
記事を音読しましょう。講師はあなたの発音とイントネーションを確認します。
Wordle, the famous online word game, was recently bought by The New York Times, according to the American media company's announcement on January 31. The Times will include the daily word puzzle in its collection of word games such as The Crossword, The Mini, and Spelling Bee. The popular word puzzle was originally developed by Josh Wardle with his partner Palak Shah in October 2021. It is a once-a-day letter game wherein users try to think of the word of the day by guessing five letters. Each letter changes its color to either green, yellow, or grey, which tells the player that it is either correctly placed, in the word but in a different location, or not in the word at all. Meanwhile, Wardle expressed on Twitter his excitement on the game's continuous success, "I'd be lying if I said this hasn't been a little overwhelming. After all, I am just one person, and it is important to me that, as Wordle grows, it continues to provide a great experience to everyone."
True or False:
Read the sentences and identify if they are true or false based on the article.
文章を読んで、記事に基づいて正誤を答えましょう。
The Washington Post bought the popular game Wordle.
Word games like The Crossword, The Mini, and Spelling Bee are owned by The New York Times.
Wordle was created by Mark Zuckerberg.
It is a seven-letter word guessing game.
In the game, the letters will turn to either green, yellow, or grey.
Fill in the blanks:
Choose the correct word from the table then fill in the blanks.
適切な言葉を選んで空欄を埋めましょう。
| | | | | |
| --- | --- | --- | --- | --- |
| daily | collection | develop | wherein | provide |
I always take my ______ dose of vitamin C.
This research was _______ further by Mika, Kim, and Anne.
My grandmother has a big ______ of teapots.
The movie ______ several moral lessons for teenagers.
There is a big linen store across the street ______ you can find that type of cloth.
Listening: