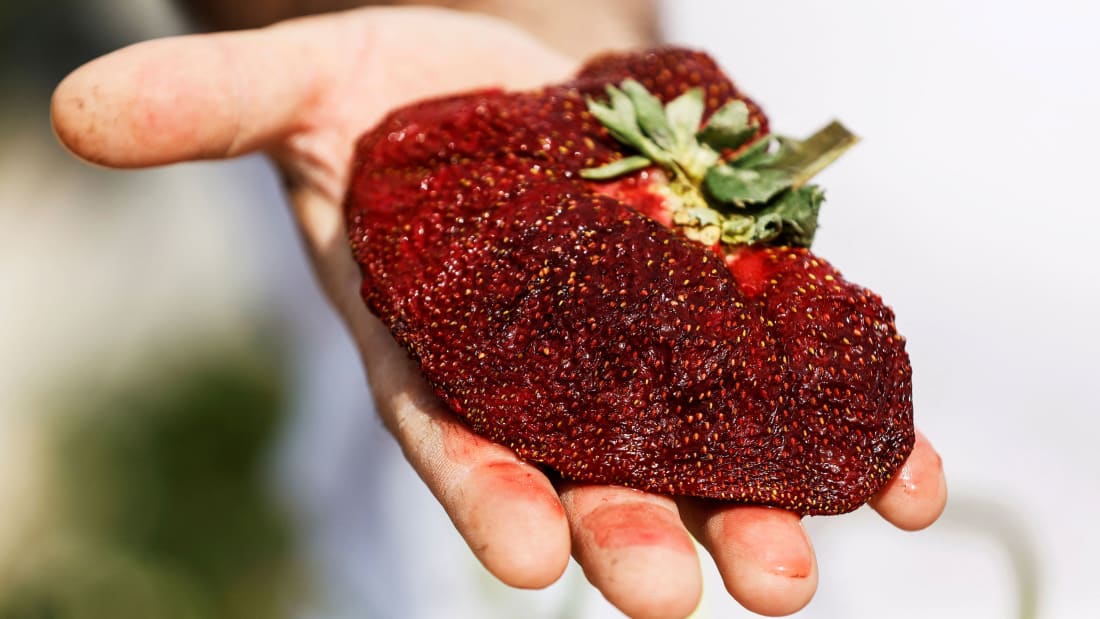 ©Amir Cohen/Reuters via CNN
Vocabulary:
I will read the words, meanings, and sample sentences. Then, repeat after me.
gigantic /jahy-GAN-tik/

[adjective] – extremely large
Vina requested a gigantic cake for her wedding.

breed /breed/

[verb] – to keep animals or plants for the purpose of producing young animals or plants, often for chosen qualities
They bred potatoes in the communal garden.

secure /si-KYOOR/

[verb] – to get something, sometimes with difficulty
His goal is to secure a new position after the company's turnover.

ripen /RAHY-puhn/

[verb] – to (cause to) become ripe
We're just waiting for these mangoes to ripen.

feature /FEE-cher/

[noun] – a special article in a newspaper or magazine, or a part of a television or radio broadcast, that deals with a particular subject
I enjoy reading features on new restaurants in the metro.
Article reading:
Please read the whole article. Then, I will check your pronunciation and intonation.
A farmer in Israel has grown the world's heaviest strawberry, according to Guinness World Records. The gigantic berry, grown by Chahi Ariel, weighs 289 grams (10.19 ounces). It is about five times the average weight of a regular berry of the local Ilan variety, said Nir Dai, a scientist at Israel's Volcani Institute where the strain was bred.
Ariel had been hoping he was going to secure a record when they saw how big the fruit was growing on his family farm last year. He has been keeping the strawberry as proof while awaiting confirmation from Guinness. "When we heard, it was an amazing feeling. I jumped in the car, laughed, and sang," said Ariel. "We've been waiting for this for a long time." Unusually cold weather in early 2021 slowed the strawberry's ripening process, resulting in its continuous weight gain, based on the record book's website. In Israel, farmers grow strawberries during the winter season, with fruit being harvested from early November to May. The previous record-holder was a Japanese farmer who discovered a 250-gram strawberry in his harvest in 2015. Guinness World Records (GWR) is a reference book published annually in different languages. It contains features on record-breaking human achievements and wonders.
Discussion Questions:
I will read each question. Then, please answer them.
Do you enjoy learning random facts and trivia? Why or why not?
What are some seasonal fruits in your country? Which one is your favorite?
If you could have the world record for anything you want, what would it be and why?
Do you think more farmers should try to break a Guinness World Record?
In your opinion, what drives people to win a Guinness World Record?
Summarization
Please summarize the whole article using your own words and expressions. You will have one minute to prepare before you answer.
Describe:
Please explain the definition of each word listed below based on your understanding. You can provide example sentences if needed.
local
proof
unusually
previous
achievement
Listening: