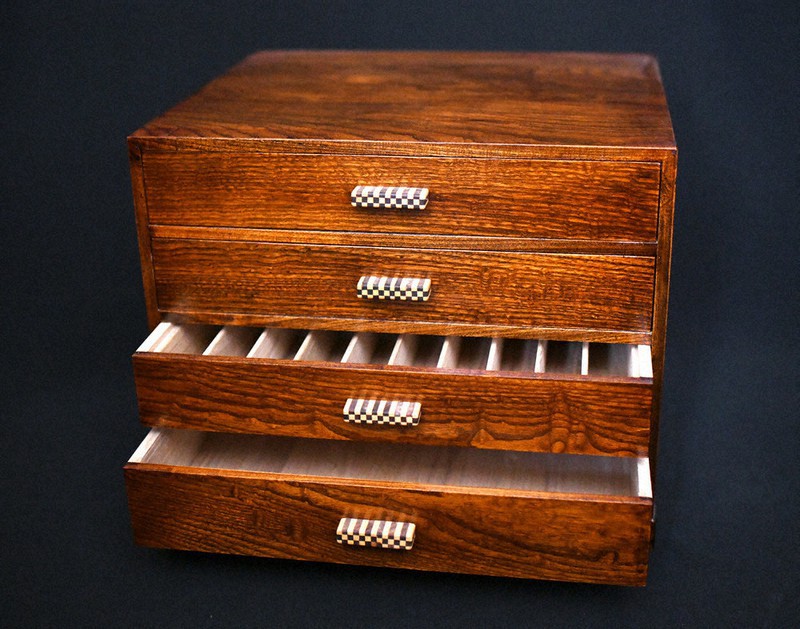 © Natsuki Nishi via The Mainichi
Pre-reading questions:
I will read each question. Then, please answer them.
What traditional Japanese craft do you like the most? Please tell me more about it.
Do you consider yourself a minimalist? Why or why not?
Vocabulary:
I will read the words, meanings, and sample sentences. Then, repeat after me.
woodworking /WOOD-wur-king/

[noun] – the activity of making objects such as furniture from wood
I took up woodworking and pottery when I was younger.

array /uh-REY/

[noun] – a large number of products of a similar type
Please feel free to choose from our array of bags.

showy /SHOH-ee/

[adjective] – attracting attention, sometimes by being extreme in color, design, or materials
Nikki doesn't like showy jewelry. She prefers simple ones.

ledge /lej/

[noun] – a narrow, flat area like a shelf that sticks out from a building, cliff, or other vertical surface
Could you place this flower vase on the window ledge?

durability /door-uh-BIL-i-tee/

[noun] – the quality of being able to last a long time without becoming damaged
The company is known for the durability of its products.
Article reading:
Please read the whole article. Then, I will check your pronunciation and intonation.
Japan's extensive woodworking culture dates back to ancient times and has evolved over the centuries to the point where it is thought that its people lived with trees. Wood constructed the majority of the country's structures, including furniture, tableware, and other items.
The traditional Japanese craft of sashimono represents the country's wood culture. Some of its items include cabinets and other large pieces of furniture. However, the sashimono during the Edo period is notable for its array of small indoor products, which include everything from oblong coal burners to writing desks, dressers, and sewing boxes. "Though they appear to have a delicate structure at first glance, they are surprisingly firm and last for around 100 years. They're not showy, but the woodgrains have a striking beauty, and there is ingenious skill hidden away in them," said 68-year-old Yutaka Mogami, the third-generation head of an Edo sashimono workshop in Tokyo's Kuramae area. Sashimono is a technique for attaching wooden elements without using iron nails. Ledges and recesses are instead carved into the wood and interlocked to join the parts together.
The Edo sashimono's charm lies in its extraordinary durability despite its delicate appearance, with its minimalist and polished appearance held together by hidden joints.
Comprehension questions
I will read each question. Then, please answer them based on the article.
According to the article, what constructed most of Japan's structures and furniture?
For what is the Edo sashimono notable?
What did Yutaka Mogami say about Edo sashimono?
Instead of iron nails, what does the sashimono use to join the wood parts together?
Based on the article, where does the Edo sashimono's charm lie?
Discussion questions
I will read each question. Then, please answer them.
Please describe the kinds of furniture you own.
Which do you think is more convenient to have, furniture made of wood, plastic, or steel? Why?
Would you try sashimono? Why or why not?
Do you think wood is more durable than steel or other materials?
What is your opinion on creating furniture without the use of iron nails?
Listening: