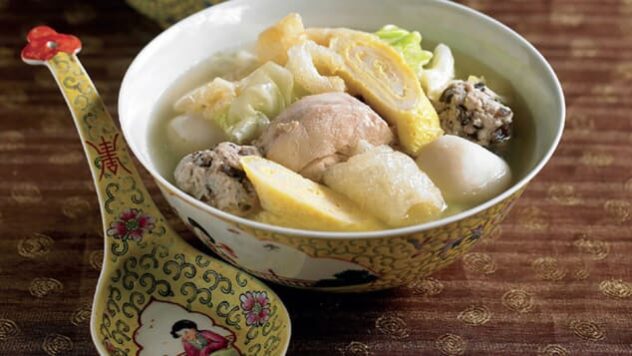 ©Sharon Wee and Marshall via CNN
Vocabulary:
I will read the words, meanings, and sample sentences. Then, repeat after me.
marry /MAR-ee/

[verb] – to combine two different qualities
This painting marries romance and nature.

coin /koin/

[verb] – to invent a new word or expression, or to use one in a particular way for the first time
Some sources claim that the term "Philosophy" was coined by Greek thinker Pythagoras.

ferment /FER-ment/

[verb] – If food or drink ferments or if you ferment it, it goes through a chemical change because of the action of yeast or bacteria, which may cause it to produce bubbles or heat, or turn sugars in it into alcohol.
Mr. O'Brien taught me how to ferment wine.

toxicity /tok-SIS-i-tee/

[noun] – the fact that something is poisonous or the degree to which it is poisonous
A study found heavy metal toxicity in some vegetables.

versatile /VUR-suh-tl/

[adjective] – able to change easily from one activity to another or able to be used for many different purposes
This dress is so versatile! I can wear it for a day out or a party.
Article reading:
Please read the whole article. Then, I will check your pronunciation and intonation.
One of Southeast Asia's most diverse cuisines, Peranakan food
marries
Chinese, Malay, and Indian ingredients and cooking techniques. Peranakan culture dates back to the 15th century when Chinese men migrated south to build new lives, later marrying the local Malay women. Being "Peranakan" means to be "locally born," a term
coined
by the community to set themselves apart from the newer Chinese immigrants who arrived in Singapore and Malaysia in the 19th and early-20th centuries. Men were called "Babas" and women "Nonyas." Let's explore some Peranakan or Nonya food.
Ayam buah keluak (chicken stewed with black nuts)
©PixHound/Adobe Stock via CNN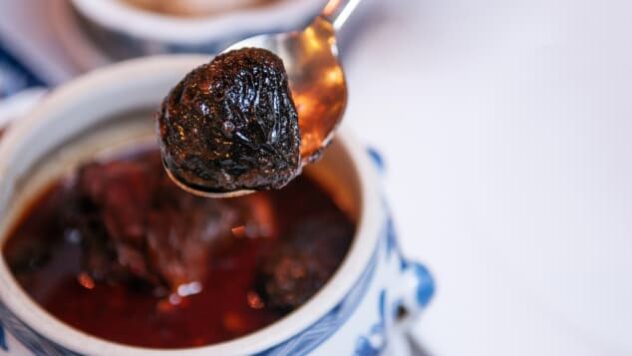 Nothing says Peranakan cuisine more than Ayam buah Keluak. This stew is made with chicken, tamarind, spices, and buah keluak nuts that are needed to be fermented for a few months to reduce their toxicity.
Hee pio soup (fish maw soup)

©Sharon Wee and Marshall via CNN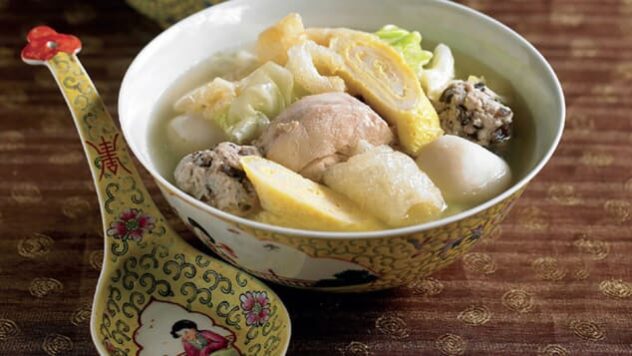 Eaten during Lunar New Year feasts, this hearty soup contains meatballs, fishballs, chicken, cabbage, and egg rolls.
Sambal belachan (shrimp paste chili)

©Huang Yuetao/Adobe Stock via CNN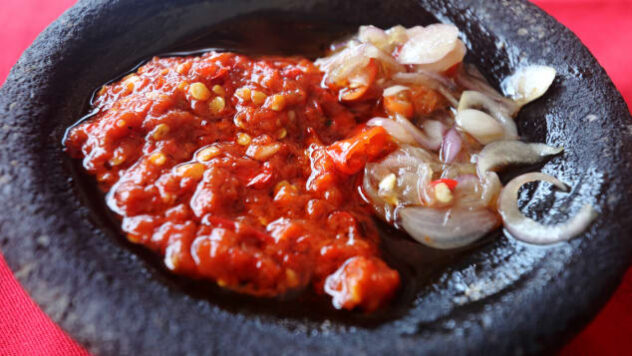 This versatile paste adds a kick to any dish. It is made by blending belachan (dried shrimp paste), red chilies, kaffir lime leaves, and a pinch of sugar.
Kueh ko sui (palm sugar cake)

©chee siong teh/Adobe Stock via CNN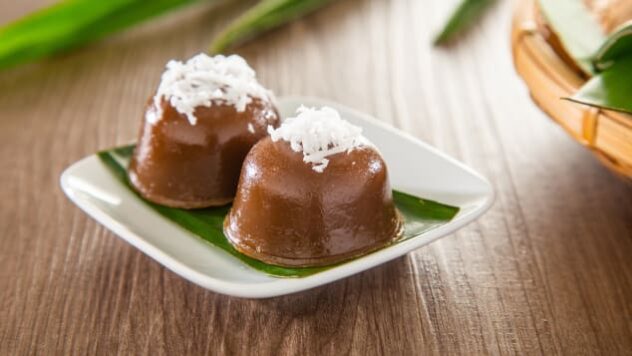 For dessert, Nyonyas offer a chewy cake called Kueh Ko sui. It is made by combining gula melaka (palm sugar), rice flour, tapioca flour, and lye water. The mixture is steamed, cut into cubes, and rolled in freshly grated coconut.
The Peranakans' age-old cuisine and culture are still thriving in many Asian countries like Singapore, Malaysia, and Indonesia. They can be experienced in restaurants, neighborhoods, and museums.
Discussion Questions:
I will read each question. Then, please answer them.
Compare Japanese cuisine with Peranakan cuisine. What are some differences and similarities?
Which among the foods in the article would you recommend to your family and friends? Why?
If you were a food critic/writer, which country's cuisine would you like to write about? Which dishes would you highlight?
Should more people around the world discover Peranakan cuisine?
In your opinion, why is it important to try new foods?
Summarization
Please summarize the whole article using your own words and expressions. You will have one minute to prepare before you answer.
Describe:
Please explain the definition of each word listed below based on your understanding. You can provide example sentences if needed.
technique
reduce
chewy
mixture
neighborhood
Listening: