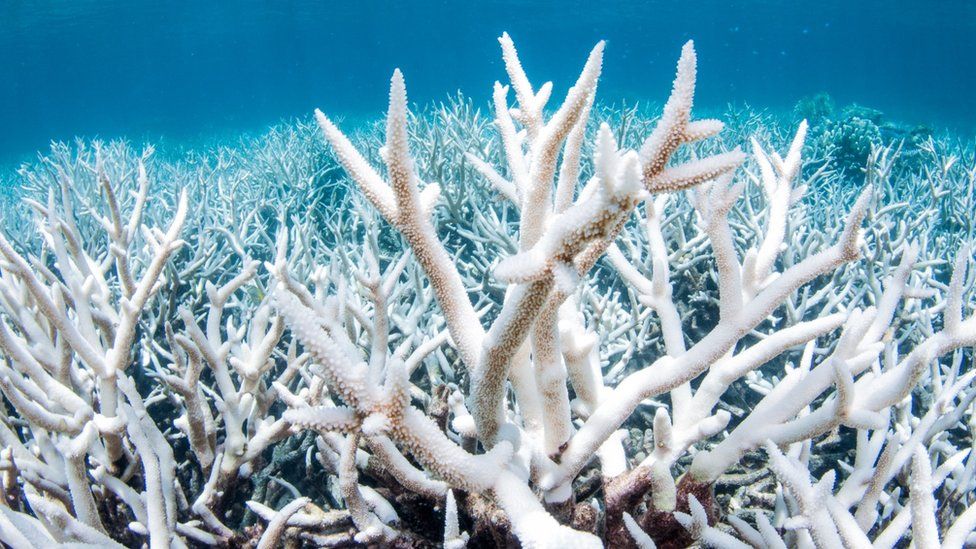 © GETTY IMAGES via BBC News
Pre-reading questions:
I will read each question. Then, please answer them.
What marine activities do you enjoy? (fishing, snorkeling, etc.)
How do you think climate change affects the oceans?
Vocabulary:
I will read the words, meanings, and sample sentences. Then, repeat after me.
marine /muh-REEN/

[adjective] – related to the sea or sea transport
You can ask my brother anything about the sea. He's an expert on marine life.

reef /reef/

[noun] – a line of rocks or sand just above or just below the surface of the sea, often dangerous to ships
My family and I saw beautiful coral reefs when we went snorkeling last month.

vast /vahst/

[adjective] – extremely big
The vast majority of employees in the company are foreigners.

stressed /strest/

[adjective] – worried and nervous
Everyone was stressed after taking the final exam.

occur /uh-KUR/

[verb] – (especially of accidents and other unexpected events) to happen
May we know the exact time the incident occurred?
Article reading:
Please read the whole article. Then, I will check your pronunciation and intonation.
Officials from the Great Barrier Reef Marine Park Authority confirmed that another massive bleaching event is destroying Australia's Great Barrier Reef on Friday, March 25. It recently issued a warning that water temperatures on the reef were up to 4 degrees Celsius higher than what usually is in March in some areas. Two United Nations (UN) scientists are currently on a reef-monitoring mission in Queensland. The Australian Conservation Foundation described the incident as "truly heartbreaking". "These repeated bleaching events have hit the tourism industry hard and are a blow to everyone who loves this incredible natural wonder, which is home to a vast array of sea creatures," the organization added.
Bleaching happens when stressed corals release the algae that give them color and life. They can recover, but only if the conditions permit it. This bleaching incident happened with a La Niña weather phenomenon, raising serious concerns. A La Niña is known for bringing milder weather to Australia. It is the fourth time in six years that rising sea temperatures have caused such severe and widespread devastation. The first mass bleaching event occurred in 1998, followed in 2002, 2016, 2017, and 2020. Scientists believe climate change must be addressed immediately to save the world's largest reef system.
Comprehension questions
I will read each question. Then, please answer them based on the article.
What did the officials from the Great Barrier Reef Marine Park Authority issue?
How did the Australian Conservation Foundation describe the incident?
How does coral bleaching happen?
Do corals recover upon experiencing bleaching?
When did the first bleaching incident occur?
Discussion questions
I will read each question. Then, please answer them.
Kindly describe the most popular ocean in your country.
For you, what is the most beautiful thing about the ocean?
If you were a scientist, for how long would you monitor the Great Barrier Reef and why?
In your opinion, is there a way to prevent coral bleaching from happening?
Coral bleaching is a result of climate change. What can we do to limit or prevent it?
Listening: