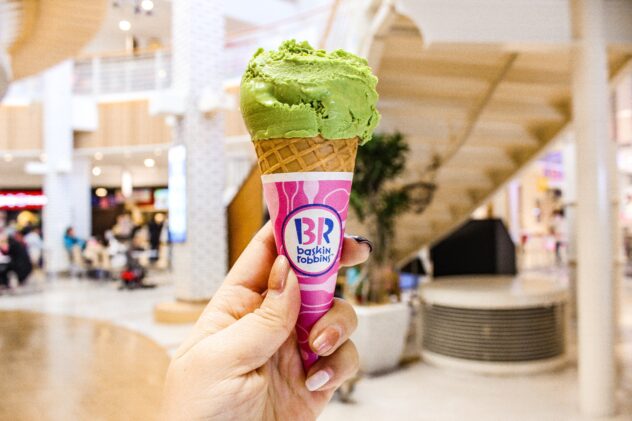 Pre-reading questions:
I will read each question. Then, please answer them.
How often do you eat ice cream?
What is your favorite ice cream flavor? Why?
Vocabulary:
I will read the words, meanings, and sample sentences. Then, repeat after me.
update /UHP-deyt/

[noun] – a more recent, and usually improved, form of something, especially something that is regularly changed
I'm still getting used to Microsoft's new update.

attached /uh-TACHD/

[adjective] – feeling close to emotionally
Bob is still attached to his old piano.

childhood /CHAHYLD-hood/

[noun] – the time when someone is a child
Sheena spent her childhood in Italy.

relevant /REL-uh-vuhnt/

[adjective] – connected with what is happening or being discussed
Reading comic books is still relevant in today's society.

clothing /KLOH-thing/

[noun] – clothes, especially clothes of a particular type or those worn in a particular situation
My sister designs different kinds of clothing.
Article reading:
Please read the whole article. Then, I will check your pronunciation and intonation.
Baskin-Robbins has changed its logo, employee uniforms, and packaging in its latest brand update. The ice cream chain has stuck with a pink and blue logo for years. The new logo comes in brown and pink, brown and blue, and pink and white. "When we really think about the journey … it started four years ago," said Jason Maceda, Baskin-Robbins president. That included "really listening to our guests." The brand's new tagline, "Seize the Yay," is about celebrating small moments that bring happiness.
The leadership team at Baskin-Robbins found that some customers felt very attached to the brand, which reminds them of their childhood memories. But they also heard that there were "some opportunities in being more relevant," Maceda shared. The ice cream company is also introducing 3 new flavors: Non-Dairy Mint Chocochunk, a coconut milk-based flavor with thick chocolate chunks, Totally Unwrapped (April flavor of the month), made with peanut butter and chocolate ice cream, caramel swirls, pretzels, and peanuts, and Ube Coconut Swirl, made with coconut and ube (a purple yam commonly used in Filipino desserts). In addition, Baskin-Robbins is celebrating the rebrand with the launch of a new clothing collection. The company's sales grew 4.4% from 2019 to 2021, according to Euromonitor International.
Comprehension questions
I will read each question. Then, please answer them based on the article.
What changes has Baskin-Robbins done?
What were the former colors of Baskin-Robbins' logo?
What did the leadership team find?
What are the 3 new flavors of Baskin-Robbins?
How much did Baskin-Robbins' sales grow from 2019 to 2021?
Discussion questions
I will read each question. Then, please answer them.
Which among Baskin-Robbins' new flavors are you most excited to try? Why?
Tell me something about your country's ice cream market.
If you could invent an ice cream flavor, what would it be? (Tell me its name and ingredients.)
Do you think "Seize the Yay" is a good tagline?
In your opinion, what is the best way for food brands to create meaningful connections with customers?
Listening: