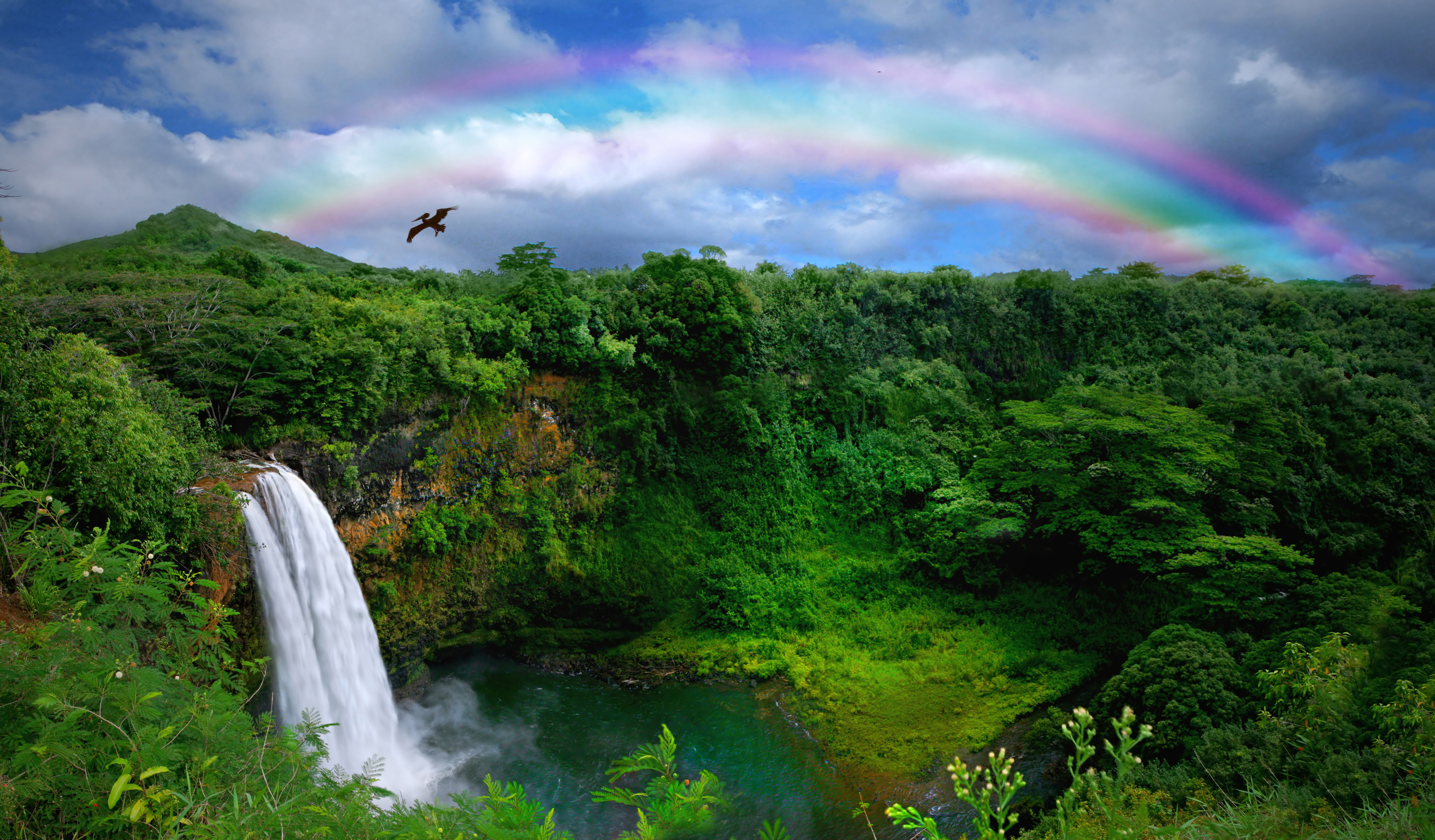 ©Adobe Stock | Kauai, Hawaii
Vocabulary
I will read the words, meanings, and sample sentences. Then, repeat after me.
flora and fauna /FLOR-uh n FAW-nuh/

[noun (biology)] – the flora and fauna of a place are its plants and animals
Scientists have yet to discover different species of flora and fauna.

mongoose /MONG-goos/

[noun] – a small tropical animal with a long tail that eats snakes, rats, and birds' eggs
Mongooses from North Africa were believed to eat crocodile eggs.

meticulous /muh-TIK-yuh-luhs/

[adjective] – very careful and with great attention to every detail
He's meticulous in accomplishing tasks on time.

canopy /KAN-uh-pee/

[noun] – the branches and leaves that spread out at the top of a group of trees forming a type of roof
The trees formed a dense canopy in the rainforest.

indigenous /in-DIJ-uh-nuhs/

[adjective] – used to refer to, or relating to, the people who originally lived in a place, rather than people who moved there from somewhere else
We're looking for volunteers to help indigenous communities explore the modern world.
Article reading
Please read the whole article. Then, I will check your pronunciation and intonation.
Hawaii was once a secluded island inhabited only by local people and endemic flora and fauna. Now, it's widely recognized as a must-see tourist site on a global scale.
But the native species of Hawaii are under more and more strain to survive as the state has opened up to the rest of the world. Endangered endemic birds and plants are seriously threatened by invasive shrubs and animals, including mongoose and common house cats. The US-based Nature Conservancy (TNC) is collaborating with the local populace of the archipelago to restore its native forests. TNC biologist Chris Balzotti has been in charge of a meticulous restoration effort in the Ka' region, where the largest state forest reserve, Ka' Forest Reserve, is located. The project started in 2002 with the goal of protecting biologically diverse and intact forests in 3,548 acres of land within the 61,500 acres of Ka' Forest Reserve. The native forest leads on a guided walk through the dense ōhi'a and koa trees and uluhe and hāpu'u ferns, which entwine to form a beautiful forest canopy. Rare native species such as the nuku 'i'iwi thrive here, and several birds have a safe place to nest. The Hawaiian Happy-Faced Spider can now also be spotted on this precious patch of land.
"It's important to have native areas like this because it allows the indigenous community to connect with the species that are culturally important to them,"  senior scientist and cultural advisor for TNC Dr. Sam Gon says. "Their relationship to the land is sacred. We take that sacred trust seriously."
Discussion Questions
I will read each question. Then, please answer them.
What is the ideal place to view or experience nature in your country?
What are the top three natural wonders in your list of travel destinations?
If given the chance, would you participate in the restoration effort in the Ka' region? Why?
Is Hawaii a popular tourist destination for people in your country?
What effects does nature have on our well-being?
Summarization
Please summarize the whole article using your own words and expressions. You will have one minute to prepare before you answer.
Describe
Please explain the definition of each word listed below based on your understanding. You can provide example sentences if needed.
inhabit
open up
site
collaborate
restoration
Listening