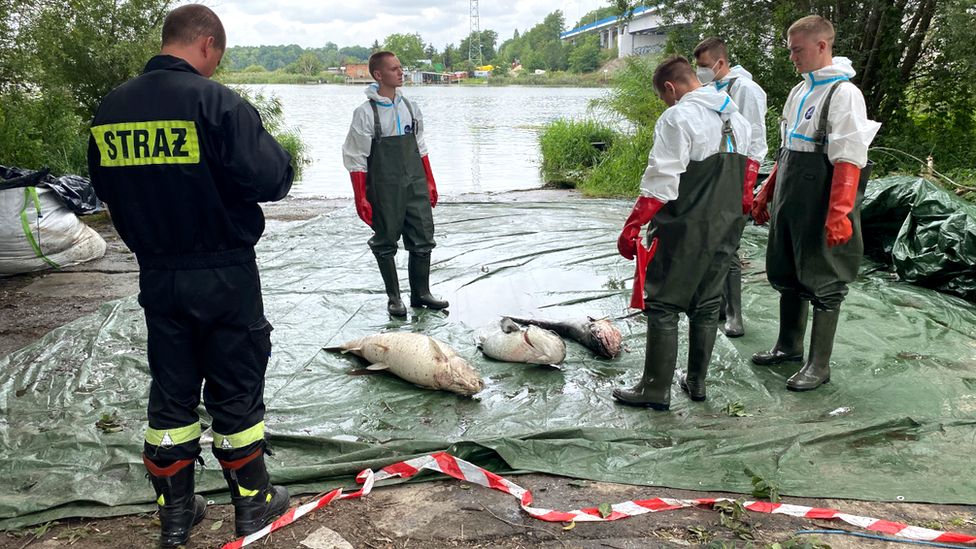 © BBC News
Pre-reading questions
I will read each question. Then, please answer them.
講師がそれぞれの質問を読むので答えましょう。
What is your favorite fish dish?
Do you like going to rivers?
Vocabulary
I will read the words, meanings, and sample sentences. Then, repeat after me.
単語、意味、例文を読みます。講師に続いて音読しましょう。
exact /ig-ZAKT/

[adjective] – in great detail, or complete, correct, or true in every way
What is your exact location?

original /uh-RIJ-uh-nl/

[adjective] – existing since the beginning, or being the earliest form of something
Let's check the original source material first.

pipe /pahyp/

[noun] – a tube inside which liquid or gas flows from one place to another
Could you fix the pipe? Water is leaking from it.

catfish /KAT-fish/

[noun] – a fish with a flat head and long hairs around its mouth that lives in rivers or lakes
I'll catch more catfish.

flow /floh/

[verb] – (especially of liquids, gases, or electricity) to move in one direction, especially continuously and easily
The river passes through two countries before flowing into the sea.
Article reading
Please read the whole article. Then, I will check your pronunciation and intonation.
記事を音読しましょう。講師はあなたの発音とイントネーションを確認します。
Thousands of dead fish were found in the River Oder that separates Poland and Germany. Experts from both countries have not been able to find out the exact cause. Scientists believe that the water's high salt levels caused chemical contamination. The golden algae grew in number and released poison. This harmed the fish in the river. Andrzej Kapusta of the Inland Fisheries Institute expressed worry that it could happen again, especially if the original source of the pollution is still unknown. Investigators are checking about 60 out of 300 unregistered outflow pipes in relation to the fish deaths. Workers near Szczecin, Poland, remove many dead carp and catfish from the river. Meanwhile, a pump is desperately trying to add oxygen to the water. The river then flows on to a lagoon and the Baltic Sea. The amount of water may then reduce the toxins. However, many are concerned that a "wave of poison" may continue its deadly route downstream.
True or False
Read the sentences and identify if they are true or false based on the article.
文章を読んで、記事に基づいて正誤を答えましょう。
The dead fish were found in the River Oder.
The poison from the golden algae harmed the fish.
Andrzej Kapusta is not worried that this may happen again.
Roughly 90 out of 300 unregistered outflow pipes are being checked.
The amount of water that flows on to a lagoon and the Baltic Sea may reduce the poison.
Fill in the blanks
Choose the correct word from the table then fill in the blanks.
適切な言葉を選んで空欄を埋めましょう。
| | | | | |
| --- | --- | --- | --- | --- |
| exact | original | pipe | catfish | flow |
Do you know the _______ owner of this house?
Lava was seen _______ down from the volcano.
There's a lot of _______ in this river.
The fire was caused by a gas _______ that exploded.
Please tell me the _______ time of the meeting.
Listening