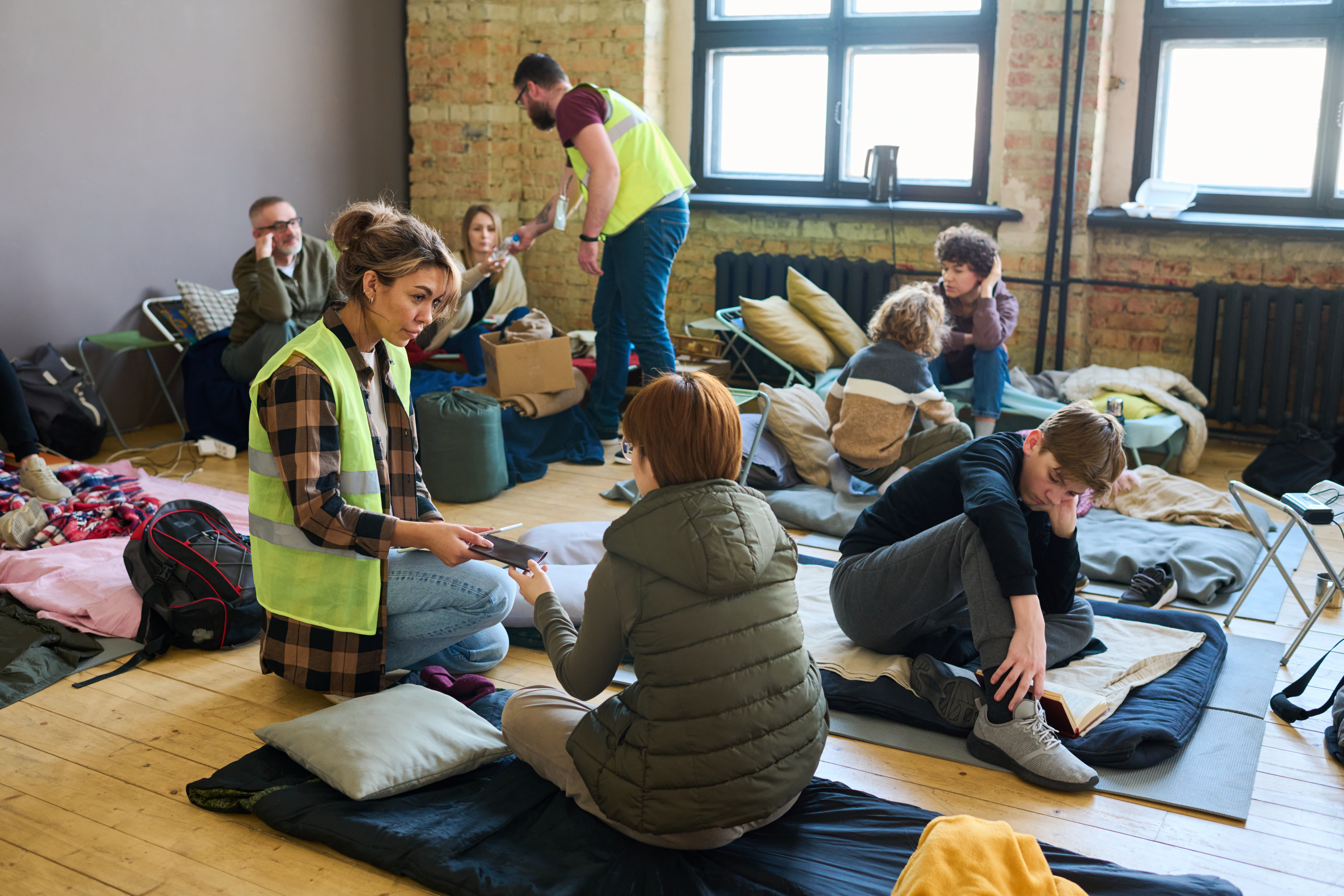 Pre-reading questions
I will read each question. Then, please answer them.
Who are the majority of migrants in your country?
What do you think are the benefits of migration?
Vocabulary
I will read the words, meanings, and sample sentences. Then, repeat after me.
crisis /KRAHY-sis/

[noun] – an extremely dangerous or difficult situation
The economic crisis had a negative effect on trade.

migrant /MAHY-gruhnt/

[noun] – a person that travels to a different country or place, often in order to find work
Many migrants are in search of employment in the cities.

urgently /UR-juhnt-lee/

[adverb] – in a way that needs attention very soon, especially before anything else, because of being very important
More blood donors are urgently needed.

allot /uh-LOT/

[verb] – to give something, especially a share of something available, for a particular purpose
How much money have we been allotted?

refugee /ref-yoo-JEE/

[noun] – a person who leaves his or her home or country to find safety, esp. during a war or for political or religious reasons
They provided clothing and food for the refugees.
Article reading
Please read the whole article. Then, I will check your pronunciation and intonation.
New York City Mayor Eric Adams has declared a state of emergency in response to a "crisis situation" due to the arrival of a large number of migrants. Over the southern border, more than 17,000 people from Republican areas like Texas, Arizona, and Florida have entered the city since April. According to Mr. Adams at a press conference, an average of five to six buses have been arriving in the city daily since September. He claims that one out of every five individuals using the city's shelter system is trying to currently find safety. In addition, a large portion of the individuals arriving are families with school-aged children who urgently need medical attention.
The mayor is calling for assistance from the federal and state governments to help cover the costs of the inflow, which are anticipated to cost New York $1 billion this fiscal year. Mr. Adams issued an executive order authorizing the city to allot money and speed up any response activities for the refugees as part of his emergency declaration. However, a spokeswoman for Texas Governor Greg Abbott, dismissed the mayor's Friday announcement. "The true emergency is on our nation's southern border where small Texas border towns are overrun and overwhelmed by hundreds of migrants every single day as the Biden administration dumps them in their communities," said Renae Eze.
Comprehension questions
I will read each question. Then, please answer them based on the article.
Why did New York City Mayor Eric Adams declare a state of emergency?
How many people from Republican areas have entered New York since April?
Who makes up a large portion of the migrants?
What is the anticipated cost of inflow this fiscal year?
What did Renae Eze say about the state of emergency?
Discussion questions
I will read each question. Then, please answer them.
Do you know a migrant? If so, please tell me more about him or her. If not, please share the situation of migrants in your country.
Is migration a problem? If so, in what ways do you see it as a problem? If not, why?
If you were to move to a different country, where would you go and why?
Do you agree with what Renae Eze said?
How will New York City's high migrant population affect its residents?
Listening