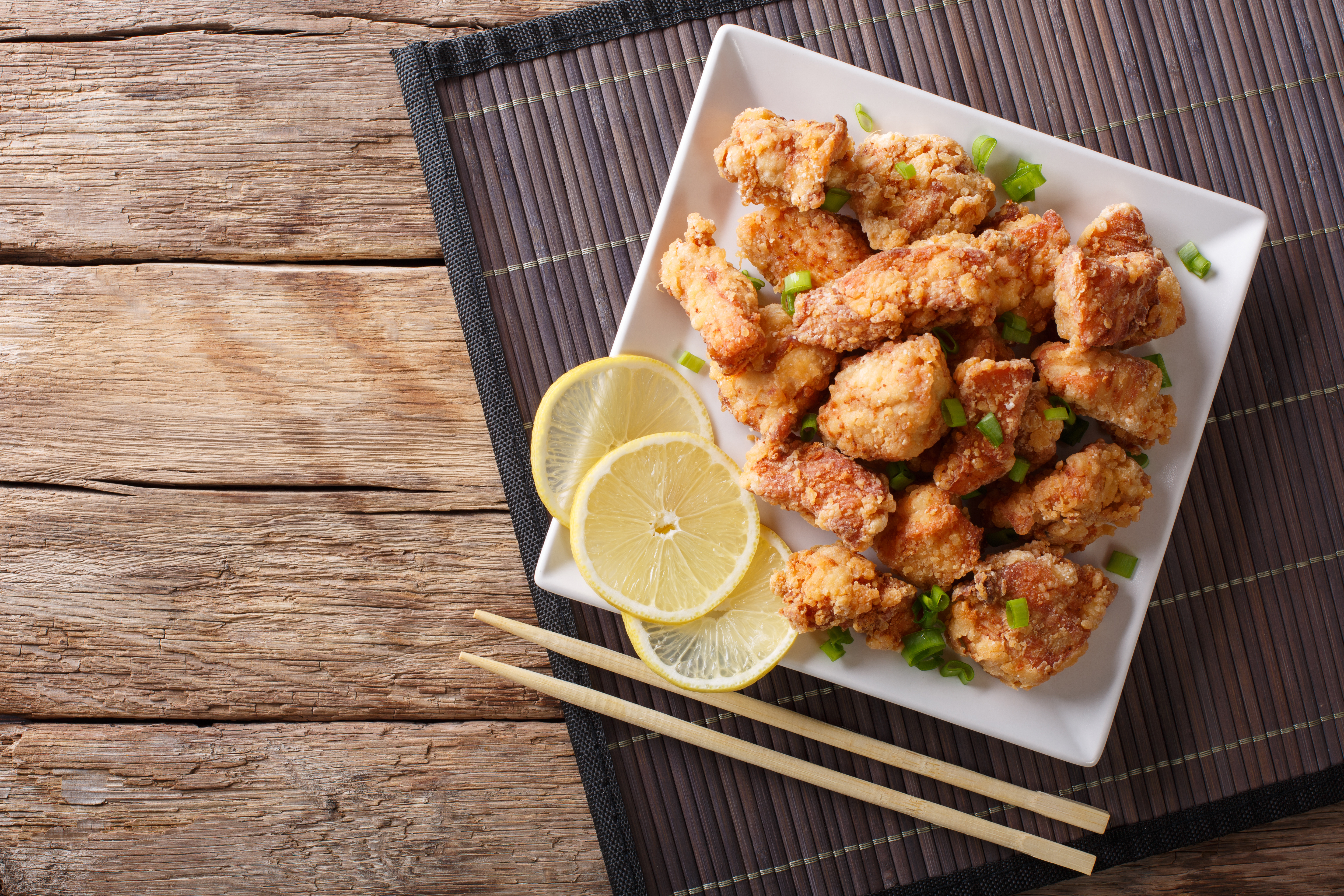 Pre-reading questions
I will read each question. Then, please answer them.
講師がそれぞれの質問を読むので答えましょう。
What is your favorite food?
Do you like karaage?
Vocabulary
I will read the words, meanings, and sample sentences. Then, repeat after me.
単語、意味、例文を読みます。講師に続いて音読しましょう。
dish /dish/

[noun] – food prepared in a particular way as part of a meal
The waiter brought on the main dish, steak.

nearby /NEER-BAHY/

[adjective] – not far away
He works at the nearby supermarket.

chunk /chuhngk/

[noun] – a roughly cut piece
Cut these apples into chunks.

flavor /FLEY-ver/

[noun] – the particular way a substance, esp. food or drink, is recognized from its taste and smell
This curry has a strange flavor.

quickly /KWIK-lee/

[adverb] – at a fast speed
We have to walk quickly to make it on time.
Article reading
Please read the whole article. Then, I will check your pronunciation and intonation.
記事を音読しましょう。講師はあなたの発音とイントネーションを確認します。
Karaage, or a more complex variant of fried chicken, is one of Japan's most popular dishes. But why is Nakatsu, a little town in Japan, if not the entire world, famous for making the best-fried chicken?
A Chinese restaurant by the name of Rairaiken in Usa City, a community close to Nakatsu City, is where karaage first made an appearance. Deep-fried chicken karaage was first served at the restaurant as a set meal in the late 1950s. But it was the relocation to the nearby Nakatsu that made the fried chicken famous nationally and internationally. Two cooks began their own karaage business in Nakatsu. They added apple chunks and let the chicken soak in the salty water for a longer amount of time to improve the flavor. The stores quickly gained popularity and grew in number, confirming Nakatsu's role as the creator of karaage. 50 restaurants participate in a healthy competition where chefs experimented with karaage's ingredients and flavor.
In Japan, karaage is a symbol of creativity. And it is what makes the people of Nakatsu feel at home.
True or False:
Read the sentences and identify if they are true or false based on the article.
文章を読んで、記事に基づいて正誤を答えましょう。
Rairaiken is a Japanese restaurant.
Usa is close to Nakatsu City.
Karaage was first served at the restaurant in the late 1960s.
The restaurant moved to Nakatsu City.
50 restaurants in Nakatsu City participate in healthy competition.
Fill in the blanks
Choose the correct word from the table then fill in the blanks.
適切な言葉を選んで空欄を埋めましょう。
| | | | | |
| --- | --- | --- | --- | --- |
| dish | nearby | chunk | quickly | flavor |
The fire _______ spread among the houses.
How many _______ of ice cream do you have?
I'd recommend eating this _______ with cream.
She bit a huge _______ out of the apple.
Do you know any restaurants _______?
Listening