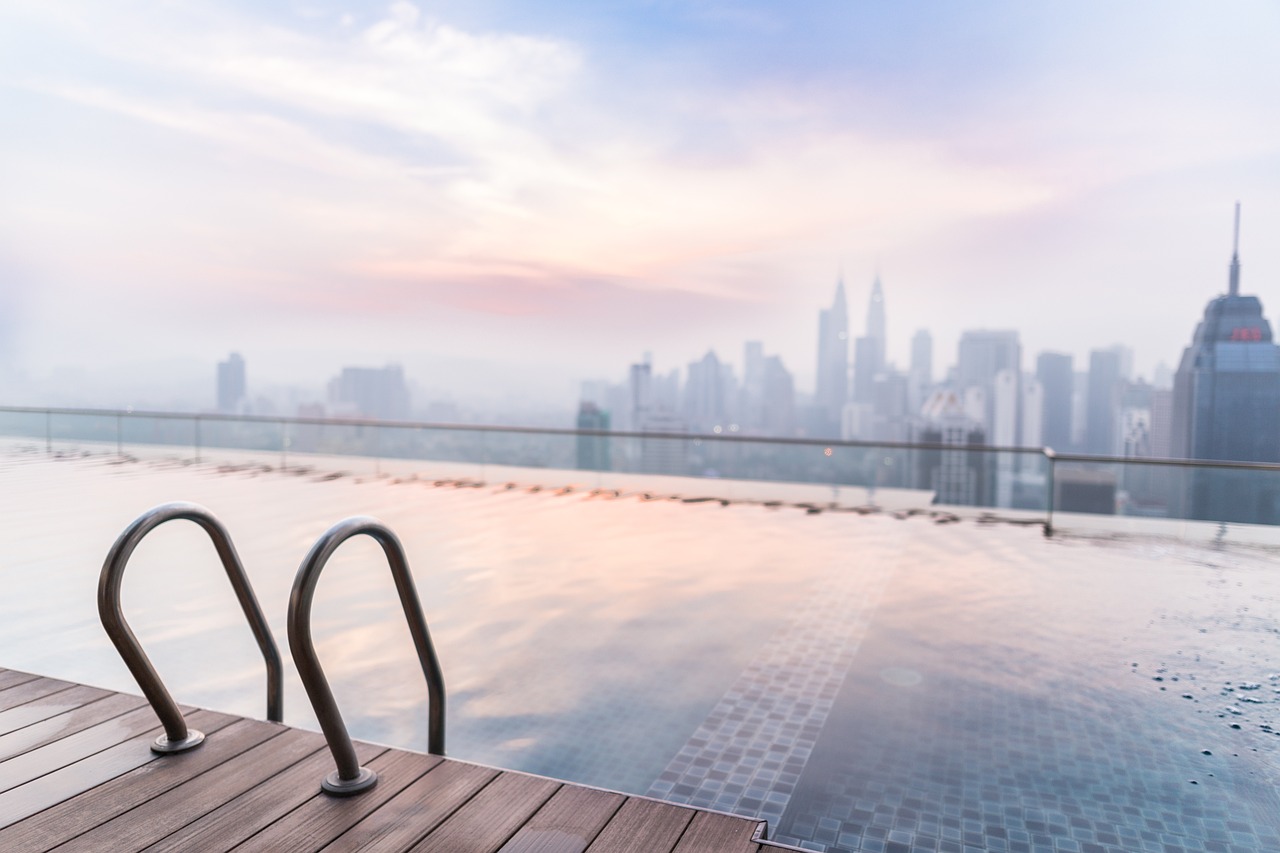 Pre-reading questions:
I will read each question. Then, please answer them.
講師がそれぞれの質問を読むので答えましょう。
Are you interested in luxurious vacation destinations?
Have you ever traveled for both business and pleasure at the same time?
Vocabulary:
I will read the words, meanings, and sample sentences. Then, repeat after me.
単語、意味、例文を読みます。講師に続いて音読しましょう。
fancy /FAN-see/

[adjective] – expensive
I don't usually wear fancy clothes, but I dressed up in a fancy dress for my sister's wedding.

check out /CHEK out /

[phrasal verb] – to examine something or get more information about it in order to be certain that it is true, safe, or suitable
We should check out that new pizza place that just opened up downtown.

atmosphere /AT-muhs-feer /

[noun] – the character, feeling, or mood of a place or situation
The atmosphere in the classroom was tense during the math exam.

fitness /FIT-nis/

[noun] – the condition of being physically strong and healthy
It's important to maintain fitness by exercising regularly and eating a balanced diet.

luxury /LUHK-shuh-ree/

[noun] – great comfort, especially as provided by expensive and beautiful things
In the fancy hotel, we enjoyed the luxury of a comfortable bed and fluffy pillows.
Article reading:
Please read the whole article. Then, I will check your pronunciation and intonation.
記事を音読しましょう。講師はあなたの発音とイントネーションを確認します。
Do you want to feel very fancy in the middle of Qatar's busy capital city? Then you should check out the Raffles and Fairmont hotels. They are very fancy and made to give you a special experience, with beautiful decorations and relaxing spa treatments.
The rooms at Raffles and Fairmont Doha are simply spectacular, with stunning city views and an inviting atmosphere. Whether you opt for a Deluxe Room or an Executive Suite, you'll find everything you need to make your stay unforgettable. And for food lovers, the hotel offers a range of restaurants serving a variety of cuisines, from traditional Qatari dishes to international fare. However, what truly sets Raffles and Fairmont Doha apart is their unwavering commitment to creating a serene oasis of calm and relaxation. Every aspect of the hotel, from the Willow Stream Spa to the state-of-the-art fitness center, is designed to help you unwind and rejuvenate.
In short, if you're seeking the ultimate luxury getaway in Doha, Raffles and Fairmont hotels are the perfect choices. With top-notch amenities, exceptional hospitality, and breathtaking views, this is an experience not to be missed.
True or False:
Read the sentences and identify if they are true or false based on the article.
文章を読んで、記事に基づいて正誤を答えましょう。
Raffles and Fairmont hotels are known for their fancy and luxurious experience.
The rooms at Raffles and Fairmont Doha offer stunning city views.
The hotel only offers traditional Qatari dishes.
The hotel is committed to creating a relaxing atmosphere for its guests.
Raffles and Fairmont hotels offer top-notch amenities and exceptional hospitality.
Fill in the blanks:
Choose the correct word from the table then fill in the blanks.
適切な言葉を選んで空欄を埋めましょう。
| | | | | |
| --- | --- | --- | --- | --- |
| fancy | check out | atmosphere | fitness | luxury |
The elegant car was a symbol of ______, with its soft leather seats and shiny exterior.
The restaurant we went to last night was very ______, with white tablecloths and fancy silverware.
The cozy ______ of the coffee shop made studying for exams more enjoyable.
We should go to the beach this weekend and ______ the beautiful sunset.
Sarah goes to the gym every week to improve her ______ and stay healthy.
Listening: