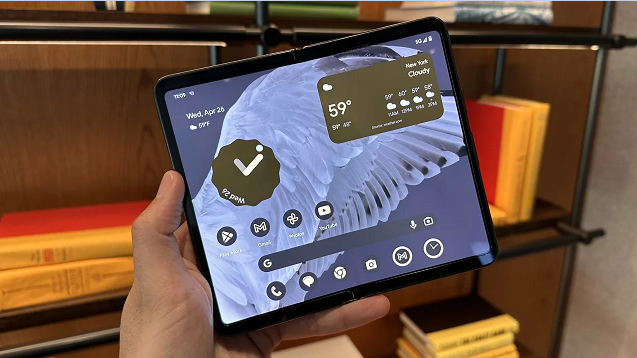 ©Mike Andronico/CNN
Pre-reading questions:
I will read each question. Then, please answer them.
講師がそれぞれの質問を読むので答えましょう。
Do you use Google's products?
Are you fond of smartphones with high-quality cameras?
Vocabulary:
I will read the words, meanings, and sample sentences. Then, repeat after me.
単語、意味、例文を読みます。講師に続いて音読しましょう。
conference /KON-fer-uhns/

[noun] – an event, sometimes lasting a few days, at which there is a group of talks on a particular subject, or a meeting in which especially business matters are discussed formally
The conference featured prominent speakers from the industry.

translation /trans-LEY-shuhn/

[noun] – the activity or process of changing the words of one language into the words in another language that have the same meaning
The translation of the ancient manuscript revealed new insights into historical events.

admit /ad-MIT/

[verb] – to agree that something is true, especially unwillingly
Despite his reluctance, he finally admitted that he had been wrong all along.

provide /pruh-VAHYD/

[verb] – to give someone something that they need
The hotel provides complimentary breakfast for all guests staying overnight.

limited /LIM-i-tid /

[adjective] – kept within a particular size, range, time, etc.
The parking space near the venue is limited, so it's advisable to arrive early to secure a spot.
Article reading:
Please read the whole article. Then, I will check your pronunciation and intonation.
記事を音読しましょう。講師はあなたの発音とイントネーションを確認します。
In their developer conference, Google introduced new products, including the Pixel Fold, a foldable phone, and a tablet. The Pixel Fold has a slim design, a 7.6-inch unfolded screen, and features like long exposure and dual-screen live translation. Google admitted the need for further optimization for foldable phones. They also introduced the Pixel 7a smartphone with camera upgrades, wireless charging, and features like improved night vision and enhanced zoom. The Pixel 7a is aimed at budget-conscious consumers, starting at $499.
Google also presented the Pixel Tablet with an 11-inch display, rounded edges, and colors like porcelain, hazel, and rose. It has front and rear cameras and comes with a charging dock. The tablet will be available on June 20, starting at $499. Additionally, Google plans to integrate AI chat features into their search engine, allowing an AI-powered chatbot to provide quick responses and information. The updated Google Search will display AI-generated responses along with regular results. The feature will initially launch in the United States with limited user access.
True or False:
Read the sentences and identify if they are true or false based on the article.
文章を読んで、記事に基づいて正誤を答えましょう。
Google introduced the Pixel Fold and a tablet at their developer conference.
The Pixel Fold has a slim design and a 7.6-inch unfolded screen.
Google presented the Pixel Tablet with an 11-inch display, rounded edges, and colors like porcelain, hazel, and rose.
The Pixel Tablet will be available on June 25, starting at $700.
The initial launch of the AI chat features in Google Search will have unlimited user access and be available worldwide.
Fill in the blanks:
Choose the correct word from the table then fill in the blanks.
適切な言葉を選んで空欄を埋めましょう。
| | | | | |
| --- | --- | --- | --- | --- |
| conference | translation | admit | provide | limited |
After a thorough investigation, the government had to _______________ that there was a problem with the new policy's implementation.
The company aims to _______________ high-quality customer service by offering prompt responses and resolving issues effectively.
The ______________ service allows you to easily convert text from one language to another, making communication across borders more accessible.
Due to the _______________ availability of seats, we kindly request that participants register early to secure their spots at the workshop.
At the ______________, experts from various fields will gather to discuss the latest advancements in technology and innovation.
Listening: