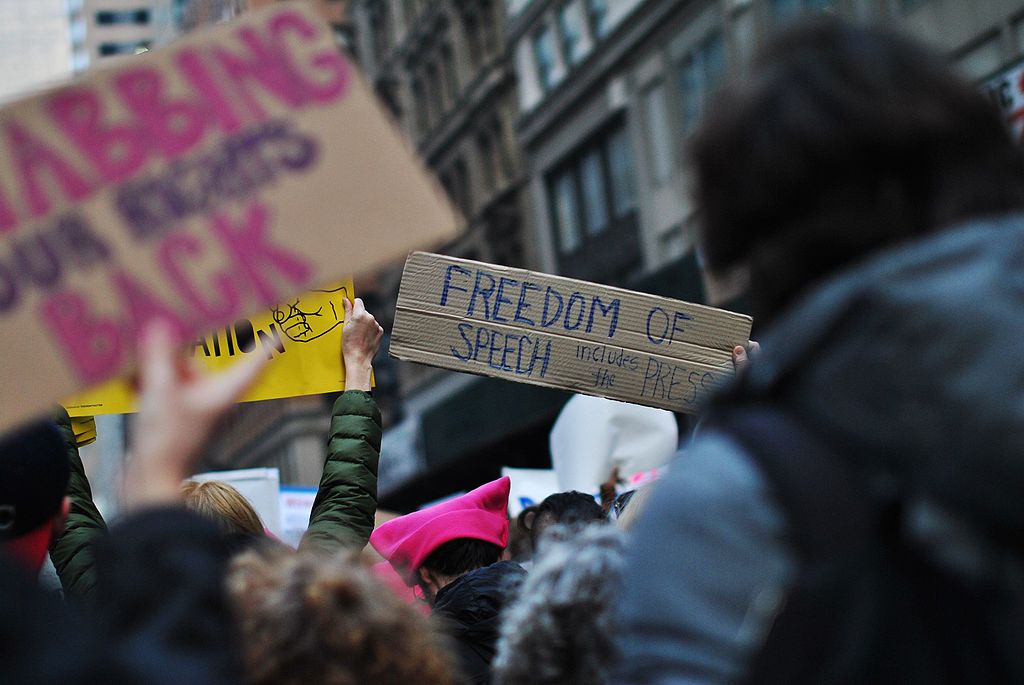 ©Narih Lee, CC BY 2.0 , via Wikimedia Commons
Pre-reading questions:
I will read each question. Then, please answer them.
講師がそれぞれの質問を読むので答えましょう。
Are you familiar with "cancel culture"?
Do you think "cancel culture" is a healthy way of online interaction?
Vocabulary:
I will read the words, meanings, and sample sentences. Then, repeat after me.
単語、意味、例文を読みます。講師に続いて音読しましょう。
concern /kuhn-SURN/

[noun] – a worried or nervous feeling about something, or something that makes you feel worried
The doctor expressed concern over the patient's high blood pressure and advised lifestyle changes.

widely /WAHYD-lee/

[adverb] – by many
The research findings were widely accepted in the scientific community and influenced further studies in the field.

aspect /AS-pekt/

[noun] – one part of a situation, problem, subject, etc.
Time management is an important aspect of maintaining a productive work-life balance.

legal /LEE-guhl/

[adjective] – connected with the law
Driving under the influence of alcohol is against the law and can lead to legal consequences.

reputation /rep-yuh-TEY-shuhn/

[noun] – the opinion that people in general have about someone or something, or how much respect or admiration someone or something receives, based on past behaviour or character
He built a strong reputation in the industry for his exceptional leadership skills.
Article reading:
Please read the whole article. Then, I will check your pronunciation and intonation.
記事を音読しましょう。講師はあなたの発音とイントネーションを確認します。
Singapore is considering introducing a unique law addressing "cancel culture," which involves publicly criticizing or shaming others for perceived wrongdoings. This comes amid escalating conflicts between supporters of gay rights and conservative religious groups following the decriminalization of homosexuality in Singapore. Although concerns about limiting freedom of speech have been raised by some, the government aims to strike a balance between protecting free speech and preventing hate speech.
"Cancel campaigns" conducted online can have significant repercussions, leading to self-censorship and preventing reasonable public discussions. However, defining the act of "canceling" poses challenges due to the lack of a widely accepted definition. To address the internet-specific aspects, the law may require cooperation from social media platforms, which might need to regulate users or comply with court orders to remove offending posts. Identifying perpetrators of "cancel culture" would necessitate special legal mechanisms to address the rapid spread of information and potential harm to reputations. Given Singapore's existing internet-related laws, any rule on "cancel culture" must be carefully crafted to navigate the many aspects of online interactions.
True or False:
Read the sentences and identify if they are true or false based on the article.
文章を読んで、記事に基づいて正誤を答えましょう。
Singapore is considering introducing a law addressing "cancel culture."
Cancel culture involves publicly praising others for perceived wrongdoings.
Concerns about limiting freedom of speech have been raised regarding the proposed law on "cancel culture."
The government aims to protect hate speech.
Singapore has existing internet-related laws that would need to be considered in any rule on "cancel culture."
Fill in the blanks:
Choose the correct word from the table then fill in the blanks.
適切な言葉を選んで空欄を埋めましょう。
| | | | | |
| --- | --- | --- | --- | --- |
| concern | widely | aspect | legal | reputation |
The restaurant's excellent service and delicious food have earned it a positive _______________ in the community.
It is important to follow _______________ procedures to ensure compliance with the law.
His safety was a major _______________ for his family.
The novel became _______________ popular, selling millions of copies worldwide.
The professor discussed the cultural _______________ of the historical event during the lecture.
Listening: