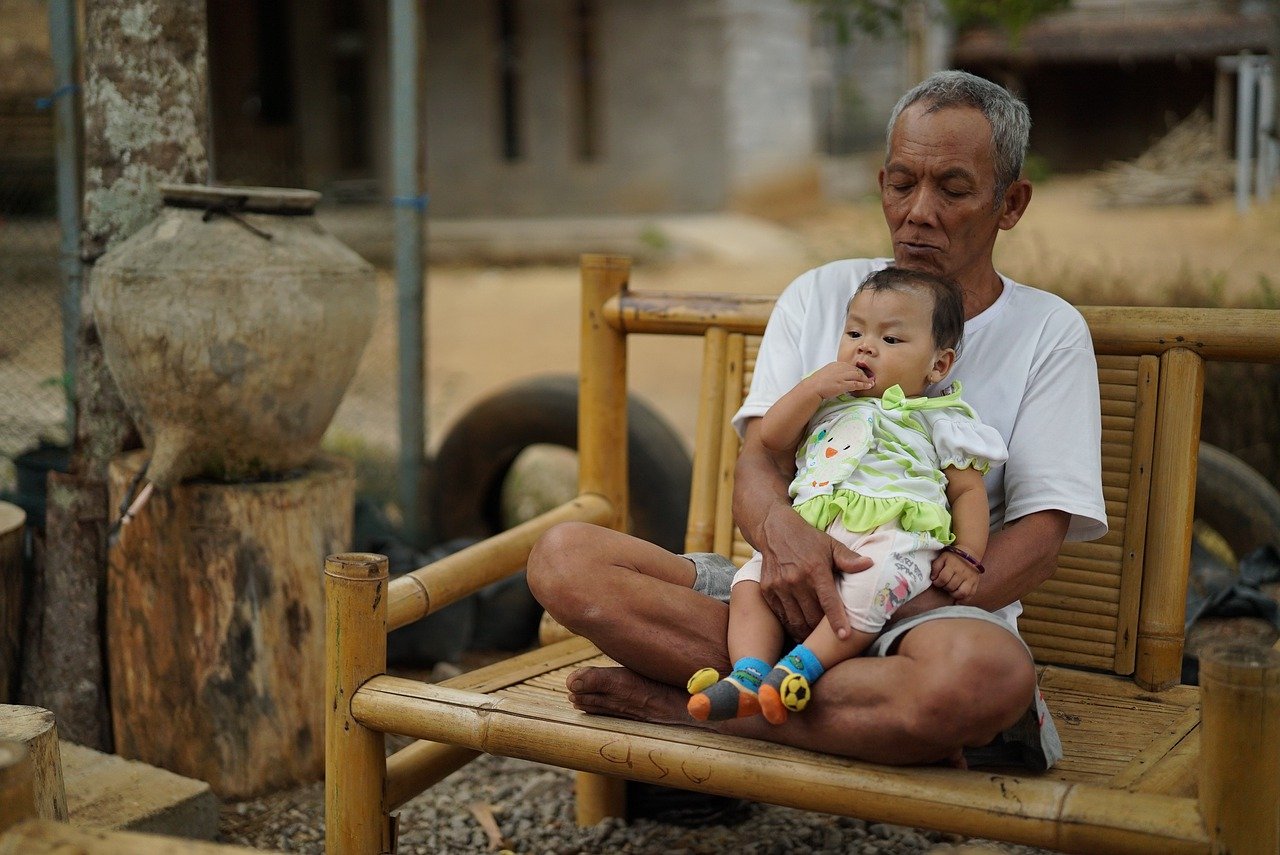 Pre-reading questions:
I will read each question. Then, please answer them.
講師がそれぞれの質問を読むので答えましょう。
Do men face difficulties when becoming fathers at a later age?
Does fertility decline as men age?
Vocabulary:
I will read the words, meanings, and sample sentences. Then, repeat after me.
単語、意味、例文を読みます。講師に続いて音読しましょう。
difficulty /DIF-i-kuhl-tee/

[noun] – the fact of not being easy to do or understand
Jane had some difficulty solving the math problem, but she asked her teacher for help and managed to find the correct answer.

situation /sich-oo-EY-shuhn/

[noun] – the set of things that are happening and the conditions that exist at a particular time and place
When Tim forgot his lunch money, the cafeteria staff understood his situation and kindly allowed him to pay the next day.

decline /dih-KLAHYN /

[verb] – to gradually become less, worse, or lower
Over the years, the population of the small town has been declining as many young people have moved to bigger cities in search of better opportunities.

mindful /MAHYND-fuhl/

[adjective] – deliberately aware of your body, mind, and feelings in the present moment, in order to create a feeling of calm
In order to improve your concentration, it is important to be mindful of the task at hand and avoid distractions.

healthcare /HELTH-kair/

[noun] – the activity or business of providing medical services
Access to affordable healthcare is essential for everyone to stay healthy and receive necessary medical treatment.
Article reading:
Please read the whole article. Then, I will check your pronunciation and intonation.
記事を音読しましょう。講師はあなたの発音とイントネーションを確認します。
Discover the risks of becoming a father at a later age and understand the difficulties faced by men in this situation. As men get older, it becomes harder for them to have children naturally.
As men age, their fertility declines, increasing the risk of infertility and passing on genetic changes to their kids. These changes can result in developmental issues, conditions like autism or schizophrenia, and birth defects. To minimize these risks, older dads should be mindful of the health risks and consult healthcare professionals before starting a family. Older fathers face double trouble: genetic risks for their kids and health risks for themselves. Studies show they're prone to diabetes, high blood pressure, and cancer. These issues can hinder their involvement in their child's life. Older men must prioritize their health and seek medical advice to reduce their risks.
Age doesn't determine fatherhood. Older dads face their own challenges and joys. Planning, good health, and professional advice are essential. Make informed decisions, embrace the rewards, and minimize the risks. Love and support shape a child's life.
True or False:
Read the sentences and identify if they are true or false based on the article.
文章を読んで、記事に基づいて正誤を答えましょう。
As men get older, it becomes easier for them to have children naturally.
Older fathers are not at risk of passing on genetic changes to their kids.
Autism and schizophrenia are not among the potential developmental issues associated with genetic changes in older fathers.
Older dads do not need to be mindful of health risks before starting a family.
Older fathers are not prone to diabetes, high blood pressure, or cancer.
Fill in the blanks:
Choose the correct word from the table then fill in the blanks.
適切な言葉を選んで空欄を埋めましょう。
| | | | | |
| --- | --- | --- | --- | --- |
| difficulty | situation | decline | mindful | healthcare |
Nurses play a crucial role in providing primary ______ services, such as administering medications and assisting doctors in treating patients.
During the exam, be ______ of the time and allocate it wisely to ensure you can answer all the questions.
Mark encountered some ______ understanding the instructions, but he carefully read them again and was able to complete the task successfully.
Sarah's car broke down on the highway, which put her in a stressful ______, but a kind stranger stopped to help her fix it.
The quality of the restaurant's food has been ______ recently as the new chef's recipes didn't meet the customers' expectations.
Listening: