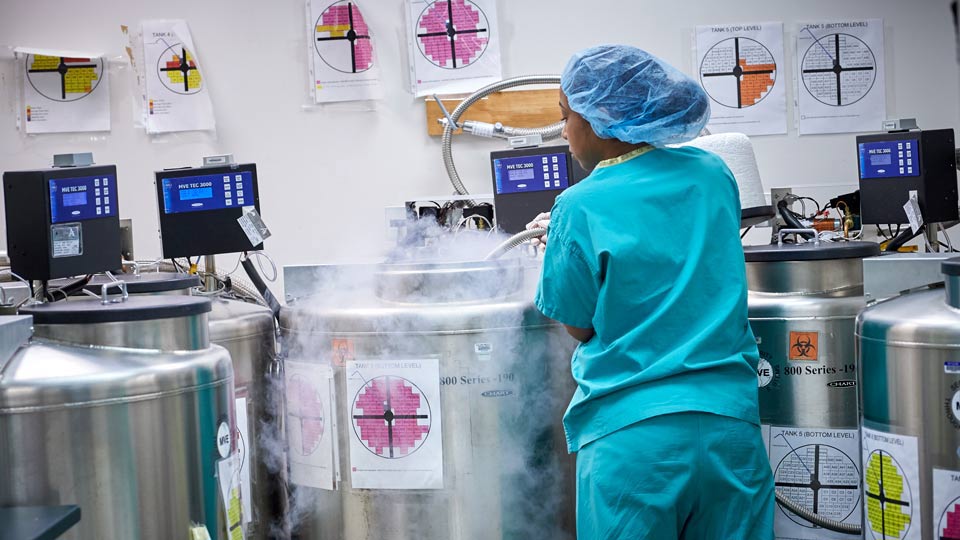 ©NYU Langone Health
Vocabulary:
I will read the words, meanings, and sample sentences. Then, repeat after me.
prompt /prompt /

[verb] – to make someone decide to say or do something
The passionate speech by the activist prompted the audience to take immediate action against climate change.

fertile /FUR-tl/

[adjective] – (of people or animals) able to produce young
The doctor assured the young woman that she had a fertile reproductive system, increasing her chances of conceiving a child.

donor /DOH-ner/

[noun] – a person who gives some of their blood or a part of their body to help someone who is ill
Doctors removed the healthy kidney from the donor.

sibling /SIB-ling /

[noun] – a brother or sister
I have a younger sibling who always looks up to me and wants to join in on all the activities I do.

retain /ri-TEYN/

[verb] – to keep or continue to have something
After completing the project, the teacher instructed us to retain our notes for future reference.
Article reading:
Please read the whole article. Then, I will check your pronunciation and intonation.
A recent report indicates a growing trend of women choosing to freeze their eggs for future fertility preservation. The Human Fertilization and Embryology Authority (HFEA) reported a significant increase in patients undergoing this procedure, with over 4,000 cases in 2021 compared to 2,500 in 2019. The COVID-19 pandemic is believed to have influenced this rise as women became more aware of their reproductive options during lockdown. Sarah Norcross, director of the Progress Educational Trust fertility charity, suggests that limited social activities during lockdown may have prompted women to consider their fertile periods and explore reproductive choices. However, the report also reveals a decrease in women's willingness to donate their eggs for others to use. The number of new egg donors in 2019 was approximately 1,500, showing a slight decline to slightly over 1,400 in 2021. An example is Helen Henry, who donated her eggs at age 34 when she decided to freeze them. Despite her initial guilt, she found comfort in knowing that her donation resulted in the birth of a child. Helen hopes to establish a connection with her genetic sibling in the future.
Vicky Pattison, an Essex TV presenter, recently froze her eggs because she wasn't ready for motherhood. She fertilized three eggs with her partner's sperm (20% chance of success) and retained three unfertilized eggs (10% chance). Vicky emphasizes the need for transparent information to make informed decisions. The HFEA emphasizes age's impact on egg freezing success, particularly among women under 35. Consultant obstetrician and gynecologist Bassel Wattar stresses the importance of raising awareness about the procedure's benefits and considerations and providing comprehensive support to individuals on their fertility journey.
Discussion Questions:
I will read each question. Then, please answer them.
Have you encountered any discussions or awareness campaigns about egg freezing in your community or educational institution?
Have you ever considered freezing your eggs or sperm as a way to preserve your fertility for later in life? How do you think the decision to freeze eggs or sperm might impact your future family planning and overall life goals?
Do you agree that there should be more awareness and education about the pros and cons of egg freezing for women who are considering the procedure?
Can you think of any ethical considerations or dilemmas associated with egg or sperm freezing?
What are your expectations or hopes for the future of reproductive technologies like egg and sperm freezing?
Summarization
Please summarize the whole article using your own words and expressions. You will have one minute to prepare before you answer.
Describe:
Please explain the definition of each word listed below based on your understanding. You can provide example sentences if needed.
genetic
comprehensive
awareness
unfertilized eggs
fertility preservation
Listening: