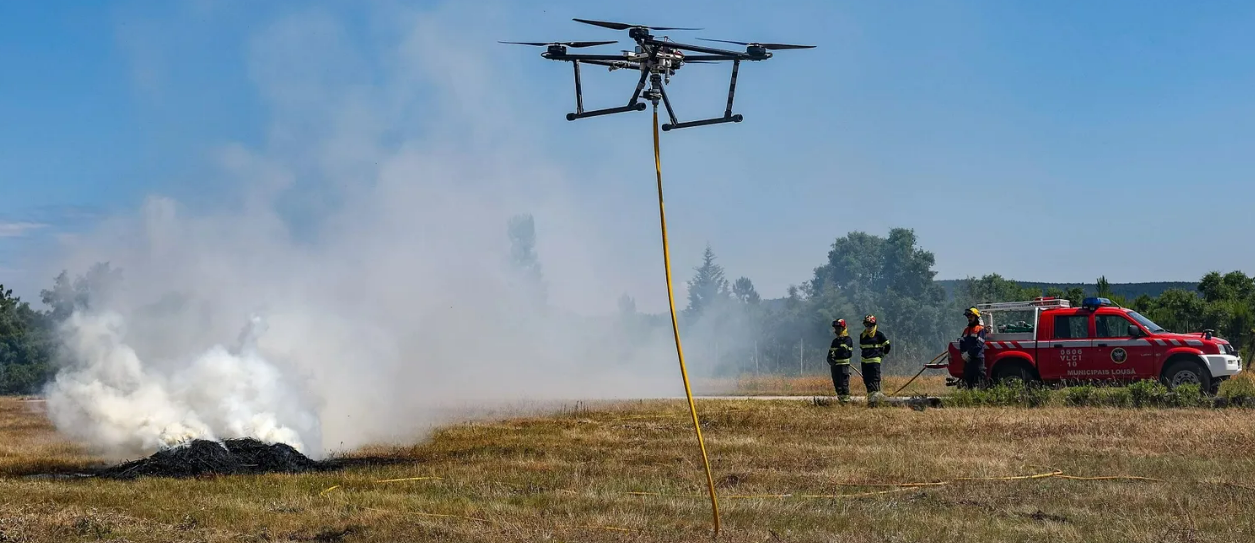 ©ADAI/University of Coimbra
Pre-reading questions:
I will read each question. Then, please answer them.
講師がそれぞれの質問を読むので答えましょう。
Do you believe firefighting drones can effectively suppress and control wildfires?
Have you witnessed a firefighting drone successfully extinguishing a wildfire?
Vocabulary:
I will read the words, meanings, and sample sentences. Then, repeat after me.
単語、意味、例文を読みます。講師に続いて音読しましょう。
vehicle /VEE-i-kuhl/

[noun] – a machine, usually with wheels and an engine, used for transporting people or goods, especially on land
My father drives a blue vehicle to work every day.

manage /MAN-ij/

[verb] – to succeed in doing or dealing with something, especially something difficult
Sarah was able to manage her time effectively, completing all her homework while still having time for her hobbies.

firefighter /FAHYUHR-fahy-ter/

[noun] – a person whose job is to stop fires from burning
The firefighter bravely entered the burning building to rescue the trapped family.

predict /pri-DIKT/

[verb] – to say that an event or action will happen in the future, especially as a result of knowledge or experience
The weather forecast predicts rain tomorrow, so don't forget to bring your umbrella.

property /PROP-er-tee/

[noun] – a building or area of land, or both together
My parents bought a new house, and now they are working on improving the property by planting flowers in the garden.
Article reading:
Please read the whole article. Then, I will check your pronunciation and intonation.
記事を音読しましょう。講師はあなたの発音とイントネーションを確認します。
Welcome to the age of heroic drones that battle wildfires from the sky. These state-of-the-art unmanned aerial vehicles (UAVs), armed with advanced technology, can save lives, protect the environment, and minimize the destruction caused by wildfires. Let's explore the groundbreaking world of firefighting drones, which are poised to revolutionize how we manage wildfires.
Wildfires are fierce, but drones fight back. With thermal cameras, they track the fire's movement and relay crucial information to firefighters. Drones swiftly deliver water or fire retardants, slowing down the flames. They analyze data, predict fire behavior, and enhance firefighting tactics using AI and machine learning. Whether autonomous or remote-controlled, drones provide flexibility and safety. They also prevent wildfires and assess post-fire damage, gathering valuable data for improved fire management.
These revolutionary firefighting drones possess enhanced capabilities in detecting, suppressing, preventing, and assessing wildfires. Thanks to advancements in technology and ongoing research, we are witnessing the realization of their full potential. This enables us to protect lives, properties, and natural habitats from the devastating impact of wildfires.
True or False:
Read the sentences and identify if they are true or false based on the article.
文章を読んで、記事に基づいて正誤を答えましょう。
Wildfires can be completely eliminated with the use of drones.
Firefighters rely on drones to track the movement of wildfires.
Drones equipped with thermal cameras can analyze fire behavior.
Drones are only capable of delivering water to extinguish flames.
Firefighting drones have limited capabilities for detecting wildfires.
Fill in the blanks:
Choose the correct word from the table then fill in the blanks.
適切な言葉を選んで空欄を埋めましょう。
| | | | | |
| --- | --- | --- | --- | --- |
| vehicle | manage | firefighter | predict | property |
It is important to take care of public ______, such as parks and playgrounds, by keeping them clean and not damaging any equipment.
The school provided a study guide to help the students ______ their workload during exam week.
In case of an emergency, it is important to call the ______ hotline for immediate help.
In the future, electric ______ will become more common as people prioritize sustainable transportation.
The scientist used data and experiments to _______ the outcome of the chemical reaction.
Listening: