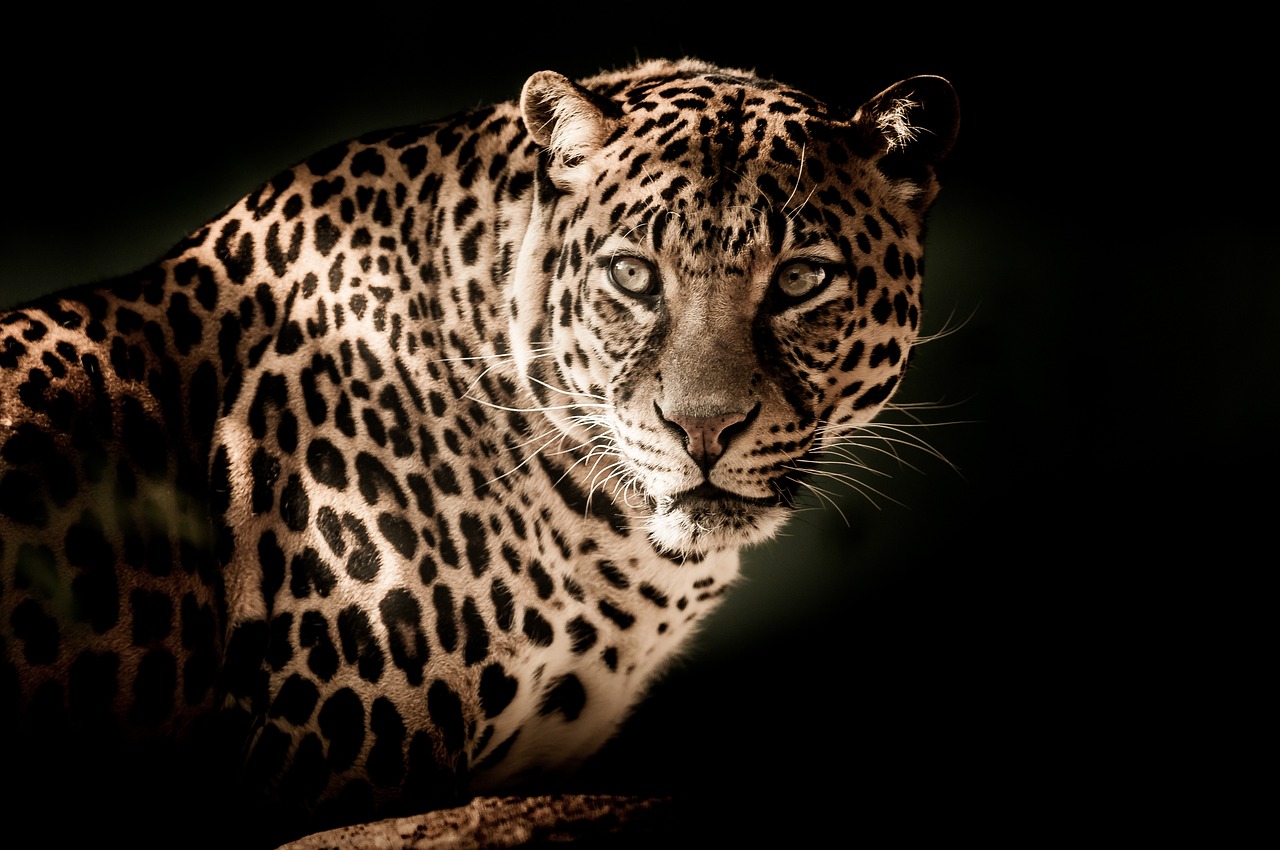 Pre-reading questions:
I will read each question. Then, please answer them.
講師がそれぞれの質問を読むので答えましょう。
Do you know what a leopard is?
Do you think leopards are important to the ecosystem?
Vocabulary:
I will read the words, meanings, and sample sentences. Then, repeat after me.
単語、意味、例文を読みます。講師に続いて音読しましょう。
leopard /LEP-erd/

[noun] – a large wild cat that has yellow fur with black spots on it and lives in Africa and southern Asia
The leopard, with its distinctive spotted coat, is a stealthy and agile predator known for its ability to climb trees and ambush its prey.

illegal /ih-LEE-guhl/

[adjective] – not allowed by law
Poaching elephants for their ivory tusks is an illegal activity that threatens the survival of these majestic creatures.

freely /FREE-lee/

[adverb] – without being controlled or limited
Birds soared freely through the open sky, their wings spreading wide as they embraced the freedom of flight.

protection /pruh-TEK-shuhn/

[noun] – the act of protecting or state of being protected
The confidential documents were stored in a secure vault for maximum protection against unauthorized access.

income /IN-kuhm/

[noun] – money that is earned from doing work or received from investments
Many individuals pursue additional sources of income through freelance work or part-time jobs to supplement their regular salaries.
Article reading:
Please read the whole article. Then, I will check your pronunciation and intonation.
記事を音読しましょう。講師はあなたの発音とイントネーションを確認します。
The Indochina leopard, a magnificent big cat found in Southeast Asia, is in serious danger of disappearing forever. Its population is rapidly decreasing due to factors like habitat loss, illegal hunting, and poaching. To prevent its extinction, conservationists are urgently calling for action. Conservation organizations and regional governments are working together to save the Indochina leopard. They have developed comprehensive plans that focus on different aspects of conservation. These plans include protecting the leopard's habitat, stopping illegal hunting and poaching, and educating people about the importance of preserving this species.
The Indochina leopard is a crucial part of the ecosystem as an apex predator. If it disappears, it can disrupt the balance of the natural environment and negatively affect other species. To protect the leopard, conservationists are creating protected areas and wildlife corridors. These areas allow the leopard to roam freely and find suitable habitats. In addition to habitat protection, efforts are being made to involve local communities in conservation. By providing alternative sources of income and promoting sustainable livelihoods, the pressure on natural resources is reduced, reducing the incentive for illegal hunting.
True or False:
Read the sentences and identify if they are true or false based on the article.
文章を読んで、記事に基づいて正誤を答えましょう。
The Indochina leopard population is rapidly increasing.
The Indochina leopard is endangered due to factors such as habitat loss, illegal hunting, and poaching.
Conservation organizations and regional governments are collaborating to save the Indochina leopard from extinction.
Comprehensive conservation plans have been developed, focusing on catching the leopards.
The Indochina leopard plays a crucial role as an apex predator in the ecosystem.
Fill in the blanks:
Choose the correct word from the table then fill in the blanks.
適切な言葉を選んで空欄を埋めましょう。
| | | | | |
| --- | --- | --- | --- | --- |
| leopard | illegal | freely | protection | income |
Ecotourism can provide local communities with a sustainable ___________ while promoting wildlife conservation.
The lions roamed ___________ , showcasing their natural grace and beauty.
The majestic ___________ is known for its beautiful spotted coat and impressive agility.
Hunting and trading endangered species is ___________ and punishable by law.
Conservation organizations work tirelessly to ensure the ___________ of endangered species and their habitats.
Listening: