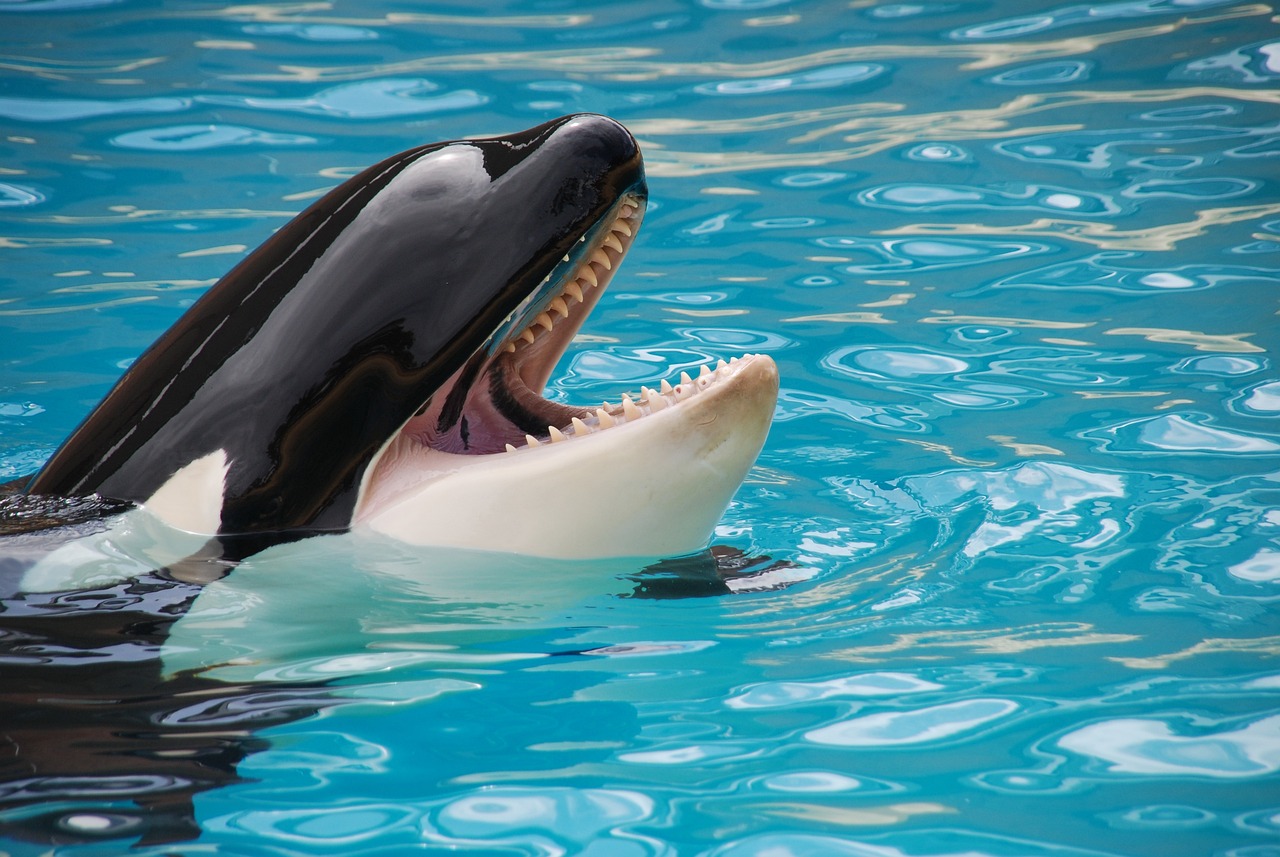 Pre-reading questions:
I will read each question. Then, please answer them.
講師がそれぞれの質問を読むので答えましょう。
Have you recently encountered or observed orcas ramming boats in your area?
Do you believe that environmental factors, such as pollution or changes in prey availability, could be contributing to orcas ramming boats?
Vocabulary:
I will read the words, meanings, and sample sentences. Then, repeat after me.
単語、意味、例文を読みます。講師に続いて音読しましょう。
whale /weyl/

[noun] – a very large sea mammal that breathes air through a hole at the top of its head
Whales are enormous creatures that live in the ocean and swim gracefully through the water.

crash /krash/

[verb] – If a vehicle crashes or someone crashes it, it is involved in an accident, usually a serious one in which the vehicle is damaged and someone is hurt
The car crashed into a tree, causing a loud noise and damaging the front bumper.

social /SOH-shuhl/

[adjective] – relating to society and living together in an organized way
It's important to have good social skills so that we can make friends and interact with others in a friendly way.

sailor /SEY-ler/

[noun] – a person who works on a ship, especially one who is not an officer
The sailor navigated the ship through rough seas, using maps and a compass to find the right direction.

aim /eym/

[verb] – to intend
Our school aims to provide a supportive learning environment where every student can excel academically and personally.
Article reading:
Please read the whole article. Then, I will check your pronunciation and intonation.
記事を音読しましょう。講師はあなたの発音とイントネーションを確認します。
Have you ever wondered why orcas, also known as killer whales, are crashing into boats? It's a puzzling behavior that has left scientists scratching their heads. 
Orcas are impressive apex predators known for their intelligence and social behavior. However, there has been a concerning rise in incidents of orcas colliding with boats, causing alarm among scientists and sailors. The increased interactions between humans and orcas could be a contributing factor, triggering curiosity, territorial instincts, or frustration in the orcas. Understanding their motivations is crucial for safety. Scientists are also exploring the possibility that these collisions serve as a means of communication among orcas, shedding light on their social structure and rivalries. By studying factors like food availability, environmental changes, and orca behavior, researchers aim to unravel this mystery and protect these remarkable animals.
Orcas colliding with boats have alarmed scientists and sparked worries. Human interaction, social dynamics, and environmental changes may contribute to this behavior. Through better understanding, we can create successful strategies to coexist with and protect these amazing animals.
True or False:
Read the sentences and identify if they are true or false based on the article.
文章を読んで、記事に基づいて正誤を答えましょう。
Orcas are commonly known as dolphins.
Scientists are completely certain about the reasons behind orcas colliding with boats.
Increased human interaction could trigger curiosity in orcas.
Collisions between orcas and boats have not caused any concerns among sailors.
Orcas colliding with boats might be a form of intentional communication among themselves.
Fill in the blanks:
Choose the correct word from the table then fill in the blanks.
適切な言葉を選んで空欄を埋めましょう。
| | | | | |
| --- | --- | --- | --- | --- |
| whale | crash | social | sailor | aim |
The math club ______ to help students improve their problem-solving skills through fun and interactive activities.
Some ______, like the blue whale, are the largest animals on Earth, and they communicate with each other using low-frequency sounds called whale songs.
The waves ______ against the shore, creating a beautiful sight and a soothing sound.
Joining a club or participating in group activities can help improve our ______ connections and make us feel more connected to others.
The young boy pretended to be a ______ and set off on an imaginary adventure across the bathtub.
Listening: