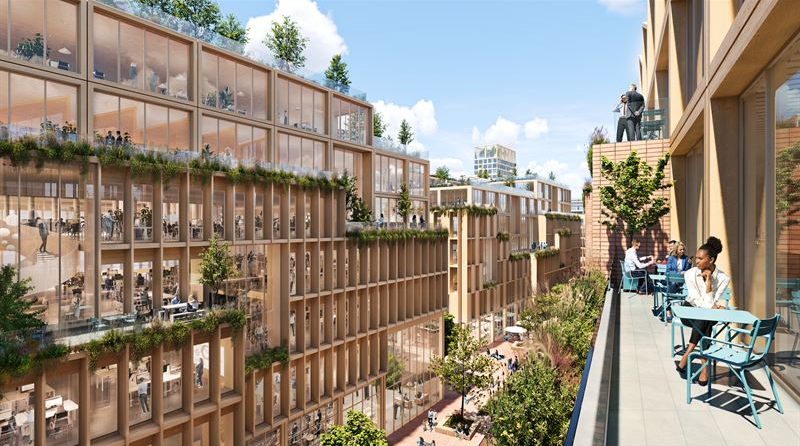 ©Atrium Ljungberg / Henning Larsen
Pre-reading questions:
I will read each question. Then, please answer them.
What do you know about Sweden?
What comes to mind when you hear the word city?
Vocabulary:
I will read the words, meanings, and sample sentences. Then, repeat after me.
ambitious /am-BISH-uhs/

[adjective] – If a plan or idea is ambitious, it needs a great amount of skill and effort to be successful or be achieved
The company's ambitious expansion plan involved entering new markets and diversifying its product offerings.

enhance /en-HANS/

[verb] – to improve the quality, amount, or strength of something
The art exhibition showcases various techniques and styles that enhance the beauty and impact of the artworks.

commercial /kuh-MUR-shuhl/

[adjective] – related to making money by buying and selling things
The commercial sector of the economy plays a crucial role in generating revenue and driving economic growth.

resident /REZ-i-duhnt/

[noun] – a person who lives or has their home in a place
The city's residents were encouraged to participate in the local recycling program to promote sustainability.

dedication /ded-i-KEY-shuhn /

[noun] – the willingness to give a lot of time and energy to something because it is important
Mark's dedication to his studies paid off when he received top grades in all his classes.
Article reading:
Please read the whole article. Then, I will check your pronunciation and intonation.
Stockholm is embarking on an ambitious project to create the world's largest wooden city, merging sustainable design with urban development. In collaboration with architecture firm White Arkitekter, the Stockholm Municipality is spearheading the construction of a new district called "Slakthusområdet" that will showcase the city's commitment to environmental sustainability and architectural innovation.
The master plan for Slakthusområdet focuses on sustainability and community building. The predominantly wooden buildings not only reduce the carbon footprint associated with traditional construction materials but also provide a warm and natural aesthetic that enhances the overall livability of the area. The district will comprise a mix of residential buildings, offices, commercial spaces, and public areas, all designed to prioritize walkability, green spaces, and sustainable transportation options. These features aim to foster a sense of well-being and connectivity among residents and visitors. The use of wood as a construction material aligns with the global trend towards sustainability, as it offers a renewable resource that can store carbon dioxide and contribute to climate change mitigation. Stockholm's project exemplifies the city's commitment to carbon neutrality and represents a significant stride towards more sustainable urban development. By creating the world's largest wooden city, Stockholm not only showcases its dedication to sustainable practices but also sets a remarkable precedent for other cities worldwide. This innovative project demonstrates the possibilities of combining modern design, environmental responsibility, and livability in urban areas.
Comprehension questions
I will read each question. Then, please answer them based on the article.
What is the purpose of Stockholm's project to create the world's largest wooden city?
How does the use of wood as a construction material contribute to sustainability?
What types of buildings will be included in the Slakthusområdet district?
What are some key features of the master plan for Slakthusområdet?
How does the project prioritize community building and connectivity?
Discussion questions
I will read each question. Then, please answer them.
What benefits do you think a wooden city can bring in terms of aesthetics and livability?
How do you feel about the concept of building a large wooden city in Stockholm?
Do you think using wood as the primary construction material is an effective way to promote sustainability in urban development?
How important is it for cities to prioritize sustainable transportation options and green spaces in urban planning?
Do you believe projects like the world's largest wooden city in Stockholm can inspire other cities to embrace sustainable architectural practices? How?
Listening: