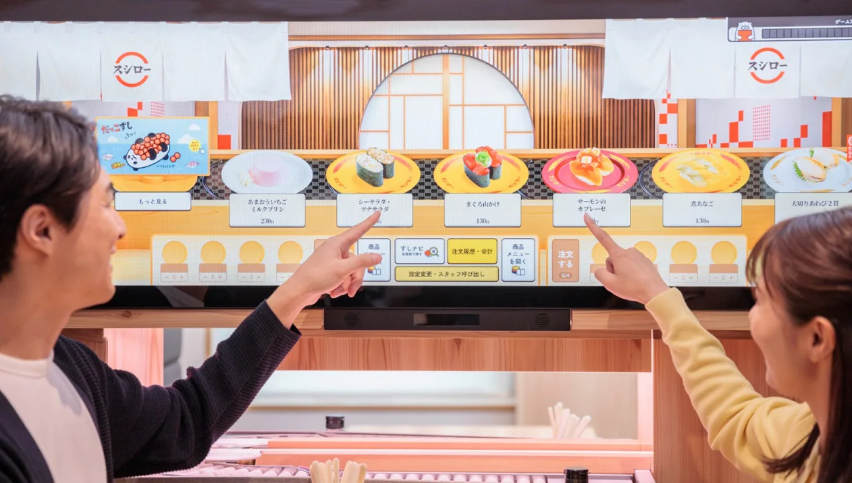 ©FOOD and LIFE COMPANIES
Pre-reading questions:
I will read each question. Then, please answer them.
When you hear the term "digital conveyor belts" in the context of a sushi chain, what do you think it might involve?
How do you think this digital technology could change the way sushi is served and enjoyed?
Vocabulary:
I will read the words, meanings, and sample sentences. Then, repeat after me.
concern /kuhn-SURN/

[noun] – a worried or nervous feeling about something or something that makes you feel worried
Her concern for her friend's well-being led her to call and check on them.

device /dih-VAHYS/

[noun] – an object or machine that has been invented for a particular purpose
I use a GPS device to help me find my way when I'm driving in a new city.

individual /in-duh-VIJ-oo-uhl/

[noun] – a single person or thing, especially when compared to the group or set to which they belong
Each individual in the group had a different perspective on the issue.

debate /dih-BEYT/

[noun] – serious discussion of a subject in which many people take part
The debate on climate change involved scientists, politicians, and activists from around the world.

potential /puh-TEN-shuhl /

[noun] – someone's or something's ability to develop, achieve, or succeed
With the right support and opportunities, she has the potential to become a successful artist.
Article reading:
Please read the whole article. Then, I will check your pronunciation and intonation.
Amid food hygiene concerns, the renowned Japanese sushi chain Sushiro has introduced an innovative dining solution. In Tokyo, Osaka, and Nagoya, Sushiro has replaced traditional rotating "kaiten" conveyor belts with digital ones. Customers can now order sushi and other dishes through touchscreen devices, complete with animated dish representations. Once ordered, a separate conveyor belt delivers the selected items directly to the customer's table. This technological advancement aims to improve food safety, enhance customer satisfaction, and elevate the overall dining experience.
The shift to digital conveyor belts was prompted by a concerning trend called "sushi terrorism." This trend involves individuals emulating viral online videos by tampering with food and sharing soy sauce bottles on traditional conveyor belts at Sushiro restaurants, leading to arrests and a significant lawsuit. Akindo Sushiro is suing a high school student for 67 million yen ($480,000) after he posted a video on social media showing him tampering with sushi on a conveyor belt. This incident cost the company approximately 16 billion yen ($115 million) due to decreased customer turnout and a drop in the parent company's stock value. While the introduction of digital conveyor belts aims to enhance hygiene and modernize post-Covid dining, it has sparked debates among customers, with some lauding the potential for reduced food waste and improved cleanliness, while others worry about losing the beloved traditional kaiten style.
Comprehension questions
I will read each question. Then, please answer them based on the article.
Why did Sushiro decide to use digital conveyor belts in some of its restaurants?
How can customers order their food in these Sushiro restaurants now?
What was the reason behind the shift to digital conveyor belts, and what are its advantages?
What is meant by "sushi terrorism," and why did it become a problem for Sushiro?
How did the incident involving the high school student impact Sushiro's business?
Discussion questions
I will read each question. Then, please answer them.
Have you ever dined at a restaurant with a unique and innovative concept like the digital conveyor belts introduced by Sushiro? If yes, please share your experience and how it compares to traditional dining. If not, would you be excited to try such a dining experience, and why or why not?
The article mentions that the introduction of digital conveyor belts at Sushiro aims to improve food safety and enhance the dining experience. Have you ever experienced a situation where technology was used to improve safety or convenience in a restaurant or other place? If yes, please share your experience. If not, can you imagine how technology could make dining out safer or more enjoyable?
Do you think the introduction of digital conveyor belts in Sushiro restaurants is a positive step to address food hygiene concerns?
What do you think could be the potential challenges or drawbacks of relying on technology like digital conveyor belts in the restaurant industry? How might these challenges be addressed?
The article mentions the term "sushi terrorism" and the impact it had on Sushiro. Can you think of other instances where viral trends or online activities have negatively affected businesses or industries? How can companies protect themselves from such trends in the age of social media and the internet?
Listening: