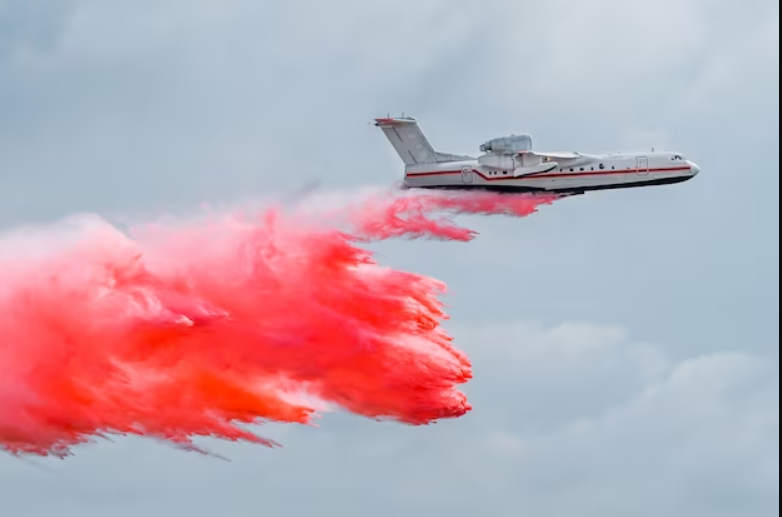 Pre-reading questions:
I will read each question. Then, please answer them.
What do you think "gender reveal" means based on the term itself?
Can you think of any traditional or common ways that people might announce the gender of a new baby to their friends and family?
Vocabulary:
I will read the words, meanings, and sample sentences. Then, repeat after me.
gender /JEN-der /

[noun] – a group of people in a society who share particular qualities or ways of behaving that society associates with being male, female, or another identity
In our progressive society, we aim to break down stereotypes and promote gender equality, allowing everyone to express themselves freely.

aircraft /AIR-kraft/

[noun] – any vehicle, with or without an engine, that can fly, such as a plane or helicopter
The airport's busy runway is always filled with a variety of aircraft, from small propeller planes to massive commercial jets.

beneath /bih-NEETH/

[preposition] – in or to a lower position than someone or something, under someone or something
The hidden treasure was buried deep beneath the ancient ruins, waiting to be discovered by archaeologists.

capture /KAP-cher /

[verb] – to take someone as a prisoner or to take something into your possession, especially by force
The brave soldiers captured the enemy general, leading to a significant victory in the battle.

authority /uh-THAWR-i-tee/

[noun] – a group of people with official responsibility for a particular area of activity
The local authorities are responsible for maintaining law and order in our community, ensuring the safety and well-being of its residents.
Article reading:
Please read the whole article. Then, I will check your pronunciation and intonation.
In a shocking turn of events, a gender reveal party in Navolato, Sinaloa State, Mexico, took a tragic twist when the aircraft used for the celebration crashed, leaving participants and onlookers in shock. The incident unfolded as a small plane flew over an expectant couple, releasing vibrant pink smoke to reveal their baby's gender. Positioned beneath an "Oh baby" sign amidst a sea of pink and blue balloons, the couple eagerly anticipated the big reveal. However, the celebration quickly turned nightmarish when video footage captured the plane's left wing seemingly disconnecting from the fuselage as it moved away from the onlookers. While authorities confirmed the crash, critical details about the pilot's fate remain undisclosed. An investigation into the crash's cause is underway, and thankfully, no injuries were reported among the spectators.
This incident in Mexico highlights the transformation of gender reveal parties from simple, joyous celebrations into extravagant and sometimes perilous events. Historically, such gatherings involved simpler activities like cake-cutting or fireworks to reveal a baby's gender. However, an increasing number of parents have embraced riskier and more extravagant options, leading to accidents and incidents like the one in Navolato. It serves as a stark reminder of the need to prioritize safety when commemorating significant life moments, emphasizing that sometimes simplicity can be more meaningful than extravagance.
Comprehension questions
I will read each question. Then, please answer them based on the article.
What kind of party is mentioned in the article, and where did it take place?
How did the aircraft used in the gender reveal party crash, and what was the result of the crash?
What were the couple and the onlookers eagerly awaiting during the celebration?
In the video footage mentioned, what did it capture about the plane?
What did the authorities confirm regarding the incident, and what information about the pilot is still unknown?
Discussion questions
I will read each question. Then, please answer them.
Have you ever attended a gender reveal party, or do you know someone who has? If yes, can you describe the experience and the way the gender was revealed? If not, how do you imagine such a celebration would be based on the article's description?
What are your thoughts on the idea of gender reveal parties becoming more extravagant and sometimes risky, as mentioned in the article? Do you believe it's essential to prioritize safety during these celebrations, or do you think simplicity is more meaningful? Why or why not?
Do you think gender reveal parties have become more extravagant over the years, based on the information in the article?
Why do you think some parents are choosing riskier and more extravagant options for gender reveal parties, as mentioned in the article? What might be the motivations or pressures behind these choices, and what are the potential consequences?
The article suggests that the incident in Mexico serves as a reminder to prioritize safety during significant life moments. How can we balance the desire for celebration and excitement with the need for safety, not just in gender reveal parties but in various aspects of life? What are some strategies to achieve this balance?
Listening: