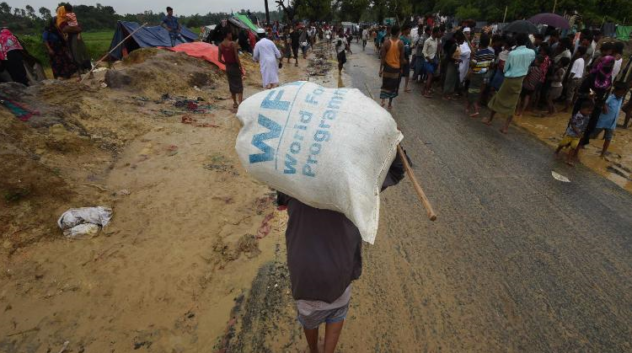 © CNN
Pre-reading questions:
I will read each question. Then, please answer them.
Have you ever had a chance to help victims of a tragedy? Please tell me more.
What organization are you a part of?
Vocabulary:
I will read the words, meanings, and sample sentences. Then, repeat after me.
organization /awr-guh-nuh-ZEY-shuhn/

[noun] – a group of people who work together in an organized way for a shared purpose
I was a part of an organization when I was in highschool.

occur /uh-KUR/

[verb] – (especially of accidents and other unexpected events) to happen
The police are investigating how a crime like this could have occurred.

earthquake /URTH-kweyk/

[noun] – a sudden violent movement of the earth's surface, sometimes causing great damage
An earthquake destroyed much of the city's buildings and houses.

ton /tuhn/

[noun] – a unit of weight equal to 1,000 kilograms or 2,204.6 pounds
The victims of fire received tons of goods from the government.

employ /em-PLOI/

[verb] – to have someone work or do a job for you and pay them for it
More people are now employed in the education industry than in manufacturing.
Article reading:
Please read the whole article. Then, I will check your pronunciation and intonation.
The World Food Programme, which sent food to 97 million people in 2019, received the 2020 Nobel Peace Prize on the 9th of October this year. Almost 60 years ago, The United Nations agency did an attempt in 1961 when US President Dwight Eisenhower asked for it. Through the years, WFP shifted to be one of the world's greatest philanthropic organizations now. Its most famous mission occurred when an earthquake hit Northern Iran in 1962.
Weeks after the incident, the WFP bestowed 27 tons of tea, 1,270 tons of sugar, and 500 metric tons of wheat. The following year after that, it began a development mission in Sudan and made its first school meals project in Togo. The WFP became a certified UN agency in 1965 because of its contribution to the world through the years. Moreover, The WFP employs 5,600 vehicles, 30 ships, and approximately 100 airplanes to distribute goods to places around the world, giving more than 15 billion rations each year. "This is the first time in my life I've been speechless! This is unbelievable," David Beasley, the WFP's free-spoken American executive director, commented after hearing about the prize.
Comprehension Questions:
I will read each question. Then, please answer them based on the article.
What does WFP stand for?
When was the WFP founded?
What kind of organization is the WFP?
What was the most famous mission of the WFP in 1962?
When did the WFP become a certified UN agency?
Discussion Questions:
I will read each question. Then, please answer them.
How did the WFP become a certified UN agency?
If you were to win a Nobel Peace Prize, how would you feel about it?
What do you think about the works of the WFP?
What philanthropic organization do you have in your community? Tell me about it.
Would you like to be part of a philanthropic organization? Why or why not?