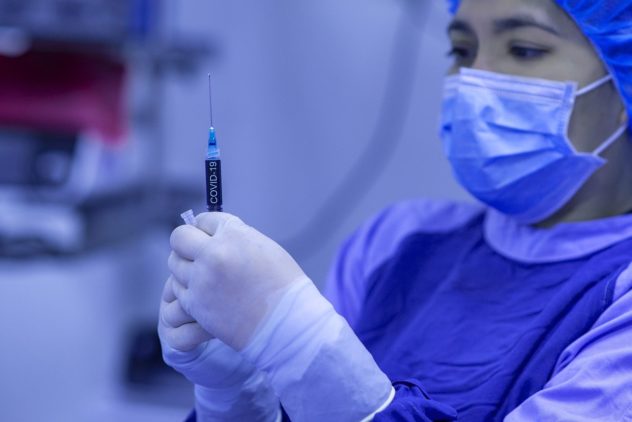 Pre-reading questions:
I will read each question. Then, please answer them.
Have you received any vaccinations? If so, what are they? If not, would you like to have one?
How often do you go to the hospital for a medical check-up?
Vocabulary:
I will read the words, meanings, and sample sentences. Then, repeat after me.
drugmaker /DRUHG-mey-ker/

[noun] – a drug company
My father manages a drugmaker branch in our city.

analysis /uh-NAL-uh-sis/

[noun] – the study of something in detail
Leah provided an accurate analysis of the current situation.

dose /dohs/

[noun] – a measured amount of something such as medicine
Make sure to take your daily dose of vitamin C.

long-term /LONG-turm/

[adjective] – continuing a long time into the future
Long-term solutions are needed to solve the root cause of this problem.

undecided /uhn-di-SAHY-did/

[adjective] – not having made a decision or judgment about something
Mary is still undecided about when to publish her new book.
Article reading:
Please read the whole article. Then, I will check your pronunciation and intonation.
Last Monday, November 9, drugmaker company Pfizer announced that its COVID-19 vaccine demonstrated 90% efficiency based on early studies. According to the analysis, 94 positive cases out of 43,000 volunteers who took two doses of the vaccine showed less than 10% of infection. Pfizer said that the vaccine reached its 90% efficiency seven days after the second shot was administered. This means that a person who takes the shots will be protected from the virus after 28 days. It is also required to have two doses of the vaccine for the immunization to take effect.
Since July 27, Pfizer has had approximately 43,538 participants for Pfizer's Phase 3 trial and 38,955 out of the total number have received the second dose of the vaccine. Pfizer's final goal is to reach 164 positive cases with its vaccine. The company also intends to check if the vaccine is effective enough to leave long-term protection even to those who had been infected before and recovered. According to Pfizer CEO Albert Bourla, it is still undecided if the shots are to be made yearly or seasonal.
Comprehension Questions:
I will read each question. Then, please answer them based on the article.
How many doses of the vaccine are needed for a patient to be protected from the virus?
According to the article, what is Pfizer's final goal?
When did Pfizer announce the efficiency of its vaccine?
How many days did the vaccine reach its 90% efficiency after the second dose?
How many volunteers out of 43,538 have received the second vaccine shot?
Discussion Questions:
I will read each question. Then, please answer them.
Do you think 90% efficiency is enough for a vaccine to work perfectly? Why or why not?
In your opinion, when will Pfizer finally release the vaccine to the public?
Do you think we will get vaccines for all types of diseases in the future? Please share your ideas.
For you, which is better: getting vaccinated or stocking up medicines against the disease? Why?
What do you do to stay healthy in general?