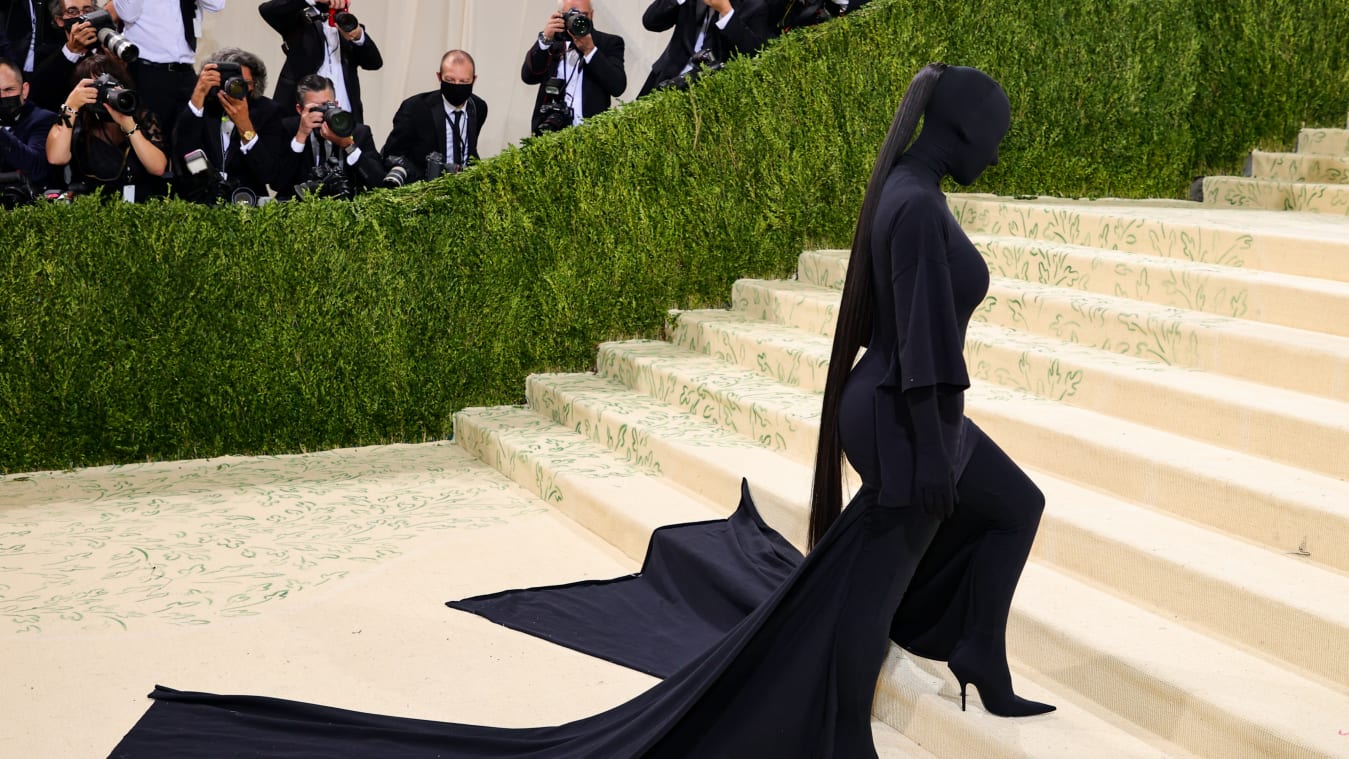 ©Theo Wargo/Getty Images
Pre-reading questions:
I will read each question. Then, please answer them.
What is your favorite outfit?
Do you watch fashion shows/events? Why or why not?
Vocabulary:
I will read the words, meanings, and sample sentences. Then, repeat after me.
witness /WIT-nis/

[verb] – to see something happen
Over half a million fans witnessed the iconic band's comeback concert.

remarkable /ri-MAHR-kuh-buhl/

[adjective] – unusual or special and therefore surprising and worth mentioning
The Eiffel Tower is a remarkable achievement of engineering.

show off /SHOH-awf/

[phrasal verb] – to behave in a way that is intended to attract attention or admiration
Mika showed off her dress saying: "My dad bought this at a Gucci store in London."

superb /soo-PURB/

[adjective] – of excellent quality; very great
The national team earned the victory for its superb performance.

exhibition /ek-suh-BISH-uhn/

[noun] – a collection of things shown publicly
The National Gallery held an exhibition of Vincent Van Gogh's paintings.
Article reading:
Please read the whole article. Then, I will check your pronunciation and intonation.
It's been over two years since we've witnessed the Met Gala, but fashion has once again been granted to us last September 13th inside the remarkable halls of Metropolitan Museum of Art in New York City.
Also called the Met Ball, the Met Gala is a fashion event where many designers, models, musicians, and actors come together on the red carpet to show off their superb outfits. This year's gala, with the theme 'American Independence', was in celebration of Costume Institute's newest exhibition, "In America: A Lexicon of Fashion." It is typically held during May but was postponed because of COVID-19. The Met Gala was hosted by the "Bad Guy" singer Billie Eilish, American poet-activist Amanda Gorman, Hollywood actor Timothée Chalamet, and tennis champion and mental health activist Naomi Osaka. Some of the stars who walked the famous Met steps were singers Camila Cabello, Shawn Mendes, and Olivia Rodrigo, tennis stars Serena Williams, Leylah Fernandez, and Emma Raducanu, and actors Tessa Thompson, Lili Reinhart, and Storm Reid. Media personality and socialite Kim Kardashian's outfit was also one of the ball's highlights. Kim K. entered the ball with a head-to-toe black Balenciaga bodysuit covering her face.
As explained by Costume Institute's Andrew Bolton, "diversity and inclusion, as well as sustainability" are what young American designers have specifically looked at, making fashion more environmentally friendly.
Comprehension questions
I will read each question. Then, please answer them based on the article.
Where was the 2021 Met Gala held?
What was Met Gala's theme this year?
During what month originally, is the fashion event held?
Kindly name at least two (2) personalities who hosted the fashion event.
What did Kim Kardashian wear at the ball that sparked controversies?
Discussion questions
I will read each question. Then, please answer them.
What interests you most in terms of fashion (clothes, hair, cosmetics, shoes, accessories, etc.)? Why?
Please share something about the most fashionable people you know.
If you were to design an outfit for the Met Gala, by which celebrity would you like it to be worn?
Do you think the fashion from the past is better than today's?
How would you describe today's fashion?