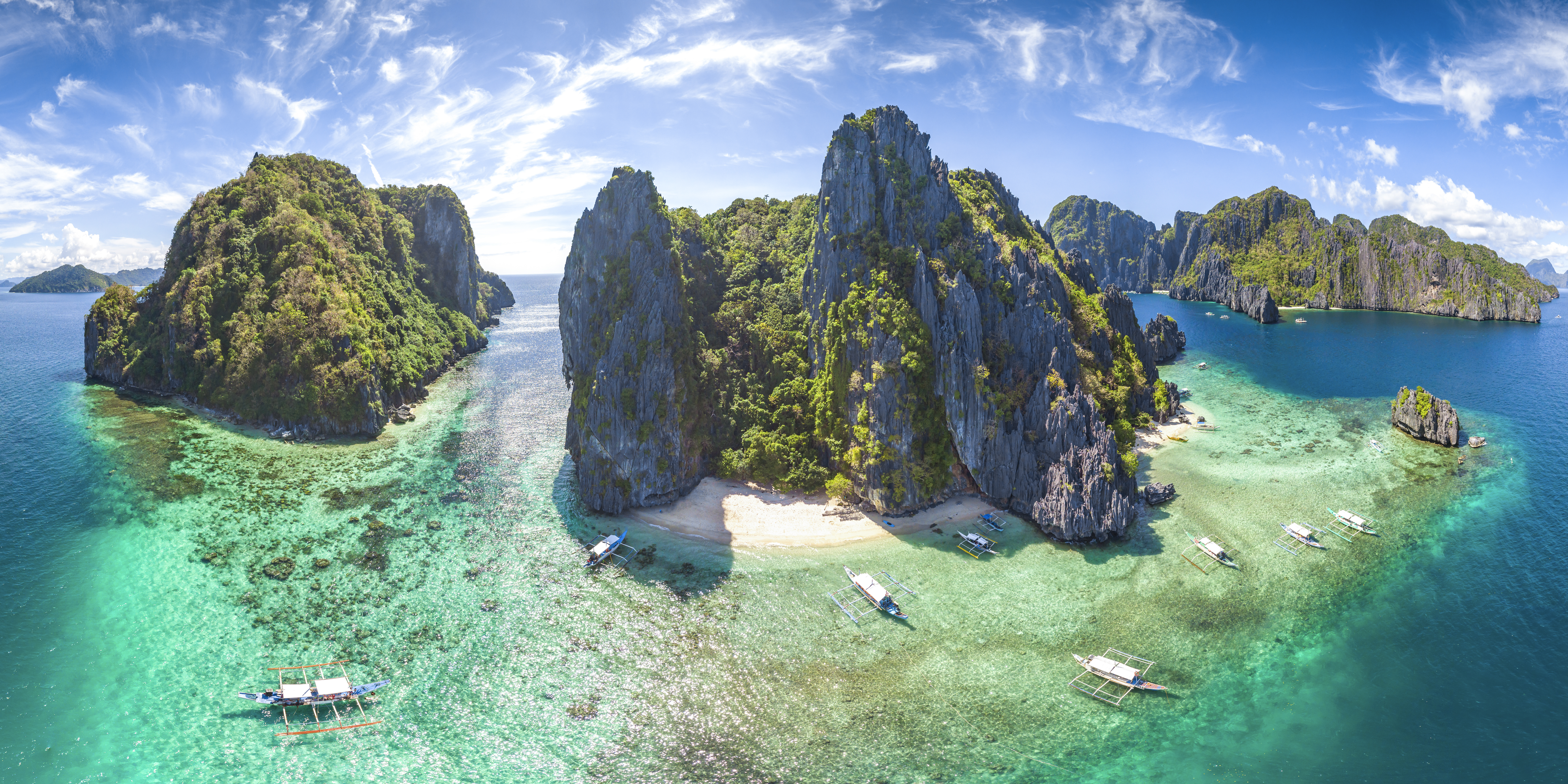 Pre-reading questions:
I will read each question. Then, please answer them.
What do you enjoy the most about nature? (the seas, the mountains, etc.)
Please tell me about the most popular island in your country.
Vocabulary:
I will read the words, meanings, and sample sentences. Then, repeat after me.
archipelago /ahr-kuh-PEL-uh-goh/

[noun] – a group of small islands or an area of sea in which there are many small islands
The Philippines is an archipelago with more than 7,600 islands.

turquoise /TUR-koiz/

[adjective] – bluish-green in color
The turquoise seas were beautiful. We will visit the islands again next holiday.

crimson /KRIM-zuhn/

[adjective] – (of) a deep red, slightly purple color
I love taking pictures of crimson leaves during the fall season.

cerulean /suh-ROO-lee-uhn/

[adjective] – deep blue in color
These islands are known for their cerulean lagoons.

hue /hyoo/

[noun] – a color, or the particular degree of light or dark of a color
You can add more orange paint to get a warmer hue.
Article reading:
Please read the whole article. Then, I will check your pronunciation and intonation.
Tropical colors exist in this
archipelago
southeast of Asia. Let's explore the 7,641 islands of the Pearl of the Orient Seas, the Philippines.
The waters and blue colors on these islands are diverse. At Siargao's Cloud 9 break, surfers surge through curving sky blue barrels.
An islet of forests encircles a bright
turquoise
lagoon at Libjo, Dinagat Islands. As the waves deepen around the white sandbar of Kalanggaman Island, off the coast of Leyte, they turn from pale blue to bright violet. Sand also brings out the colors of the waters. On Sila Island in the south,
crimson
coral marks the light sand at the high-water a beautiful pink. Boracay's famous White Beach stretches for four kilometers and features a
cerulean
harmony of waves and a classic off-white shoreline.
Shades of green also litter these tropical islands. The beautiful hues of delicate rice shoots can be seen in the green slopes of the Cagayan Valley in Luzon. Banaue's rice terraces resemble the descending slopes to the east. In the shadow of Mount Mayon, farmers in Bicol, far to the southeast, produce pale yellow fields.
Pack your bags, get your camera ready, and embark on a journey to snap a photo or two of these gorgeous
hues
. No filters are necessary to admire the islands' breathtaking landscapes.
Comprehension questions
I will read each question. Then, please answer them based on the article.
To what color do the waves on Kalanggaman Island turn?
What can we see on Sila Island?
How long is Boracay's famous White Beach?
What can we see in Cagayan Valley?
What do farmers produce in the shadow of Mount Mayon?
Discussion questions
I will read each question. Then, please answer them.
Do you usually travel for leisure or work/school? Please tell me more about it.
Please share your experiences in the most recent place you have visited.
Which among the places in the article would you love to visit and why?
Do you like visiting beaches or islands?
In your opinion, what colors look the most beautiful in nature and why?
Listening: