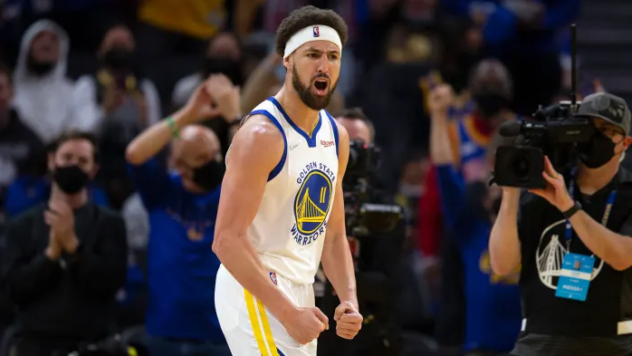 ©D. Ross Cameron/USA Today Sports
Pre-reading questions:
I will read each question. Then, please answer them.
What sport/s do you play?
What NBA team/s do you know?
Vocabulary:
I will read the words, meanings, and sample sentences. Then, repeat after me.
victory /VIK-tuh-ree/

[noun] – an occasion when you win a game, competition, election, war, etc. or the fact that you have won
His party won a landslide victory in the elections.

injury /IN-juh-ree/

[noun] – physical harm or damage to someone's body caused by an accident or an attack
He needs surgery to cure his back injury.

recovery /ri-KUHV-uh-ree/

[noun] – the process of becoming well again after an illness or injury
There is now no possibility that she will make a full recovery.

possession /puh-ZESH-uhn/

[noun] – (in games such as football and rugby) the time when a team has control of the ball
The ball was in red team's possession when a foul was seen.

ovation /oh-VEY-shuhn/

[noun] – an occasion when a crowd of people expresses great enjoyment and/or approval of something with loud and long clapping
Fans gave the group a standing ovation after performing their last song.
Article reading:
Please read the whole article. Then, I will check your pronunciation and intonation.
The Golden State Warriors celebrated a 96-82 victory over the Cleveland Cavaliers on January 10, with the help of the three-time NBA champion Klay Thompson, who is back from a 31-month injury absence. Thompson was warmly welcomed on "Klay Day" at Chase Center in San Francisco, California.
On June 13, 2019, Thompson tore his left knee's anterior cruciate ligament in game six of the NBA Finals, before tearing his right Achilles tendon during his recovery. Almost three years after the incident, Thompson is back to the ball game with the GSW. He earned the first point of the game on their first possession, with a dunk at 2:56 minutes remaining in the first half. He drove past Cleveland center Jarrett Allen and took the ball home over two Cavs defenders. He also smashed the first of his three three-point shots before the half ended. "I was just happy to be out there doing what I love again," Thompson told NBA TV. Fans were delighted at Thompson's comeback, bursting a roar when he was being introduced before the game. "The ovation to start the game, I just am so grateful for these fans. It was special," Klay said. Meanwhile, another NBA-GSW superstar, Stephen Curry, led the Warriors with 28 points.
Comprehension questions
I will read each question. Then, please answer them based on the article.
As mentioned in the article, what were the scores in the game between the Golden State Warriors and Cleveland Cavaliers?
When and where did the game happen?
What did GSW fans call that day in celebration of Klay Thompson's comeback from an injury absence?
Who is Cleveland's center, according to the article?
Who led the Warriors' victory with 28 points?
Discussion questions
I will read each question. Then, please answer them.
Have you ever played basketball? How was it?
What basketball team(s) do you follow? Please tell me more about them.
What sports would you like to try? Why?
Is basketball the most popular sport in the world?
In your opinion, who is the best basketball player ever? Please explain your answer.
Listening: