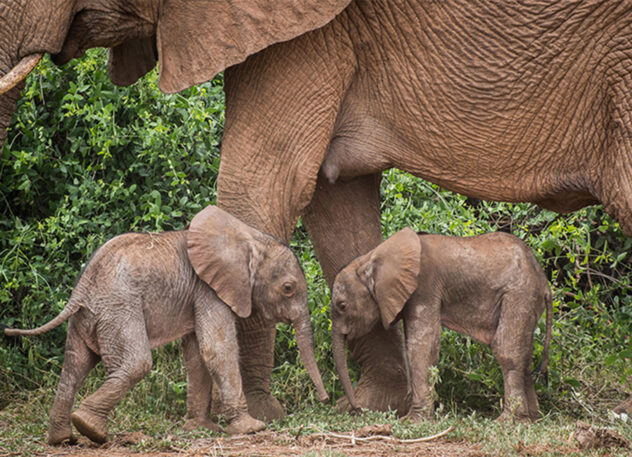 ©Jane Wynyard/Save The Elephants (STE)
Pre-reading questions:
I will read each question. Then, please answer them.
What is your favorite animal and why?
What animal represents your country's culture? Please share something about it.
Vocabulary:
I will read the words, meanings, and sample sentences. Then, repeat after me.
reserve /ri-ZURV/

[noun] – an area of land kept in its natural state, especially for wild animals to live in and be protected
Corbett National Park is one of India's famous wildlife reserves.

conservation /kon-ser-VEY-shuhn/

[noun] – the protection of plants and animals, natural areas, and interesting and important structures and buildings, especially from the damaging effects of human activity
Energy conservation reduces fuel consumption and helps save the environment.

risky /RIS-kee/

[adjective] – involving the possibility of something bad happening
"Don't do anything yet. It's too risky," he said.

encounter /en-KOUN-ter/

[verb] – unexpectedly experience or be faced with something difficult or hostile
He encountered some snakes on his way to the desert.

tusk /tuhsk/

[noun] – either of the two long, pointed teeth of some animals such as elephants
Elephants are usually hunted for the ivory from their tusks.
Article reading:
Please read the whole article. Then, I will check your pronunciation and intonation.
A set of twin baby elephants has been discovered last week at the Samburu National Reserve in Northern Kenya. Tour guides from the park's Elephant Watch Camp (EWC) first saw the male and female calves out on the camp at the weekend. They are just the second set ever to have been witnessed by the non-profit local conservation charity called Save the Elephants (STE), which trains EWC tour guides to determine the park's different types of elephants.
Iain Douglas-Hamilton, the founder of STE, explained that this is a risky time for the twins as the previously encountered set had not survived long after birth 15 years ago. "Twins are rarely encountered in elephant populations — and form around only 1% of births. Quite often the mothers don't have enough milk to support two calves," he said. The elephants' mother named Bora is from the reserve's Winds II family. The two baby calves are her second and third since 2017. Meanwhile, illegal hunters have been chasing down elephants in Kenya and other sub-Saharan African countries to collect ivory with their tusks. On the other hand, according to the Kenya Wildlife Service, its elephant population as of 2020 has improved (from 16,000 to 34,800) since 1989.
Comprehension questions
I will read each question. Then, please answer them based on the article.
In what eco-camp did tour guides discover the set of twin elephants?
In which African country is the camp located?
What does STE stand for?
According to Iain Douglas-Hamilton, what is the common cause of twin calves' rare survival?
What has been the improvement in Kenya's elephant population, according to the Kenya Wildlife Service?
Discussion questions
I will read each question. Then, please answer them.
What is the largest animal you have ever seen? Kindly share your experience.
Is the elephant population abundant in your country? Please tell me more about it.
If you could be an animal, what would you choose to be and why?
In your opinion, is it okay to keep animals in zoos?
For you, what can we do to make sure animals' rights are respected?
Listening: