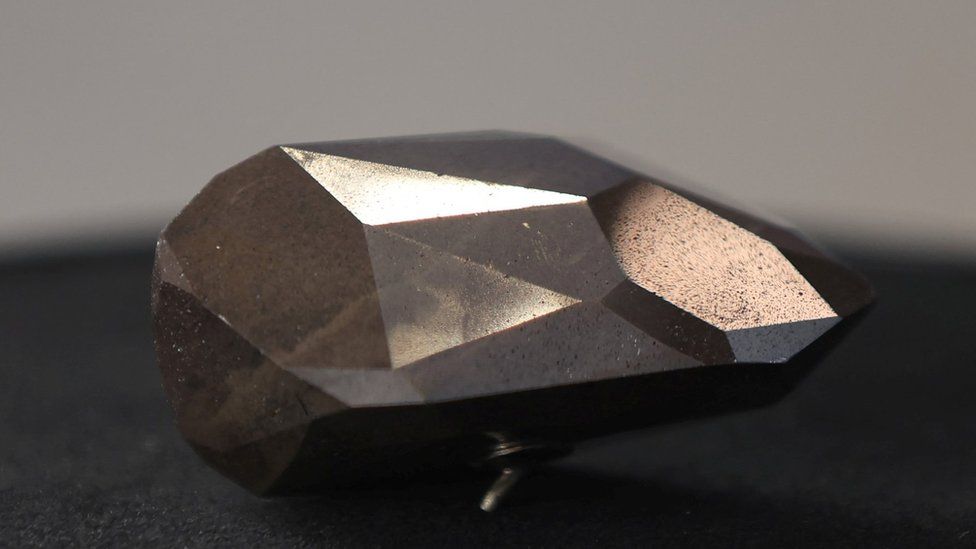 ©REUTERS via BBC
Vocabulary:
I will read the words, meanings, and sample sentences. Then, repeat after me.
auction /AWK-shuhn /

[noun] – a usually public sale of goods or property, where people make higher and higher bids (= offers of money) for each thing, until the thing is sold to the person who will pay most
They are selling period furniture at the auction.

family /FAM-uh-lee/

[noun] – a group of things that are related or have similar qualities
The French language belongs to the Romance language family.

trace /treys/

[noun] – a very slight amount
This dish has traces of cinnamon and honey.

originate /uh-RIJ-uh-neyt/

[verb] – to come from a particular place, time, situation, etc.
Salsa originated in rural eastern Cuba.

cosmic /KOZ-mik /

[adjective] – relating to the universe and the natural processes that happen in it
Ben enjoys participating in cosmic discussions.
Article reading:
Please read the whole article. Then, I will check your pronunciation and intonation.
Auctioneer Sotheby's just sold off a billion-year-old black diamond for $4.3m. The 555.55-carat gem named The Enigma is believed to be the world's largest cut diamond. It weighs about the same as a banana. It had been expected to fetch more than $5m when it went on sale in an online auction. There are debating theories about the origins of the stone, including that it was carried to Earth by an asteroid. Its new owner is entrepreneur Richard Heart who purchased it using cryptocurrency. He told his more than 180,000 Twitter followers that "as soon as the payment's gone through and possession's been taken" the gem would be renamed the "HEX.com diamond," in honor of the blockchain platform he founded.
The gem is a member of the carbonado family, one of the toughest forms of natural diamond. Due to its traces of osbornite, a mineral found only in meteors, many scientists believe that Enigma originated from space. Carbonados are extremely rare and have been discovered in only two regions of the world—Brazil and the Central African Republic. Sotheby's described it as "one of the rarest, billion-year-old cosmic wonders known to humankind." The precise origin of black diamonds remains to be a mystery. Black diamonds are estimated to be around 2.6 to 3.2 billion years old – a time before dinosaurs existed.
Discussion Questions:
I will read each question. Then, please answer them.
Have you participated in an auction? If not, would you be interested in participating in the future?
Describe one of your country's most interesting museums.
What would you do if you discovered a rare gem?
Do you believe there is life on other planets?
In your opinion, how do scientific discoveries affect people's lives?
Summarization
Please summarize the whole article using your own words and expressions. You will have one minute to prepare before you answer.
Describe:
Please explain the definition of each word listed below based on your understanding. You can provide example sentences if needed.
weigh
purchase
rare
mystery
exist
Listening: