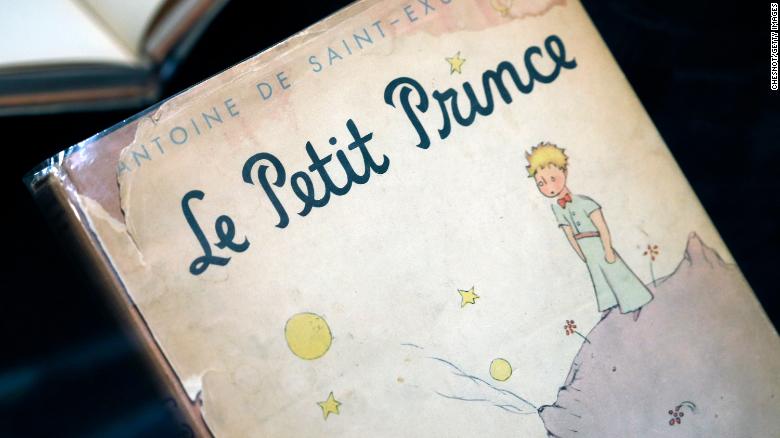 ©Chesnot/Getty Images via CNN
Vocabulary:
I will read the words, meanings, and sample sentences. Then, repeat after me.
correspondence /kawr-uh-SPON-duhns/

[noun] – the action of writing, receiving, and reading letters, especially between two people
They began a correspondence in the 1980s.

imaginative /ih-MAJ-uh-nuh-tiv/

[adjective] – new, original, and clever
Today's films are challenging and imaginative.

symbolic /sim-BOL-ik /

[adjective] – representing something else
His salute was considered by many as a symbolic gesture.

loneliness /LOHN-lee-nes/

[noun] – the state of being lonely
Winter brings her a sense of loneliness.

innocence /IN-uh-suhns/

[noun] – the quality of not having much experience of life and not knowing about the bad things that happen in life
We should protect the innocence of children.
Article reading:
Please read the whole article. Then, I will check your pronunciation and intonation.
The beloved classic "The Little Prince" has returned to Paris after 75 years. French author Antoine de Saint-Exupery penned the iconic book in New York and now 30 handwritten pages of the original manuscript are on display at the Museum of Decorative Arts in Paris. Hundreds of other items that highlight different parts of the author's life and work are part of the exhibit. They include watercolors, sketches, drawings, photographs, poems, newspaper clippings, and correspondence.
"The exhibition is called 'An Encounter with the Little Prince' and the goal is to really encounter Little Prince," Thomas Rivière, great-grandnephew of Saint-Exupery, told a news agency. The imaginative and symbolic story has sold more than 200 million copies around the globe. It tells the tale of a child, who visits various planets in space, gaining wisdom. The book addresses themes of loneliness, friendship, and innocence. It has been translated into nearly 500 languages, since it was first published, based on the Museum of Decorative Arts, making it one of the most translated works in the world. Saint-Exupery, however, did not live to witness the book's success. He went missing while flying a mission in 1944 and was declared dead in 1945. It took Rivière, who is the head of Saint-Exupery's estate, three years to bring the exhibition to the public — partly due to the threat of the Covid-19 pandemic. The exhibition is open to visitors until June 26.
Discussion Questions:
I will read each question. Then, please answer them.
Have you read The Little Prince? If not, would you like to read it?
What is the most famous book in your country? Please tell me something about it.
If you were to write a book, what would it be about? Who would be your target readers?
Should today's young generation still read literary classics?
From where do you think authors get their ideas/inspiration? Please explain your answer.
Summarization
Please summarize the whole article using your own words and expressions. You will have one minute to prepare before you answer.
Describe:
Please explain the definition of each word listed below based on your understanding. You can provide example sentences if needed.
original
highlight
encounter
translate
public
Listening: