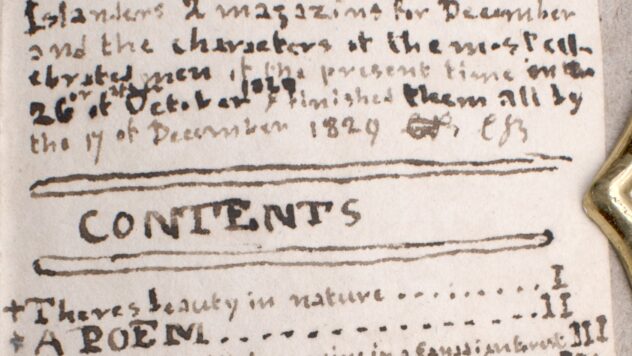 ©James Cummins Bookseller via CNN
Pre-reading questions:
I will read each question. Then, please answer them.
講師がそれぞれの質問を読むので答えましょう。
Do book covers catch your attention?
What is your favorite fantasy story?
Vocabulary:
I will read the words, meanings, and sample sentences. Then, repeat after me.
単語、意味、例文を読みます。講師に続いて音読しましょう。
tiny /TAHY-nee/

[adjective] – extremely small
I used to have a collection of tiny dolls.

century /SEN-chu-ree/

[noun] – a period of 100 years
This company has been around for a century.

poem /POH-uhm/

[noun] – a piece of writing in which the words are arranged in separate lines, often ending in rhyme, and are chosen for their sound and for the images and ideas they suggest
Dani's hobby is writing poems.

imagination /ih-maj-uh-NEY-shuhn/

[noun] – the ability to form pictures in the mind
Cara uses her imagination to paint beautiful sceneries.

novel /NOV-uhl/

[noun] – a long printed story about imaginary characters and events
She likes reading novels about fairies and witches.
Article reading:
Please read the whole article. Then, I will check your pronunciation and intonation.
記事を音読しましょう。講師はあなたの発音とイントネーションを確認します。
A tiny, unpublished manuscript written by 19th century English writer Charlotte Brontë at age 13 will be put on sale for US$1.25 million at the New York Antiquarian Book Fair. Titled "A Book of Ryhmes" by Charlotte Brontë, Sold by Nobody, and Printed by Herself, the manuscript contains 10 poems written by Brontë, including such titles as The Beauty of Nature, Song of an Exile, and A Bit of a Ryhme. According to Henry Wessells, an associate at James Cummins Bookseller, "The Book of Rhymes" (or "ryhmes," as Charlotte spelled it on the title page), dated December 1829, has not been seen in the public eye since it was sold in 1916. The 15-page work shows the rich imagination of Charlotte and her sisters Emily and Anne, according to a press release from the dealers. The Brontë sisters wrote some of the most beloved English novels, including "Jane Eyre" (1847), "Wuthering Heights" (1847), and "The Tenant of Wildfell Hall" (1948).
True or False:
Read the sentences and identify if they are true or false based on the article.
文章を読んで、記事に基づいて正誤を答えましょう。
Charlotte Brontë is a 19th century English writer.
Brontë's manuscript will be put on sale for US$2.25 million
The manuscript has 15 pages.
Charlotte, Emily, and Anne are sisters.
The Tenant of Wildfell Hall is a novel.
Fill in the blanks:
Choose the correct word from the table then fill in the blanks.
適切な言葉を選んで空欄を埋めましょう。
| | | | | |
| --- | --- | --- | --- | --- |
| tiny | century | poem | imagination | novel |
This house has been around for almost a ______.
He gave me a ________ music box.
Laura writes _________ on her notebook every day.
This fantasy ________ is about a boy who learns how to use magic.
Children ages 3 to 5 usually have a rich __________.
Listening: