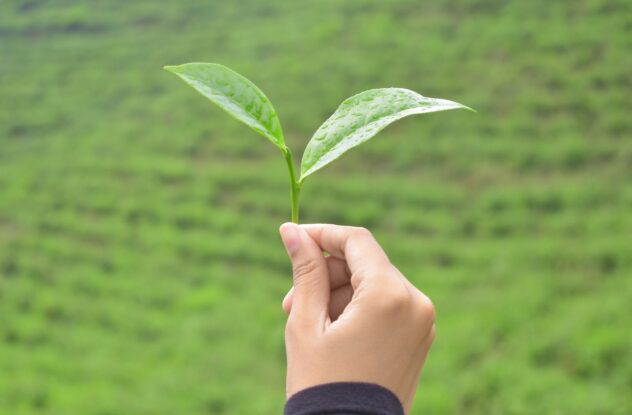 Pre-reading questions:
I will read each question. Then, please answer them.
Do you prefer green tea to black tea? Why or why not?
Where do you buy tea?
Vocabulary:
I will read the words, meanings, and sample sentences. Then, repeat after me.
ensure /en-SHOOR/

[verb] – to make something certain to happen
We need to ensure that all attendees are at the venue by 7:00 p.m.

provide /pruh-VAYD/

[verb] – to give someone something that they need
Our company's goal is to provide useful products for everyone.

fair /fair/

[adjective] – If something is fair, it is reasonable and is what you expect or deserve
The athletes would like a fair competition.

acquire /uh-KWAHYUHR/

[verb] – to get or buy something
I acquired this antique vase from Morocco.

peak /peek/

[noun] – The peak of a process or an activity is the point at which it is at its strongest, most successful, or most fully developed.
May is usually the peak for golf club membership registrations.
Article reading:
Please read the whole article. Then, I will check your pronunciation and intonation.
A 1-kilogram (kg) batch of Japanese green tea leaves sold for a record-breaking ¥1.96 million on April 18, 2022. A product of Shizuoka prefecture, Samidori leaves are green tea leaves that were grown in Fujinomiya and sold at the city's annual Tea Market auction. According to the market's president Yasuhide Uchino, the market "is working hard to ensure it provides delicious tea at fair prices" despite increasing fuel and raw materials prices. The market officials said that although this year's tea grew slower than usual, its quality remains unchanged.
Many tea merchants and customers arrived early before the sale started at 7:00 a.m. "We were able to acquire tea of good color and shape," said Natsuki Wada, a 35-year-old processed-tea wholesaler from Shizuoka city. Teas from Kagoshima and Okinawa were also sold at the event. Based on a report by the Shizuoka Japanese Tea Market, Samidori green tea garnered a trading volume of 1,732 kg by 8:10 a.m. with the average per kilogram priced at 5,027 yen. The end of April is expected to be the peak of tea-hand rolling work in Japan.
Comprehension questions
I will read each question. Then, please answer them based on the article.
Where was the batch of Samidori leaves grown?
According to Yasude Uchino, what does the market ensure to provide?
What time did the sale start?
How much was the trading volume by 8:10 a.m.?
When is the expected peak for hand-rolling work in Japan?
Discussion questions
I will read each question. Then, please answer them.
Describe the tea culture in your country.
When was the last time you had tea? How did you prepare it?
Recommend a type of tea from your city. Describe its color, taste, and aroma.
Do you think the batch of hand-rolled tea leaves was worth the price it was sold?
In your opinion, is loose leaf tea better than using tea bags? Please explain your answer.
Listening: