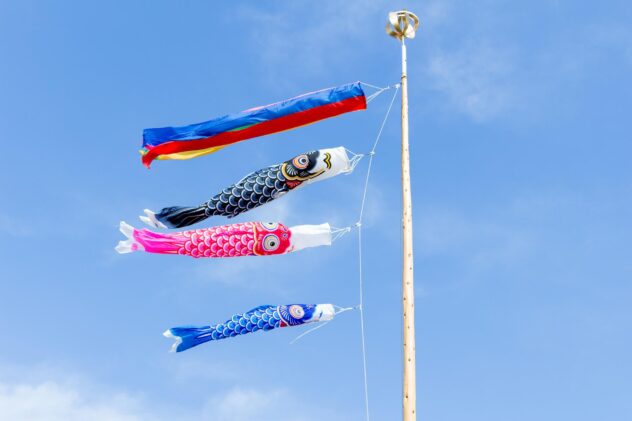 Pre-reading questions:
I will read each question. Then, please answer them.
What do you usually do on May 5 every year?
What toys did you play with as a child?
Vocabulary:
I will read the words, meanings, and sample sentences. Then, repeat after me.
growth /grohth/

[noun] – The growth of a person, animal, or plant is its process of increasing in size.
Robbie's sisters were proud to witness his growth.

symbol /SIM-buhl/

[noun] – a sign, shape, or object that is used to represent something else
The four-leaf clover is a symbol of luck.

power /POU-er/

[noun] – strength
Everyone looked up to Julian for his power and kindness.

represent /rep-ri-ZENT/

[verb] – to be a sign or symbol of something
The shades of blue represent the painter's sadness.

bright /brahyt/

[adjective] – full of hope for success or happiness
I admire Laura's bright outlook in life.
Article reading:
Please read the whole article. Then, I will check your pronunciation and intonation.
May is a busy month in Japan. It begins with the festive Golden Week holidays which includes the Constitution Memorial Day (Kenpou Kinenbi) on May 3, Greenery Day (Midori no Hi) on May 4, and lastly, Children's Day (Kodomo no Hi) on May 5. Let's learn more about the unique traditions done in the spirit of Kodomo no Hi.
Children's Day in Japan was originally called Tango-no Sekku, a celebration for boys. In 1948, the government declared this day to be a national holiday to celebrate the growth and happiness of all children, and it was renamed "Kodomo-no Hi." As part of the event, people display traditional decorations called kabuto (samurai helmets) and gogatsu-ningyo (samurai dolls) in their homes. Families with boys raise or fly carp-shaped flags called "koinobori." A symbol of power since the Edo period, koinobori streamers represent the families' hope for their children to grow up strong like the carp fish. Children's Day would not be complete without traditional sweets. People enjoy kashiwa mochi (a rice cake with sweet bean paste) and chimaki (a sweet rice dumpling wrapped in bamboo leaves).
The fifth day of the fifth month is indeed a special day for children in Japan. It is the final day of the golden week and a time to express wishes for a child's bright future.
Comprehension questions
I will read each question. Then, please answer them based on the article.
Before 1948, what was Children's Day called?
What is the purpose of Children's Day in Japan?
What do people do with kabuto and gogatsu-ningyo?
What does Koinobori represent?
What sweets do people enjoy on Kodomo no Hi?
Discussion questions
I will read each question. Then, please answer them.
What is your favorite childhood memory? Please tell me more about it.
Which do you prefer, kashiwa mochi or chimaki? Why?
If you could introduce one Kodomo no Hi tradition to children in other countries, what would it be? How would you introduce it?
Do you think there is something that needs to be changed about your country's Children's Day traditions?
In your opinion, why is it important to celebrate Kodomo no Hi?
Listening: