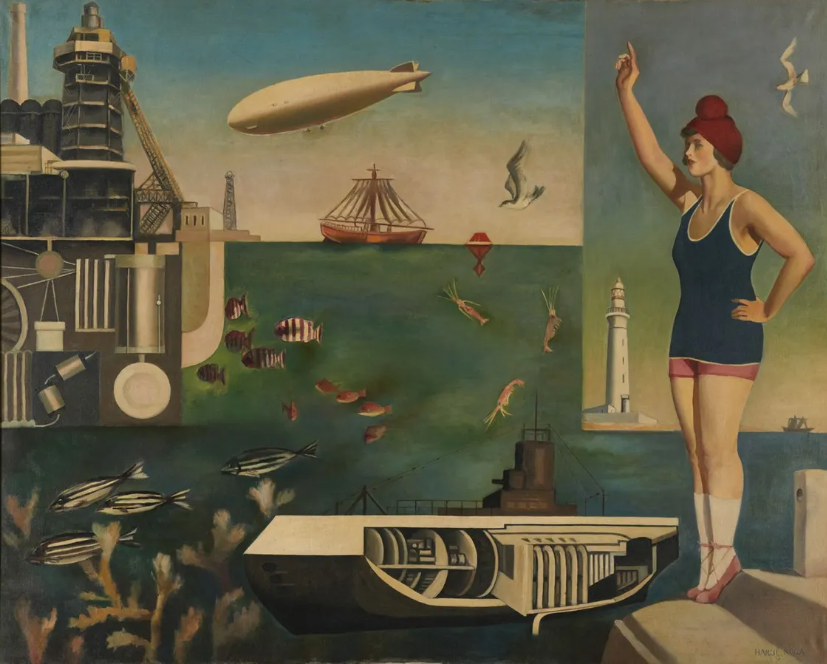 ©The National Museum of Modern Art, Tokyo / MOMAT/DNPartcom via BBC
Pre-reading questions:
I will read each question. Then, please answer them.
What are the different types of art in your country (e.g., ukiyo-e)?
What do you think is the most popular artwork from your country and why?
Vocabulary:
I will read the words, meanings, and sample sentences. Then, repeat after me.
larva /LAHR-vuh/

[noun] – a young insect that has left its egg but has not yet developed wings, or the young of some animals
Before we knew it, the eggs quickly hatched into larvae.

overpower /oh-ver-POU-er/

[verb] – to defeat someone by having greater strength or power
The police finally managed to overpower the criminal.

intentional /in-TEN-shuh-nl/

[adjective] – planned or intended
Let me assure you that the damage was not intentional.

shred /shred/

[verb] – to cut or tear something into small pieces
Our specialties include deep-fried shredded beef and prawn dishes.

consequence /KON-si-kwens/

[noun] – a result of a particular action or situation, often one that is bad or not convenient
Lack of education is one of the many consequences of poverty.
Article reading:
Please read the whole article. Then, I will check your pronunciation and intonation.
Surrealism is an artistic movement that challenges logic, tradition, and reason. The Metropolitan Museum of Art and Tate Modern have collaborated on an exhibit that explores the worlds of imagination, emotions, and dreams.
Tusalava (1929) by Len Lye, New Zealand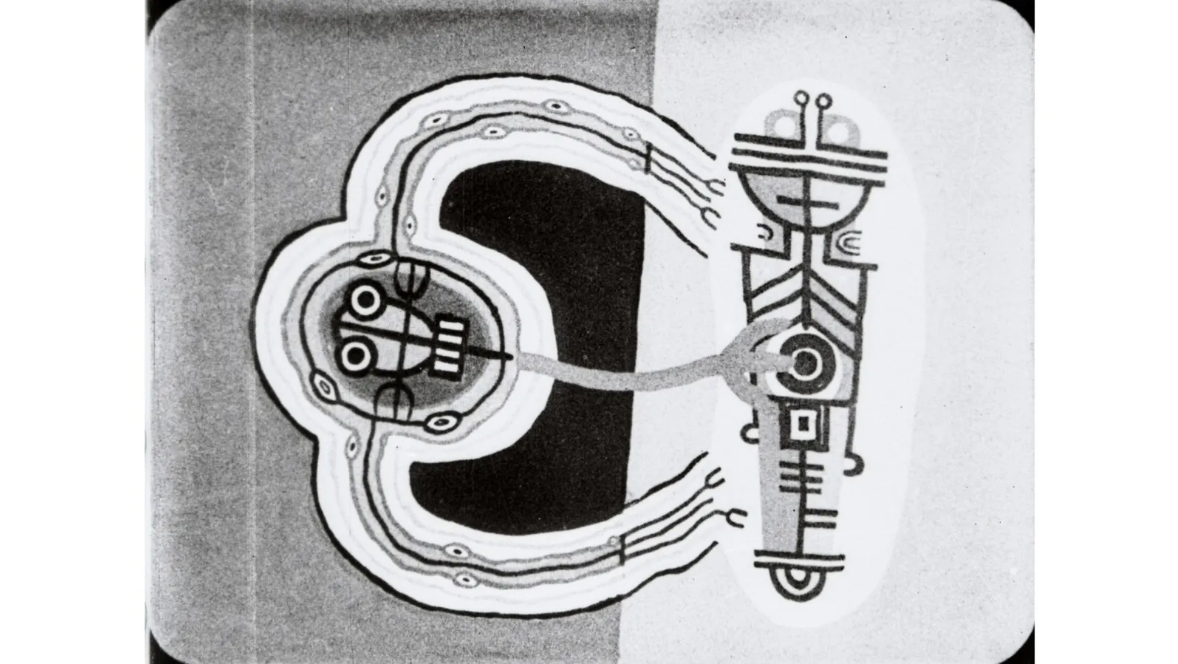 © Stills Collection, Ngā Taonga Sound and Vision / Courtesy of the Len Lye Foundation via BBC
The Arrernte people of Central Australia's stories about moth larvae and artworks from the Māori people and Samoa inspired Lye to create this 10-minute animation. Primitive worm-like organisms appear from the void, give birth to a humanoid figure, and eventually overpower him.
Sea (1929) by Koga Harue, Japan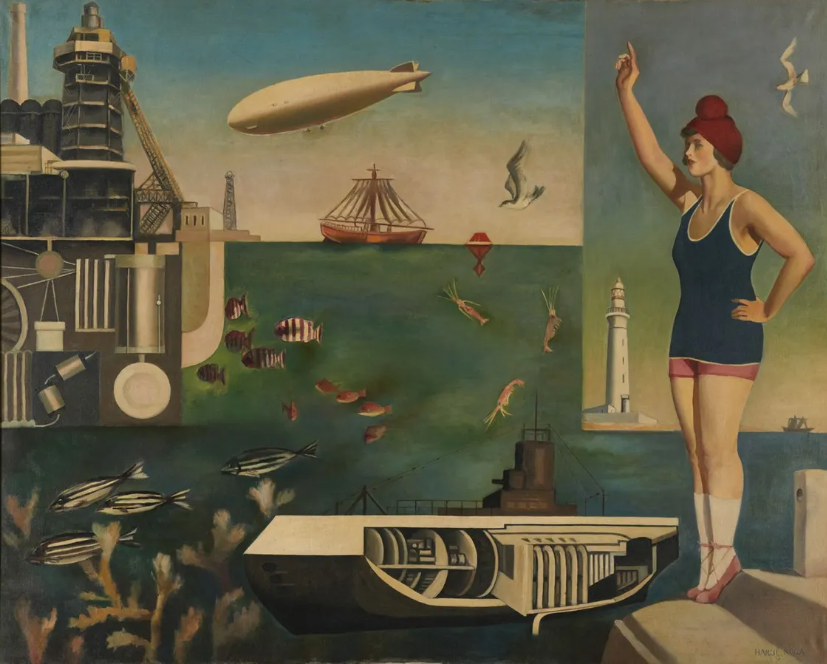 © The National Museum of Modern Art, Tokyo / MOMAT/DNPartcom via BBC
"Sea" was an intentional resistance to the European Surrealism that Koga and his companions disliked. They continued a Surrealist tradition in Paris of blending seemingly unconnected symbols to produce magical effects.
Eine Kleine Nachtmusik (1943) by Dorothea Tanning, USA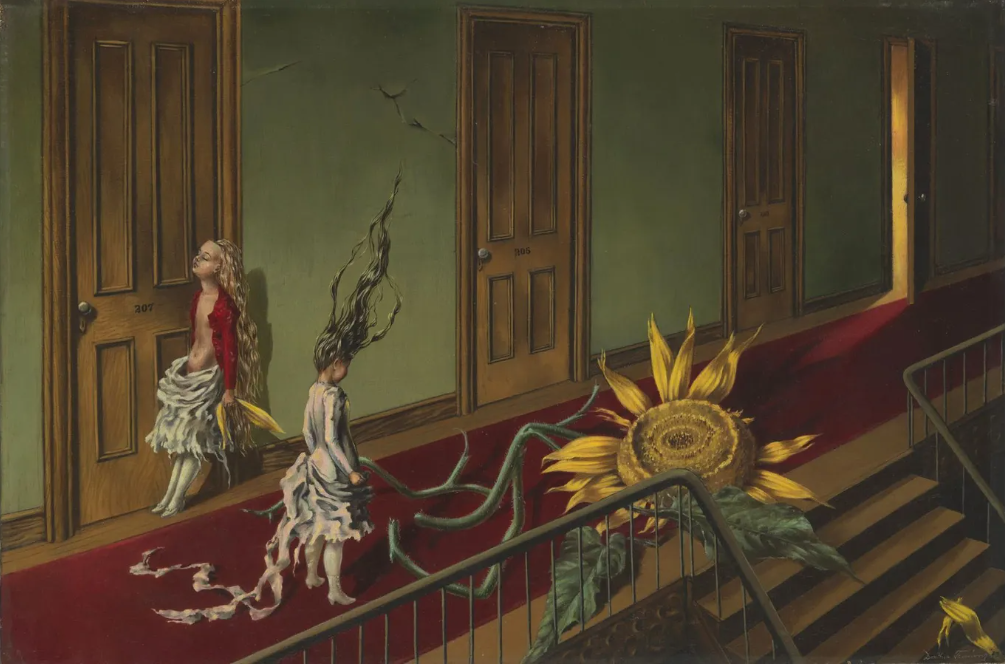 © Tate / DACS, 2022 via BBC
In 1936, Tanning saw a Surrealist show in New York and discovered a way to portray her hidden ideals and worries: through a life-size doll and a girl who is stopped by a giant sunflower with shredded petals from entering a strange, open door.
Long Distance (1976-2005) by Ted Joans, USA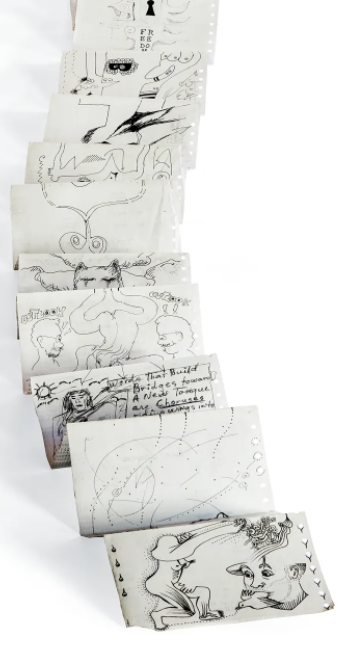 © Private collection / Ted Joans estate, courtesy of Laura Corsiglia via BBC
This is a 10-minute consequence game in which one player sketches a section of a scene and covers it so that the next player can add to it and pass it on. Joans served as the connecting thread that brought together poets, musicians, writers, political philosophers, and artists.
Comprehension questions
I will read each question. Then, please answer them based on the article.
What is Surrealism?
What inspired Len Lye to create "Tusalava"?
What does "Sea" by Koga Harue represent?
When did Dorothea Tanning see a Surrealist show in New York?
What kind of game is "Long Distance" by Ted Joans?
Discussion questions
I will read each question. Then, please answer them.
Have you ever attempted to draw, paint, sculpt, or create something related to art (e.g., poetry, animation, etc.)?
What is the strangest artwork you have seen? Kindly describe it.
If you were to create an artwork, what would it be about and why?
Do you think politics would gain control of Surrealism in the future?
Which among the four artworks featured in the article are you interested in the most and why?
Listening: