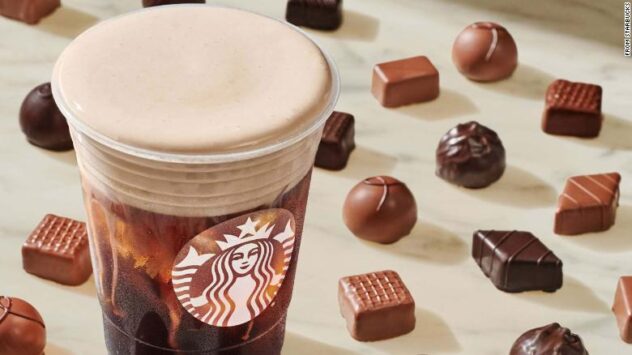 ©Starbucks via CNN
Vocabulary:
I will read the words, meanings, and sample sentences. Then, repeat after me.
unveil /uhn-VEYL/

[verb] – to show or introduce something new or make it known publicly for the first time
Google recently unveiled new products.

nostalgic /no-STAL-jik/

[adjective] – feeling happy and also slightly sad when you think about things that happened in the past
Watching this movie makes me nostalgic.

reminscent /rem-uh-NIS-uhn/

[adjective] – making you remember a particular person, event, or thing
This song is reminiscent of the holidays I spent in Italy.

portion /PAWR-shuhn/

[noun] – a part or share of something larger
He decided to donate a portion of his store's profits to the charity.

caffeine /ka-FEEN/

[noun] – a chemical, found for example in tea and coffee, that is a stimulant (= something that makes people more active)
Too much caffeine is bad for you.
Article reading:
Please read the whole article. Then, I will check your pronunciation and intonation.
Starbucks unveiled its chocolate-flavored coffee called Chocolate Cream Cold Brew on May 10, 2022. The addition comes amidst surging demand for iced coffee. It is topped with a chocolate cream cold foam and vanilla syrup. In a press release, Starbucks stated that the new item was created with "nostalgic summer moments," in mind. "The classic combination of coffee and notes of chocolate, along with the malt flavor in the chocolate cream cold foam, are reminiscent of a chocolate malted milkshake, or that last bit of melted chocolate ice cream on a warm summer day, to recreate the sweet, creamy flavor of summers past," said Rosalyn Batingan of Starbucks' beverage development team.
Starbucks attributes a significant portion of its sales to cold beverages. The coffee giant saw a 74% increase in iced coffees and Frappuccinos during the previous summer season. With this, the chain has expanded its cold brew offerings with seasonal flavors, such as a Pumpkin Cream Cold Brew in the fall and an Irish Cream Cold Brew during the holidays. The new Chocolate Cream Cold Brew is available year-round across US stores. The price of a grande ranges from $4.45 to $4.75. Based on a report by Guggenheim Partners, many young customers see Starbucks' cold coffee drinks as alternatives to other caffeine sources like soda and energy drinks.
Discussion Questions:
I will read each question. Then, please answer them.
What drink reminds you of summer? Please tell me something about it.
How popular is Starbucks in your country? Who are its main customers?
If you could create a summer drink for Starbucks, what would it be like? (Tell me its name and ingredients.)
Do you think Starbucks should release its new drink in all Asian countries?
In your opinion, what makes Starbucks successful?
Summarization
Please summarize the whole article using your own words and expressions. You will have one minute to prepare before you answer.
Describe:
Please explain the definition of each word listed below based on your understanding. You can provide example sentences if needed.
combination
recreate
significant
expand
alternative
Listening: