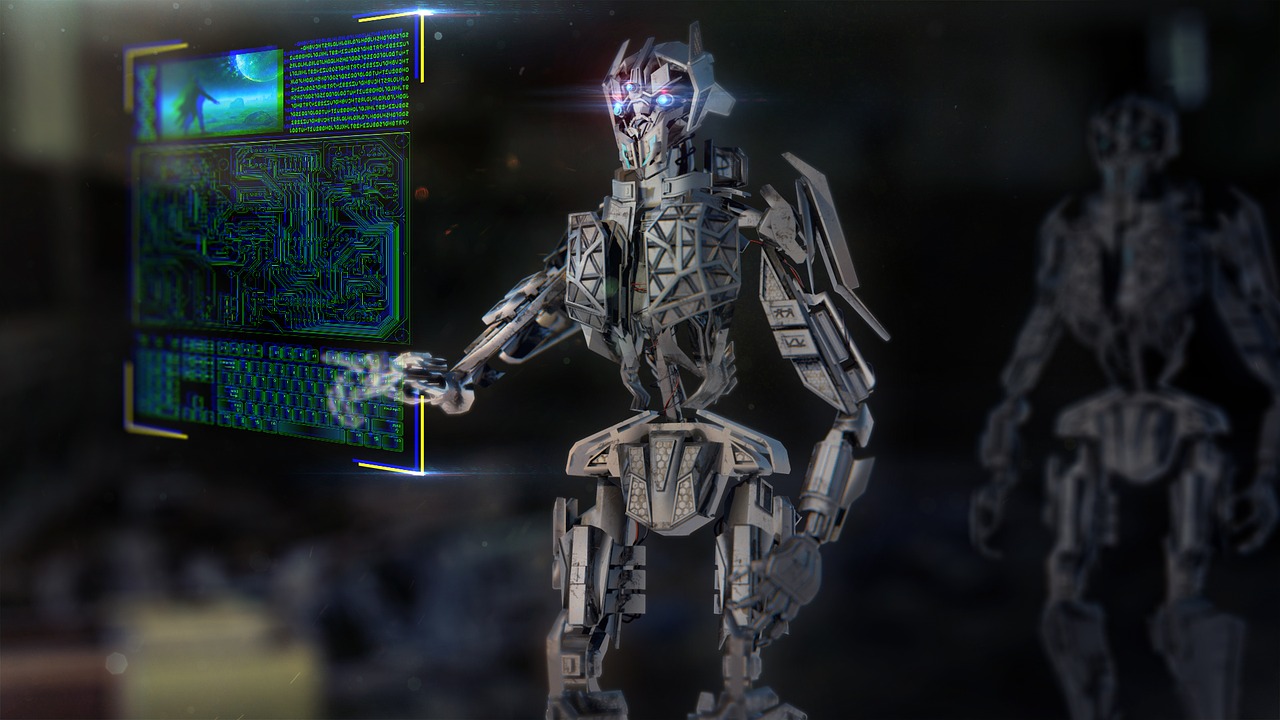 Vocabulary:
I will read the words, meanings, and sample sentences. Then, repeat after me.
robotics /roh-BOT-iks/

[noun] – the science of making and using robots (machines controlled by computers that are used to perform jobs automatically)
The field of robotics has seen many exciting developments in the last decade.

artificial intelligence /ahr-tuh-FISH-uhl in-TEL-i-juhns/

[noun] – the study of how to produce machines that have some of the qualities that the human mind has, such as the ability to understand language, recognize pictures, solve problems, and learn
His particular research interests were in artificial intelligence.

motion /MOH-shuhn/

[noun] – the act or process of moving, or a particular action or movement
He moved the cradle with a gentle backward and forward motion.

simulation /sim-yuh-LEY-shuhn/

[noun] – a model of a set of problems or events that can be used to teach someone how to do something, or the process of making such a model
The manager prepared a computer simulation of likely sales performance for the rest of the year.

soaring /SAWR-ing/

[adjective] – rising very quickly to a high level
The soaring price of natural gas is a serious concern.
Article reading:
Please read the whole article. Then, I will check your pronunciation and intonation.
Robotics and artificial intelligence have become very advanced and very normal in today's age. And it is enhanced more by using the internet and software in general. Many tech companies have been using this ever since. And one of them is Moonfruit, the first Software as a Service (SaaS) website builder, which delivers applications over the Internet as a service. Instead of installing and maintaining software, one can access it online, simplifying software and hardware management.
The said organization was bought by the company, Yell Group, and Wendy Tan White remained its chief executive officer until 2015. People need faster ways to deploy and reuse applications, and she thinks that her robotics work can do the job. A year ago, she was ready to show her group's project, about which she said, "Our team has been exploring how to give industrial robots the ability to sense, learn, and automatically make adjustments so they can work in more settings and applications. We've tested the software using automated perception, deep learning, reinforcement learning, motion planning, simulation, and force control with Alphabet teams and manufacturing partners." Also, an executive told a news source that they have been trying to unlock robotics' economic potential and give more businesses and developers access to it.
However, in robotics, it's easier said than done. With interest in making work easier soaring, can industrial robotics be made more user-friendly?
Discussion Questions:
I will read each question. Then, please answer them.
Do you have experience with robots? If so, can you describe what happened? If not, what experience do you want to have with regard to the said technology?
Do you know how to create robotic software? If so, can you describe how? If not, what will you do to learn it?
How will you promote robotics if you own a tech company?
Do you think humans need robots?
How can you explain to people the benefits of robotics?
Summarization
Please summarize the whole article using your own words and expressions. You will have one minute to prepare before you answer.
Describe:
Please explain the definition of each word listed below based on your understanding. You can provide example sentences if needed.
automated perception
deep learning
reinforcement learning
motion planning
force control
Listening: