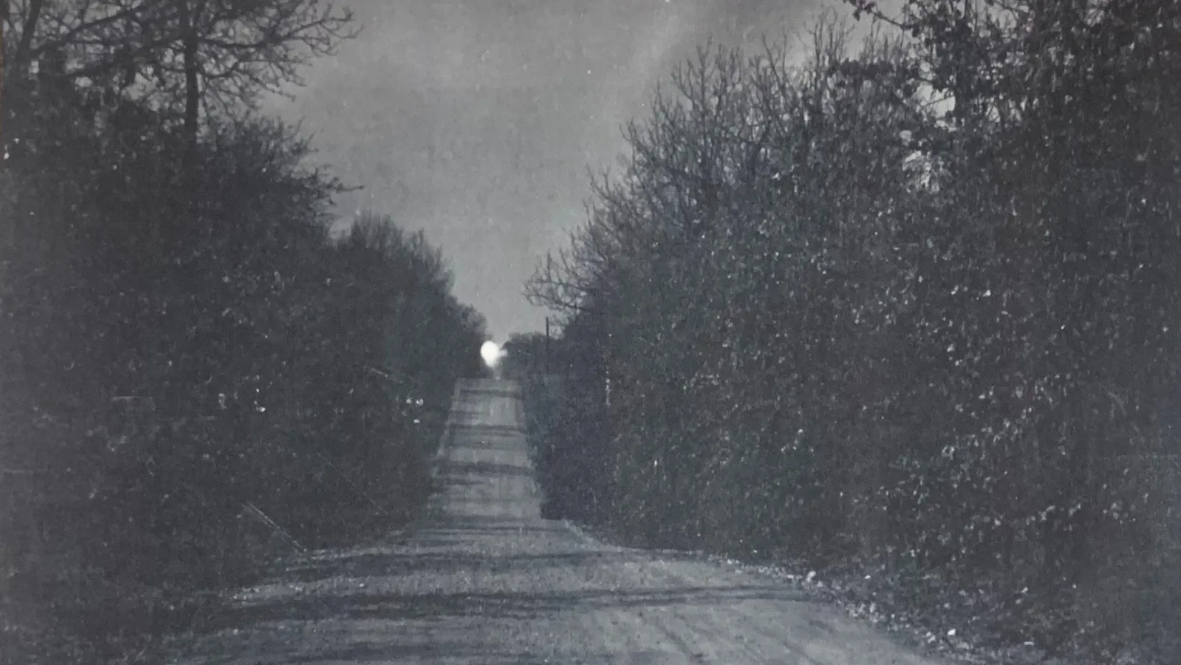 © Ed Craig Collection at Dobson Museum and Home Archive via BBC News
Pre-reading questions
I will read each question. Then, please answer them.
講師がそれぞれの質問を読むので答えましょう。
What do you think about when you hear the word "mystery"?
Do you enjoy watching TV programs about unsolved mysteries?
Vocabulary
I will read the words, meanings, and sample sentences. Then, repeat after me.
単語、意味、例文を読みます。講師に続いて音読しましょう。
century /SEN-chuh-ree/

[noun] – a period of 100 years
This painting must date back many centuries.

region /REE-juhn/

[noun] – a particular area or part of the world, or one of the areas into which a country is divided
They live in a Canadian farming region.

different /DIF-er-uhnt/

[adjective] – not the same
This book is available in different languages.

opinion /uh-PIN-yuhn/

[noun] – a thought or belief about something or someone
What's your opinion about the situation?

remain /ri-MEYN/

[verb] – to stay in the same place or in the same condition
What happened to the airplane remains a mystery.
Article reading
Please read the whole article. Then, I will check your pronunciation and intonation.
記事を音読しましょう。講師はあなたの発音とイントネーションを確認します。
Northeast of Oklahoma City, on the former Route 66, is a four-mile rural road known as The Devil's Promenade. A ghostly puzzle that has confused ghost hunters for more than a century is located here.
The strange basketball-sized glowing orb known as the Hornet Spook Light has been spotted in this region since 1881. It was named after the old town of Hornet. It moves in circles and bounces up and down like a ghost dancer holding a lantern. The townspeople agree that the Hornet Spook Light exists. But they have different opinions on what created it. Some said it was the ghost of a murdered Osage chief, while others said it was "the spirit of a Quapaw maiden who drowned herself in the river when her warrior was killed in battle." Still, some suggest the lights are created by the gas released by rotting plants in swamps.
Up to this moment, the strange ball has remained what it has always been: a mystery. What could it possibly be?
True or False:
Read the sentences and identify if they are true or false based on the article.
文章を読んで、記事に基づいて正誤を答えましょう。
The Devil's Promenade is a four-mile rural road.
The Hornet Spook Light has been spotted on the former Route 66 since 1881.
The orb was named after the insect hornet.
The locals have the same opinions on what created the orb.
Other people think that the lights are created by the gas released by rotting plants in swamps.
Fill in the blanks
Choose the correct word from the table then fill in the blanks.
適切な言葉を選んで空欄を埋めましょう。
| | | | | |
| --- | --- | --- | --- | --- |
| century | region | different | opinion | remain |
He's reading a _______ book than the rest.
There have been few changes in the city in over a _______.
What she said to him _______ a secret.
There's not enough food and water in this _______.
Your _______ will not affect the final decision.
Listening