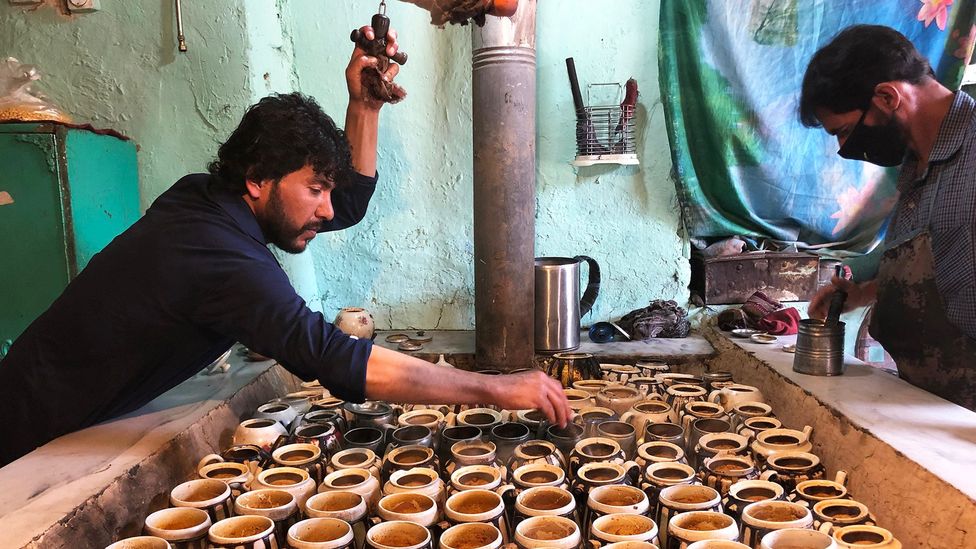 © Kanika Gupta via BBC Travel
Pre-reading questions
I will read each question. Then, please answer them.
講師がそれぞれの質問を読むので答えましょう。
Do you like stew?
What is your favorite restaurant?
Vocabulary
I will read the words, meanings, and sample sentences. Then, repeat after me.
単語、意味、例文を読みます。講師に続いて音読しましょう。
surround /suh-ROUND/

[verb] – to be around something on all sides
The house is surrounded by tall trees.

serve /surv/

[verb] – to provide food or drinks
Breakfast is served at the restaurant from 07:00 to 11:00.

lamb /lam/

[noun] – a young sheep, or the flesh of a young sheep eaten as meat
We're having lamb stew for dinner.

clay /kley/

[noun] – thick, heavy soil that is soft when wet, and hard when dry or baked, used for making bricks and containers
She made a beautiful clay model of her dog.

recipe /RES-uh-pee/

[noun] – a set of instructions telling you how to prepare and cook a particular food, including a list of what foods are needed for this
Butter can be replaced with margarine in this recipe.
Article reading
Please read the whole article. Then, I will check your pronunciation and intonation.
記事を音読しましょう。講師はあなたの発音とイントネーションを確認します。
In the historic center of Kabul is the busy Kafarosi Bird Market. Colorful birds flap their wings in bell-shaped cages surrounded by brown mud buildings.
Beyond the cages and crowds is Kabul's oldest restaurant, which has been serving chainaki, the local lamb stew, for 70 years. It offers handmade chainaki served traditionally (clay teapot). According to the restaurant's current owner, Wahidullah, the unique taste and aroma of his rich lamb stew come from the clay teapot. In addition to the meal, you can order tea in a separate container. "They are found all over the country where weary travelers can obtain refreshments after long and dusty journeys. They are also the meeting place for the locals (men) to meet and exchange news and gossip," food historian Helen Saberi explains.
After the Taliban took over on August 15, 2021, the restaurant continued to serve its loyal customers delicious chainaki. "Years of war not only killed people but also these traditional recipes," said Wahidullah. "I want chainaki to become Afghanistan's ultimate comfort food."
True or False:
Read the sentences and identify if they are true or false based on the article.
文章を読んで、記事に基づいて正誤を答えましょう。
Kafarosi Bird Market is at the center of Kabul.
Kabul's oldest restaurant has been serving chainaki for 70 years.
Wahidullah explains that the unique taste and aroma of his rich lamb stew come from its sauce.
Customers can order tea with chainaki.
Helen Saberi is Wahidullah's assistant.
Fill in the blanks
Choose the correct word from the table then fill in the blanks.
適切な言葉を選んで空欄を埋めましょう。
| | | | | |
| --- | --- | --- | --- | --- |
| surround | serve | lamb | clay | recipe |
I'd like to have roast _______, please.
This _______ is good for five people.
My grandmother used _______ to make these pots.
This restaurant _______ authentic Japanese food.
The mansion is _______ by high stone walls.
Listening