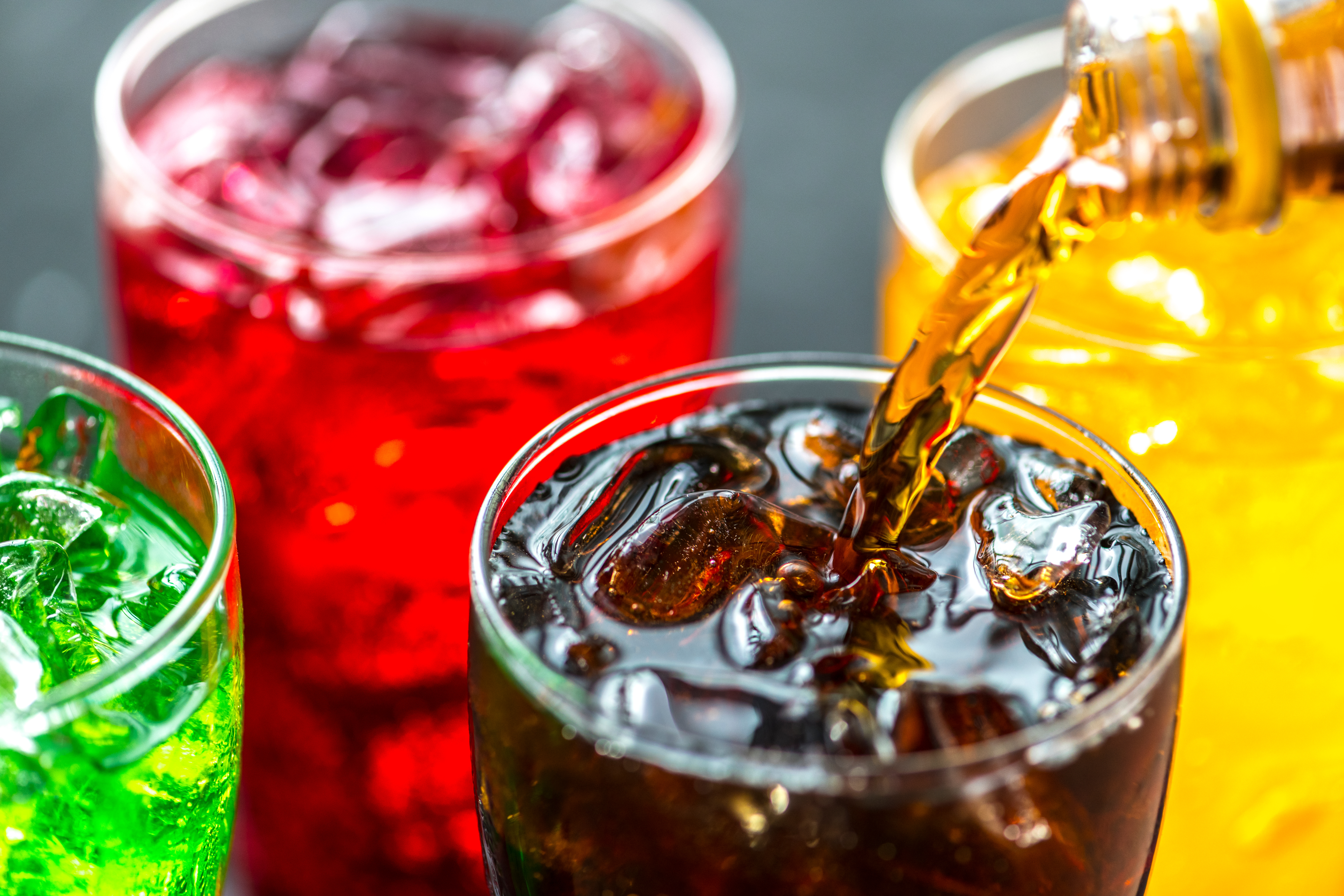 Pre-reading questions
I will read each question. Then, please answer them.
講師がそれぞれの質問を読むので答えましょう。
Do you often drink soda?
What is your favorite drink flavor?
Vocabulary
I will read the words, meanings, and sample sentences. Then, repeat after me.
単語、意味、例文を読みます。講師に続いて音読しましょう。
flavor /FLEY-ver/

[noun] – the particular way a substance, esp. food or drink, is recognized from its taste and smell
Which flavor do you want, chocolate or mocha?

invention /in-VEN-shuhn/

[noun] – something newly designed or created, or the activity of designing or creating new things
The spinning wheel was an invention of the Chinese.

(the) present /PREZ-uhnt/

[noun] – the period of time that is happening now, not the past or the future
The teachers think the present lesson plan is not enough.

across /uh-KRAWS/

[preposition] – in every part of a particular place or country
Don't go across that field. It's dangerous.

look forward to (something) /look FAWR-werd too/

[phrasal verb] – to feel pleased and excited about something that is going to happen
We look forward to hearing from you shortly.
Article reading
Please read the whole article. Then, I will check your pronunciation and intonation.
記事を音読しましょう。講師はあなたの発音とイントネーションを確認します。
In the past, there were more sweet, bubbly sodas than one could imagine. Some of them came in flavors like cherry syrup, lemon, sassafras bark, or cola nuts.
Years after the World's Fair, German-Geneva chemist Johann Jakob Schweppe's invention of carbonation for drinking in 1783 became widely used. The Foxton Fizz from New Zealand brings this golden era into the present. A bottling facility was located in Foxton, a small community of roughly 3,000 people on the North Island of the nation. And when the local family business chose to close, a group of fizz fans bought the brand. The company's sodas, which come in flavors including lime, raspberry, and cola, have been clinking in glass bottles all across the region for more than a century.
Sodas and other soft drinks became popular in the United States when alcoholic beverages were banned. People's passion for soda continued after that. Maybe it's better to find a soda you truly love, something like what you look forward to every summer.
True or False:
Read the sentences and identify if they are true or false based on the article.
文章を読んで、記事に基づいて正誤を答えましょう。
Some sodas in the past had flavors like cherry syrup, lemon, sassafras bark, or cola nuts.
Johann Jakob Schweppe invented carbonated drinks in 1883.
The Foxton Fizz is from the United States.
Foxton has roughly 3,000 people.
Fizz fans bought the company after it shut down.
Fill in the blanks
Choose the correct word from the table then fill in the blanks.
適切な言葉を選んで空欄を埋めましょう。
| | | | | |
| --- | --- | --- | --- | --- |
| flavor | invention | present | across | look forward to |
My friends and I _______ seeing you again!
I'm too focused on the _______ that I sometimes forget to think about the future.
I don't like this _______. It's too salty for me.
They traveled _______ the snowy path.
Computers are one of the most incredible ______ of all time. 
Listening