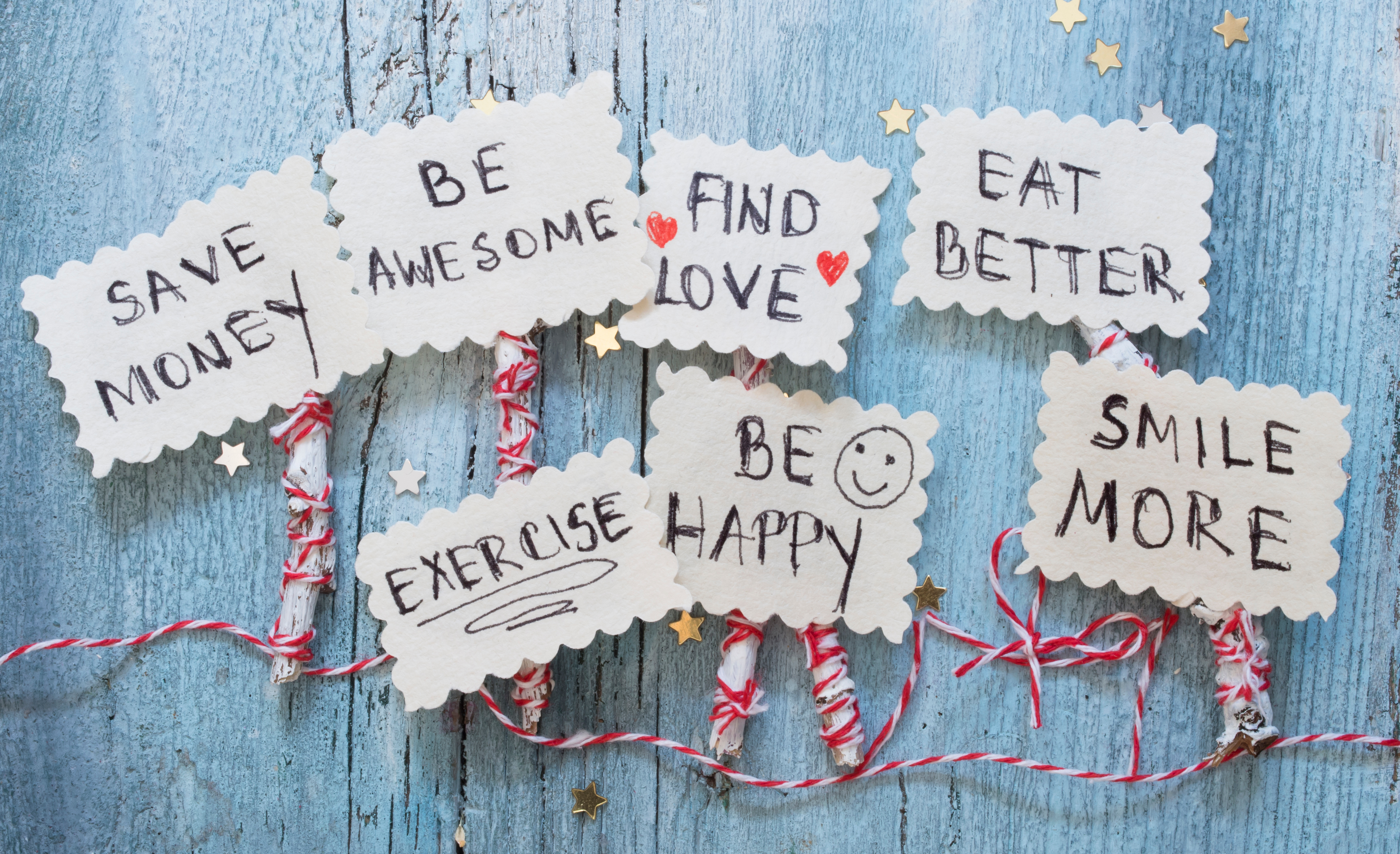 Pre-reading questions
I will read each question. Then, please answer them.
What are your New Year's resolutions?
Do you make resolutions every year? Why or why not?
Vocabulary
I will read the words, meanings, and sample sentences. Then, repeat after me.
realistic /ree-uh-LIS-tik/

[adjective] – seeming to exist or be happening in fact
We need to be realistic about the likelihood of winning.

contribute /kuhn-TRIB-yoot/

[verb] – to be one of the reasons why something happens
Their three sons also contributed to the success of the family business.

abstract /AB-strakt/

[adjective] – existing as an idea, feeling, or quality, not as a material object
Her ideas come off as a little abstract.

opportunity /op-er-TOO-ni-tee/

[noun] – an occasion or situation that makes it possible to do something that you want to do or have to do, or the possibility of doing something
When an opportunity presents itself, take it.

failure /FEYL-yer/

[noun] – the fact of someone or something not succeeding
Their plans ended in failure.
Article reading
Please read the whole article. Then, I will check your pronunciation and intonation.
Every advertisement, social media post, and loved one may tell you that now is the perfect time to rebrand, refresh, or reset. How can we set goals for the new year that are realistic?
Make value-driven resolutions
Maintaining a resolution is a lot easier when it matches your priorities. Ask yourself: What is the most important thing in life? In what ways might your self-improvement activities contribute to those ideals?
Be specific with your goals
The issue with resolutions is that they are abstract. So be more specific in your goal-setting. For instance, if you want to do more volunteering, think about the day, time, place, length, and mode of transportation.
Break down your resolution into smaller goals
Major changes can often seem overwhelming and difficult. Breaking down your resolutions into easier tasks can help you stick to them.
Reward yourself
Difficult emotions or experiences are made more enjoyable if they're rewarded. If you plan to read more, reward yourself with a latte when picking up a book. Or treat yourself to sushi after a yoga session.
Be prepared
Everybody makes mistakes but sees them as opportunities for growth rather than failure. To achieve your goals, keep in mind that persistence, not perfection, is the key.
Be specific with your goals, make a plan with minor checkpoints along the way, and don't let failures stop you from continuing!
Comprehension questions
I will read each question. Then, please answer them based on the article.
What is the first way to make New Year's resolutions attainable?
According to the article, what is the problem with resolutions?
What can we do when major changes become too difficult to handle?
How can we make difficult experiences more enjoyable?
Based on the article, what is the key to achieving goals?
Discussion questions
I will read each question. Then, please answer them.
What were your New Year's resolutions last year?
What do you do to stay motivated to stick to your resolutions?
If you were to help a friend make resolutions, which of the five pieces of advice would you give him/her? Why?
Should New Year's resolutions always be followed?
In which of the five ways do you believe you need it the most? Please provide a detailed explanation for your response.
Listening