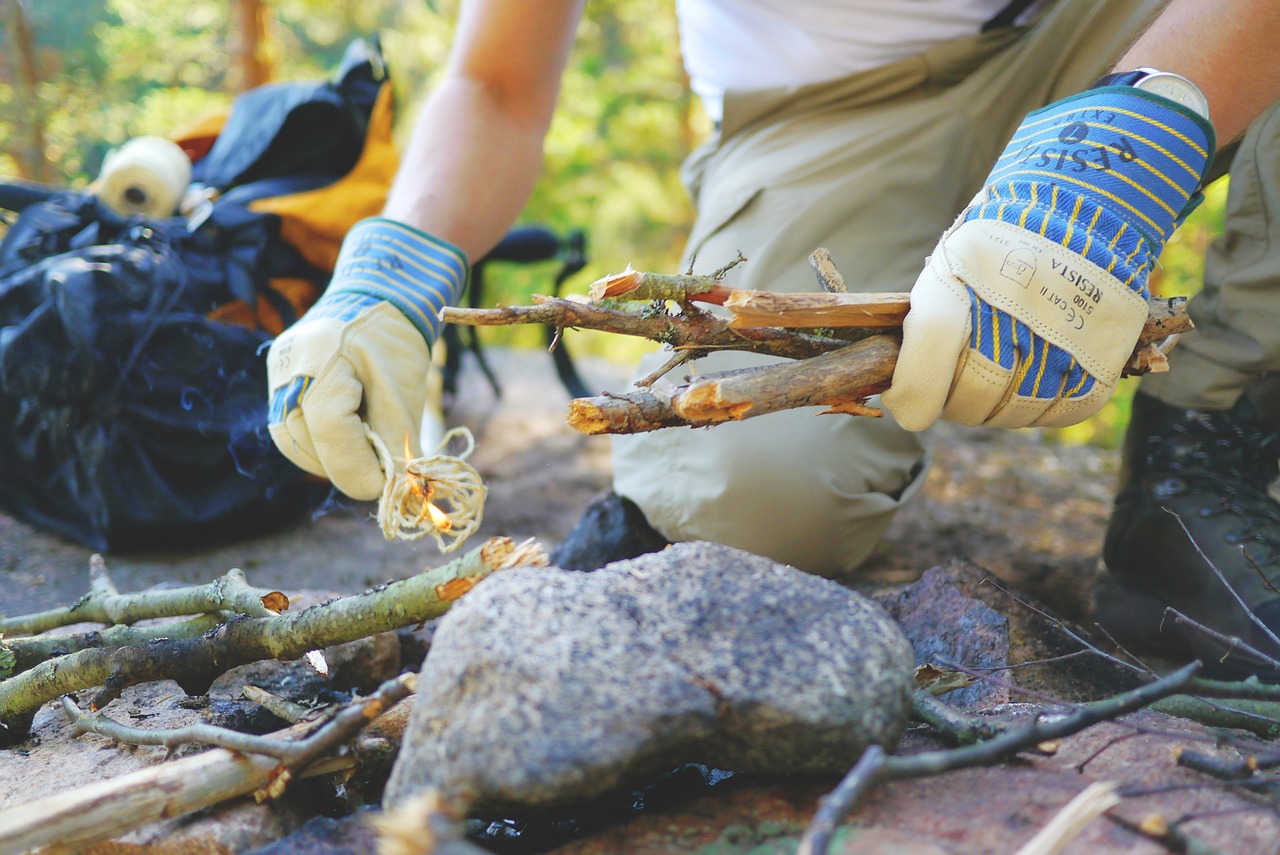 Pre-reading questions:
I will read each question. Then, please answer them.
講師がそれぞれの質問を読むので答えましょう。
Have you heard about bushcraft before?
Do you have any experience with camping or wilderness survival skills?
Vocabulary:
I will read the words, meanings, and sample sentences. Then, repeat after me.
単語、意味、例文を読みます。講師に続いて音読しましょう。
escape /ih-SKEYP/

[verb] – to get free from something, or to avoid something
During the fire drill, the students had to quickly escape from the building and gather outside.

outdoors /out-DAWRZ/

[noun] – outside
I love to spend time outdoors, especially when the weather is nice.

connect /kuh-NEKT/

[verb] – to feel close to someone or have a good relationship with them
I really connect with my best friend because we have similar interests and enjoy spending time together.

technique /tek-NEEK/

[noun] – way of doing an activity that needs skill
The artist used a unique painting technique to create beautiful and vivid colors on the canvas.

knowledge /NOL-ij/

[noun] – understanding of or information about a subject that you get by experience or study, either known by one person or by people generally:
Reading books and studying are great ways to gain knowledge and learn new things.
Article reading:
Please read the whole article. Then, I will check your pronunciation and intonation.
記事を音読しましょう。講師はあなたの発音とイントネーションを確認します。
Are you tired of the hustle and bustle of city life? Do you yearn to escape into the great outdoors and connect with nature? Look no further than bushcraft, the outdoor activity that teaches you how to survive in the wilderness with minimal equipment. But it's more than just a survival skill. It's a way to reconnect with ancestral roots and create a community of like-minded individuals.
Bushcraft offers a range of practical survival skills, from shelter building to foraging for food. But it's not just about surviving in the wild. It's about learning techniques used by indigenous peoples for centuries and gaining a newfound respect for cultural heritage. And the community aspect of bushcraft is just as important. Enthusiasts often gather to share their knowledge and experiences, creating a supportive environment for learning and passing on valuable skills.
If you're looking to disconnect from the distractions of the modern world and reconnect with nature, bushcraft is the perfect activity for you. It offers practical applications, therapeutic benefits, and a sense of community that is hard to find elsewhere.
True or False:
Read the sentences and identify if they are true or false based on the article.
文章を読んで、記事に基づいて正誤を答えましょう。
Bushcraft teaches you how to survive in the wilderness with minimal equipment.
Bushcraft only focuses on survival skills.
Bushcraft allows you to reconnect with your ancestral roots.
The community aspect of bushcraft is not important.
Bushcraft offers therapeutic benefits.
Fill in the blanks:
Choose the correct word from the table then fill in the blanks.
適切な言葉を選んで空欄を埋めましょう。
| | | | | |
| --- | --- | --- | --- | --- |
| escape | outdoors | connect | technique | knowledge |
The cat tried to ______ from the room by jumping out of the window.
The chef's cooking ______ involved carefully measuring each ingredient and following the recipe precisely.
It's important to wear sunscreen when you're ______ to protect your skin from the sun's harmful rays.
My grandparents always tell me stories about their past, and it helps me ______ with them and understand their lives better.
The teacher shared her ______ of history with the class and helped them understand the significance of past events.
Listening: