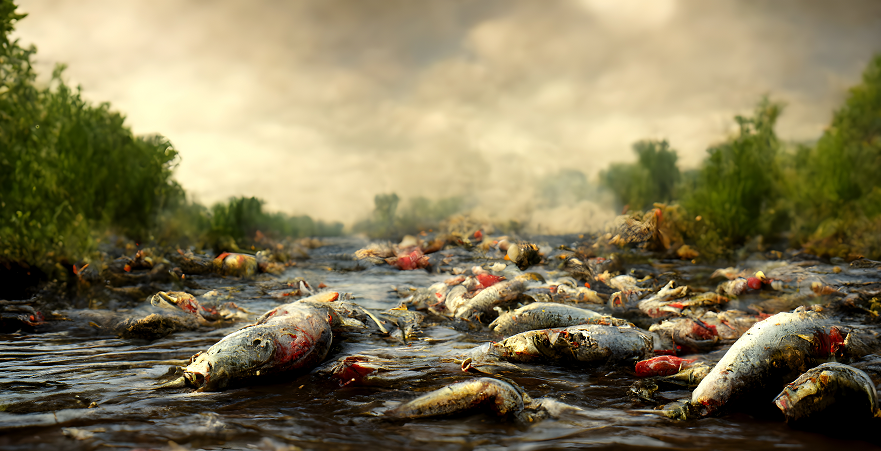 Pre-reading questions:
I will read each question. Then, please answer them.
What do you think causes mass fish deaths?
What role do human activities and climate change play in contributing to mass fish deaths?
Vocabulary:
I will read the words, meanings, and sample sentences. Then, repeat after me.
launch /lawnch/

[verb] – to begin something such as a plan or introduce something new such as a product
We're going to launch a big recruitment drive in the fall.

shortage /SHAWR-tij/

[noun] – a situation in which there is not enough of something
The shortage of energy is the problem.

exception /ik-SEP-shuhn/

[noun] – someone or something that is not included in a rule, group, or list or that does not behave in the expected way
Each candidate must answer all the questions without exception.

look IN-too /look/

[phrasal verb] – to examine the facts about a problem or situation
The government has instituted a court of inquiry to look into the allegations.

species /SPEE-sheez/

[noun] – a set of animals or plants in which the members have similar characteristics to each other and can breed with each other
This species of bird is decreasing in numbers every year.
Article reading:
Please read the whole article. Then, I will check your pronunciation and intonation.
A major cleanup effort has been launched after millions of fish died in the Darling River in western New South Wales. Police and volunteers from the conservation organization OzFish have begun removing fish carcasses from densely populated areas, although they acknowledge that not all of them will be collected. Coordination of the reaction and water quality monitoring are being done at the Menindee emergency hub. Following a recent heatwave, it is thought that the fish deaths were brought on by a shortage of oxygen in the river. Although locals have been informed that not all of the fish can be eliminated, contractors will employ a netting process to remove them.
A search and rescue effort has also been launched by OzFish volunteers to save any remaining native fish in the river. With the exception of a few non-native species like carp, most of the dead fish are native species like bony bream and golden perch. The deaths are likely to have been caused by hypoxic blackwater. Federal and state governments are collaborating to look into the root of the problem. Due to drought and human activity, the Murray-Darling Basin, Australia's greatest river system, is under increasing pressure. According to NSW Police Commander Brett Greentree, the occurrence is unusual because so many fish have perished. 
Comprehension questions
I will read each question. Then, please answer them based on the article.
What is being done to clean up the Darling River?
What is the suspected cause of the fish deaths?
Which species of fish are most affected by the recent deaths?
Why is the occurrence unusual, according to NSW Police Commander Brett Greentree?
What is the Murray-Darling Basin, and why is it under increasing pressure?
Discussion questions
I will read each question. Then, please answer them.
How would your local community and authorities respond if you had fish deaths in your area?
What can you do to support efforts to address the issue of mass fish deaths in your country?
Do you agree with the statement that the event is unprecedented in terms of the millions of fish that have died?
How do you think the government and local residents can prevent similar incidents from happening in the future?
How can we raise public awareness about the importance of protecting our natural resources and the environment?
Listening: