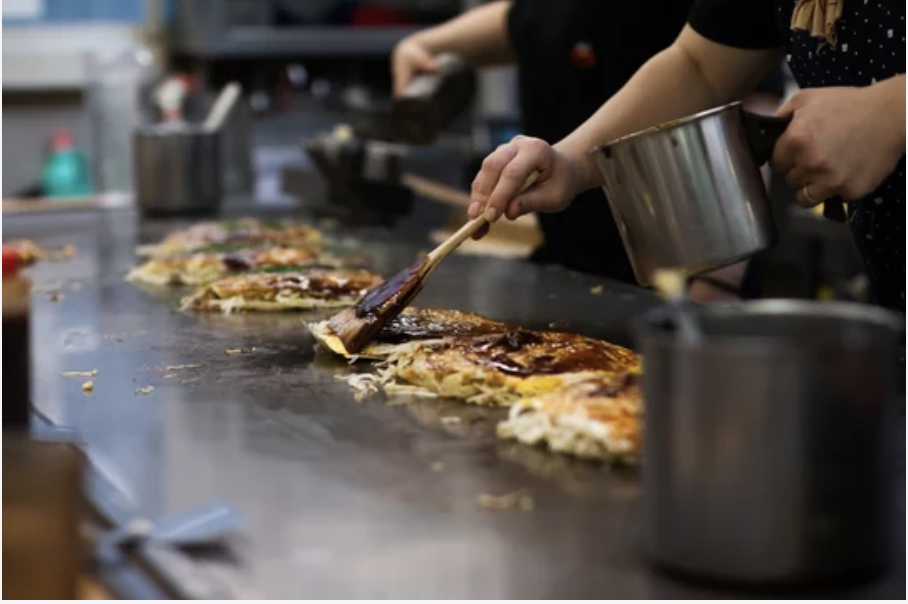 Pre-reading questions:
I will read each question. Then, please answer them.
How often do you eat okonomiyaki?
What food is popular in your country? Please describe it.
Vocabulary:
I will read the words, meanings, and sample sentences. Then, repeat after me.
survival /ser-VAHY-vuhl/

[noun] – the act or fact of surviving, especially under adverse or unusual circumstances.
The survival rate for younger cancer patients has improved dramatically.

atomic /uh-TOM-ik/

[adjective] – of, pertaining to, resulting from, or using atoms, atomic energy, or atomic bombs: an atomic explosion.
Here is an atomic power plant.

healing /HEE-ling/

[noun] – the process in which a bad situation or painful emotion ends or improves
Talking to a counselor can be an important step in the healing of emotional pain, as it can help bring closure to a difficult situation and promote personal growth.

worldwide /WURLD-WAHYD/

[adjective] – throughout the world; extending or spread throughout the world:
A few years later, the Beatles skyrocketed to worldwide fame.

trial /TRAHY-uhl/

[noun] – the act of trying, testing, or putting to the proof. test; proof
Multiple companies are reporting positive results from their phase 1 trials.
Article reading:
Please read the whole article. Then, I will check your pronunciation and intonation.
A local group is planning to showcase the versatility of okonomiyaki pancakes by incorporating ingredients from the G7 conference held in May. Each pancake will feature Italian spaghetti and hamburger buns, with the city's Okonomiyaki School recommending it for special occasions. This dish, which originated in Hiroshima as a meal for survival following the atomic bomb, has become the city's signature dish. According to Otafuku Holdings Co. President and Academy Head Director Shigeki Sasaki, "Okonomiyaki has gone from being a dish for survival to becoming Hiroshima's specialty."
Given the current state of the world, the organizers hope to use this event to showcase how Hiroshima's meals embody peace and healing. The Okonomiyaki School has conducted research on this dish worldwide and identified approximately 250 okonomiyaki restaurants in Hiroshima, adjacent prefectures, and other areas. Governor Hidehiko Yuzaki has requested G-7 okonomiyaki from the school, and the academy has selected Japan's "niku-tama-soba" (meat-egg-noodle) okonomiyaki, made with batter, cabbage, bean sprouts, noodles, and pork. Other national cuisines, including France's galette, America's hamburger, Britain's fish and chips, Germany's sausage, potatoes, and sour cabbage, Italy's carbonara, and Canada's maple syrup, will also be featured on the menu.
To create the menu, academy members surveyed expatriates and contacted eateries to identify country-named meals. In January, they used trial and error to finalize the recipes, adding national ingredients to the okonomiyaki to create custom menus. For those who are interested, the recipes will be available online.
Comprehension questions
I will read each question. Then, please answer them based on the article.
What is the history behind Hiroshima's "soul meal," okonomiyaki?
How can food be used as a tool for promoting peace and healing?
Can we learn about a country's culture and values through its national cuisine?
Do you think initiatives like the G-7 Okonomiyaki Project can promote cultural exchange and understanding between nations? How?
How did the academy create the menu for the G-7 conference?
Discussion questions
I will read each question. Then, please answer them.
Have you ever tried okonomiyaki before, and if so, what is your favorite variation or ingredient in it?
What do you think about the Okonomiyaki Academy's initiative to promote okonomiyaki worldwide?
Can the inclusion of characteristic ingredients from each nation in the standard okonomiyaki dish reflect cultural exchange and appreciation?
What challenges did the academy face in creating the country-named okonomiyaki dishes, and how did they overcome them?
How do the Academy's efforts to promote country-named okonomiyaki dishes for special occasions contribute to the preservation of Hiroshima's history and culinary heritage?
Listening: