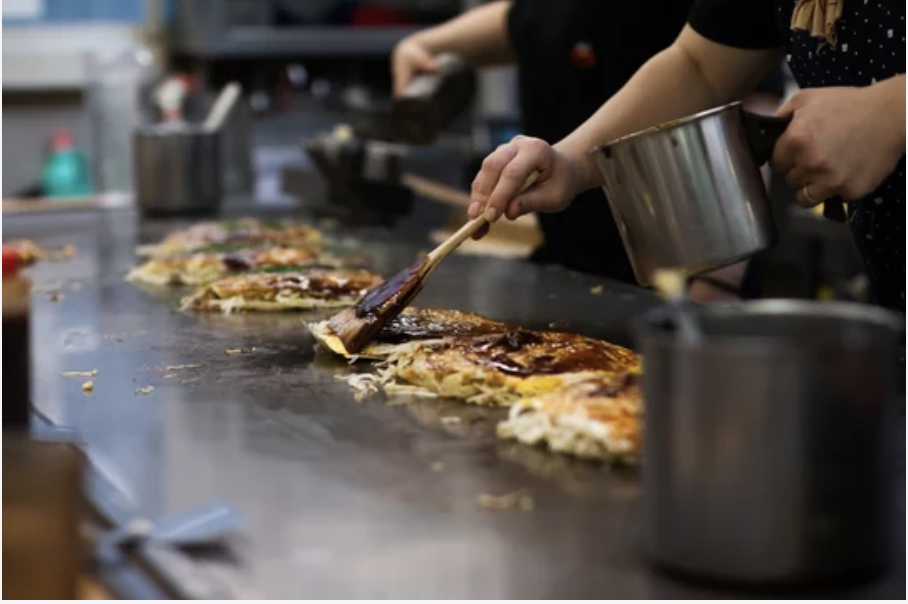 Pre-reading questions:
I will read each question. Then, please answer them.
講師がそれぞれの質問を読むので答えましょう。
Do you like okonomiyaki?
When was the last time that you had okonomiyaki? What was it?
Vocabulary:
I will read the words, meanings, and sample sentences. Then, repeat after me.
単語、意味、例文を読みます。講師に続いて音読しましょう。
local /LOH-kuhl /

[adjective] – pertaining to or characterized by place or position in space; spatial.
He is not local to this area.

culture /KUHL-cher/

[noun] – the quality in a person or society that arises from a concern for what is regarded as excellent in arts, letters, manners, scholarly pursuits, etc.
I learned about Japanese culture at the university.

sour /SOR-er /

[adjective] – having an acid taste, resembling that of vinegar, lemon juice, etc.; tart.
Milk goes sour easily.

cabbage /KAB-ij/

[noun] – any of several cultivated varieties of a plant, Brassica oleracea capitata, of the mustard family, having a short stem and leaves formed into a compact, edible head.
It's a cabbage salad.

preparation /prep-uh-REY-shuhn/

[noun] – a proceeding, measure, or provision by which one prepares for something:
preparations for a journey.
I did today's preparation.
Article reading:
Please read the whole article. Then, I will check your pronunciation and intonation.
記事を音読しましょう。講師はあなたの発音とイントネーションを確認します。
Okonomiyaki Academy, a local association in Hiroshima, Japan, is encouraging eateries to include special dishes in their menus to add flavor to the upcoming Group of Seven summit in May.
The academy was founded in April 2014 by Otafuku Holdings Co. and was appointed as the "ambassador" tasked with promoting Hiroshima's cuisine in November 2022. The ingredients incorporated represent their food culture, including galettes for France, hamburgers for the United States, fish and chips for Britain, sausage, potatoes, and sour cabbage for Germany, carbonara pasta for Italy, and maple syrup for Canada.
In preparation for the event, the academy members conducted interviews with restaurants to gather information about food ingredients linked to different countries. Additionally, they gathered questionnaires from expats hailing from these countries. The recipes underwent a process of refinement through trial and error, with great care taken to meticulously attend to every aspect, and were ultimately finalized in January.
True or False:
Read the sentences and identify if they are true or false based on the article.
文章を読んで、記事に基づいて正誤を答えましょう。
Okonomiyaki was born in Hiroshima.
The academy was established by Otafuku Holdings Co. in April 2014.
The ingredients added to the okonomiyaki represent the food culture of each respective country.
The Okonomiyaki Academy was appointed as the "ambassador" to promote Hiroshima's cuisine.
The special ingredients added to the okonomiyaki include sour cabbage for Germany.
Fill in the blanks:
Choose the correct word from the table then fill in the blanks.
適切な言葉を選んで空欄を埋めましょう。
| | | | | |
| --- | --- | --- | --- | --- |
| local | culture | sour | cabbage | preparation |
My mother shredded ______.
Learning about different ______ can be fascinating and help us understand and appreciate the differences among people.
She has not done any ______ for that lesson yet.
That is my ______ area.
Lemons are ______ .
Listening: