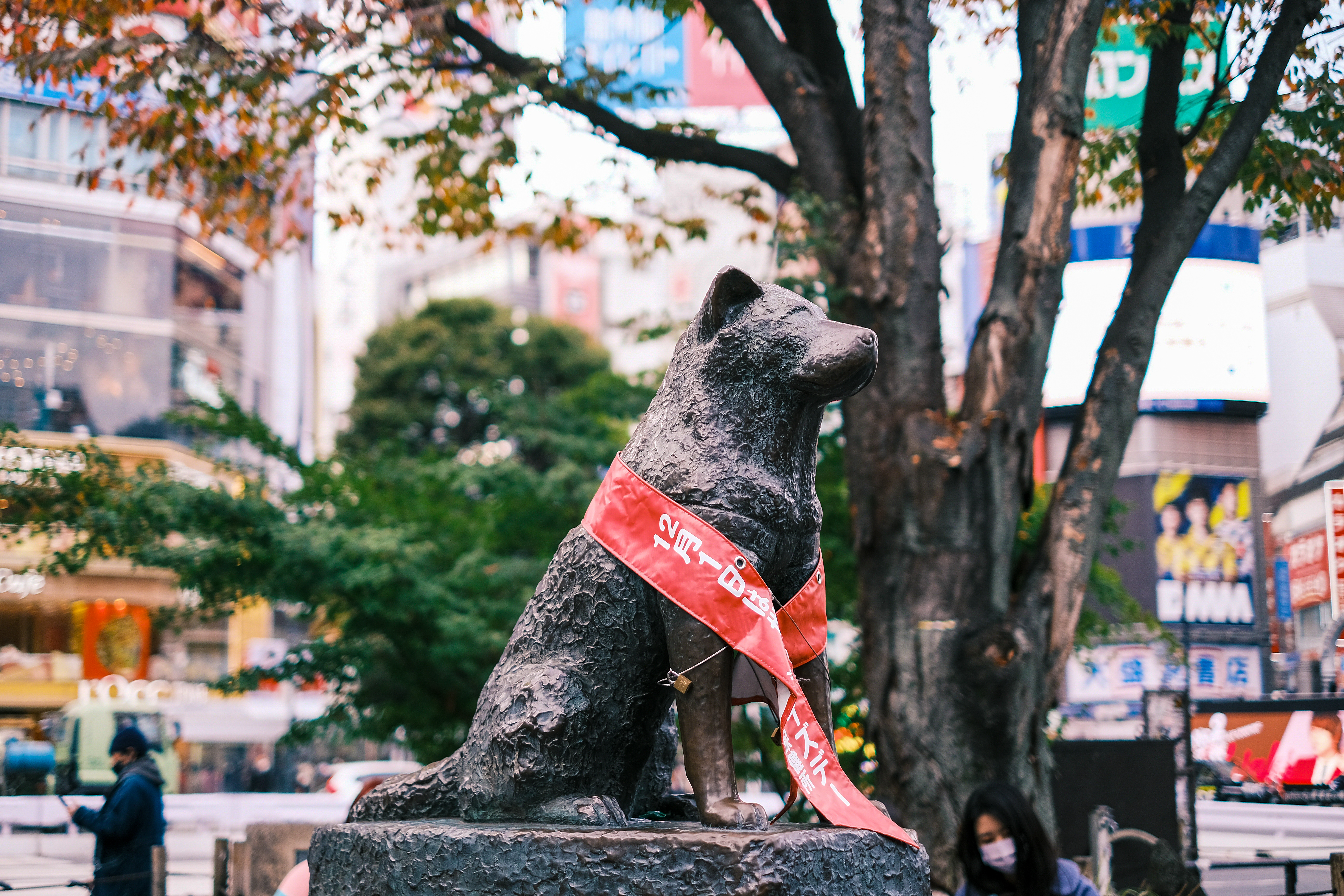 Pre-reading questions:
I will read each question. Then, please answer them.
What dog breeds do you like?
What is his story?
Vocabulary:
I will read the words, meanings, and sample sentences. Then, repeat after me.
statue /STACH-oo/

[noun] – a three-dimensional work of art, as a representational or abstract form, carved in stone or wood, molded in a plastic material, cast in bronze, or the like.
The king's statue was again set up in Guildhall, London, and the state arms were taken down.

northern /NAWR-thern/

[adjective] – lying toward or situated in the north.
Last week, we covered a home being built in northern Italy.

interest /IN-ter-ist/

[noun] – the feeling of a person whose attention, concern, or curiosity is particularly engaged by something
She has a great interest in the poetry of Donne.

publish /PUHB-lish/

[verb] – to submit (content) online, as to a message board or blog
I published a comment on her blog post with examples from my own life.

connection /kuh-NEK-shuhn /

[noun] – the act or state of connecting
I have no connection with her.
Article reading:
Please read the whole article. Then, I will check your pronunciation and intonation.
Hachiko, the faithful Akita Inu dog who waited for his master's arrival at Tokyo's Shibuya Station, would have been 100 in November. A well-known Hollywood film and a big bronze statue outside the station have both memorialized his story.
Stephanie Carletti, 20, of Bergamo, northern Italy, will go to Japan for the first time this summer to see sites associated with Hachiko, including the Aoyama Cemetery, the Shibuya area, and the National Museum of Nature and Science. Hachiko was adopted as a newborn by Hidesaburo Ueno, a professor at Tokyo Imperial University. She was born in Odate, Akita Prefecture, in 1923. His story sparked a lot of interest after being published in the Tokyo Asahi Shimbun.
His great-great-grandchildren, Kai Ueno, 25, and Shin, 21, are overjoyed that the dog their grandpa owned is still cherished today. Shin learned about the dog through Kazuto, Shin's grandfather, and Ueno's grandson. Shin had read fan letters and other items given to the famous dog and felt a connection to him. Carletti emailed the prefectural office after finding that an Ueno granddaughter lived in the area. Kazuto responded to the Italian admirer with a letter and started conversing with her. Kai is looking forward to seeing Carletti when she comes to Japan.
Comprehension questions
I will read each question. Then, please answer them based on the article.
Who was Hachiko?
Where is Stephanie Carletti from, and where is she going this summer?
When was Hachiko born?
How did Shin learn about Hachiko?
Who is looking forward to meeting Stephanie Carletti when she comes to Japan?
Discussion questions
I will read each question. Then, please answer them.
Have you ever heard of Hachiko before reading this passage? If so, where did the information come from? If not, do you know a story that is similar to it? Could you tell me about it?
What is your favorite breed of dog? Please elaborate on your answer.
Who is Stephanie Carletti, and what places associated with Hachiko is she planning to visit during her trip to Japan this summer?
How do you feel about the story of Hachiko and his loyalty to his owner?
What is your opinion on the significance of monuments and memorials in public spaces?
Listening: