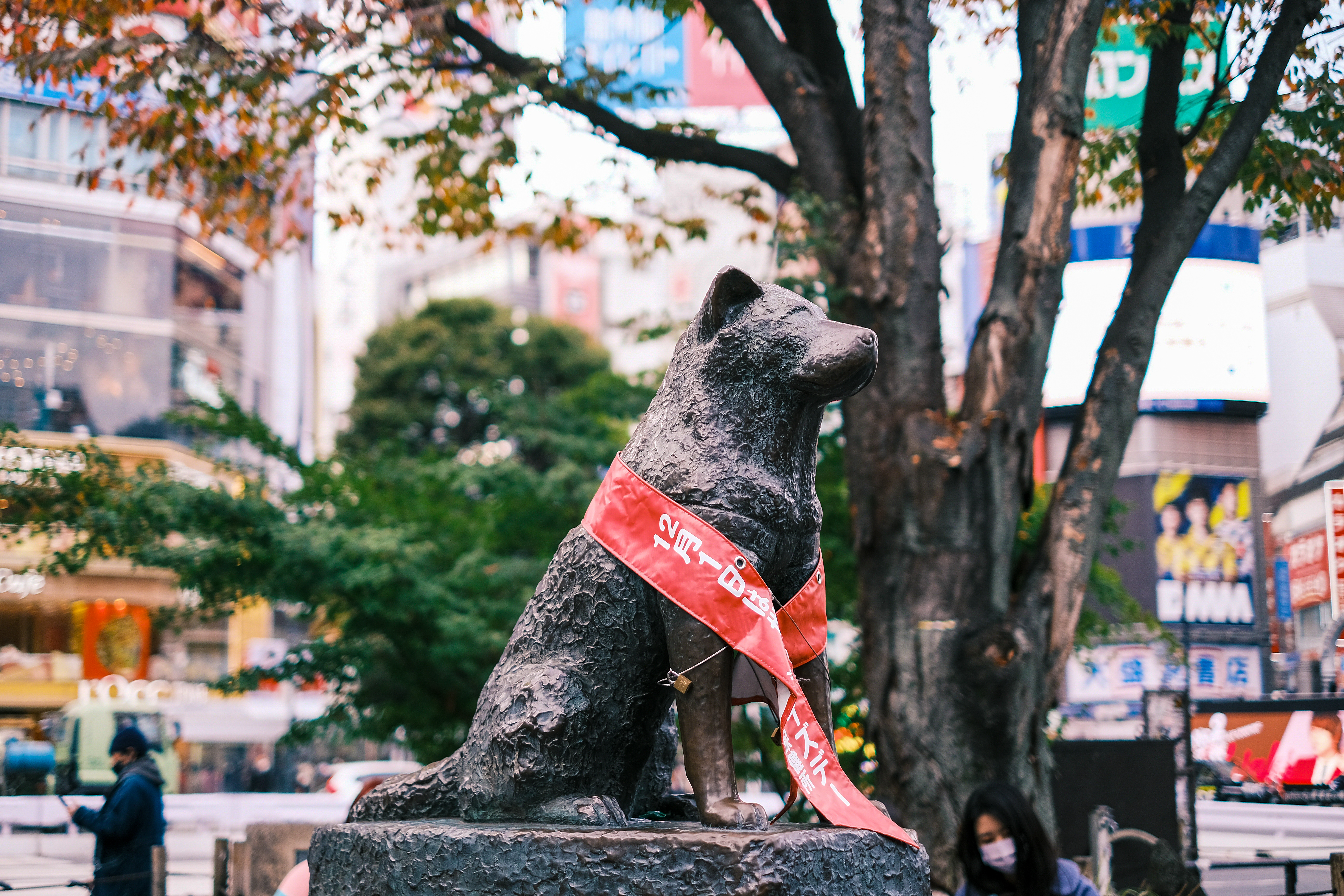 Pre-reading questions:
I will read each question. Then, please answer them.
講師がそれぞれの質問を読むので答えましょう。
Have you ever been to Tokyo's Shibuya Station?
Who is Hachiko?
Vocabulary:
I will read the words, meanings, and sample sentences. Then, repeat after me.
単語、意味、例文を読みます。講師に続いて音読しましょう。
national /NASH-uh-nl/

[adjective] – of, relating to, or maintained by a nation as an organized whole or independent political unit
I would play the national anthem before the opera began.

science /SAHY-uhns/

[noun] – a branch of knowledge or study dealing with a body of facts or truths systematically arranged and showing the operation of general laws:
My favorite subject is science.

grandfather /GRAND-fah-ther/

[noun] – the father of one's father or mother
My grandfather died while he was in college.

area /AIR-ee-uh/

[noun] – any particular extent of space or surface
I live in the Kanto area of Japan.

fan /fan /

[noun] – an implement of feathers, leaves, paper, cloth, etc., often in the shape of a long triangle or of a semicircle, for waving lightly in the hand to create a cooling current of air about a person
We sat on the veranda, cooling ourselves with palm-leaf fans.
Article reading:
Please read the whole article. Then, I will check your pronunciation and intonation.
記事を音読しましょう。講師はあなたの発音とイントネーションを確認します。
Hachiko, the loyal Akita Inu dog who waited for his master at Tokyo's Shibuya Station, would have turned 100 this November. A well-known Hollywood movie and a bronze statue outside the station both tell his story.
Stephanie Carletti, who is 20 and from Bergamo in northern Italy, will go to Japan for the first time this summer to see places related to Hachiko, such as the Aoyama Cemetery, the Shibuya neighborhood, and the National Museum of Nature and Science. When Hachiko was a baby, a professor at Tokyo Imperial University named Hidesaburo Ueno took her in. His great-great-grandchildren, Kai Ueno, 25, and Shin, 21, are proud that the dog their grandfather used to have is still loved.
Carletti sent an email to the prefectural administration after finding out that an Ueno grandchild lived in the area. Kazuto wrote back to the Italian fan and started writing back and forth with her. Kai is excited to meet Carletti when she visits Japan.
True or False:
Read the sentences and identify if they are true or false based on the article.
文章を読んで、記事に基づいて正誤を答えましょう。
Hachiko was a cat, not a dog.
Hachiko would have turned 100 this November.
Stephanie Carletti is from Tokyo, Japan.
Kai Ueno and Shin are Hachiko's great-great-grandchildren.
Kai is not interested in meeting Carletti when she visits Japan.
Fill in the blanks:
Choose the correct word from the table then fill in the blanks.
適切な言葉を選んで空欄を埋めましょう。
| | | | | |
| --- | --- | --- | --- | --- |
| national | science | grandfather | area | fan |
I'm a big ______ of Japanese cuisine, especially sushi.
My ______ always tells the best stories from his childhood.
The ______Museum of Nature and Science is a popular attraction in the area.
The Shibuya ______ of Tokyo is known for its nightlife.
______ education is important for fostering critical thinking.
Listening: