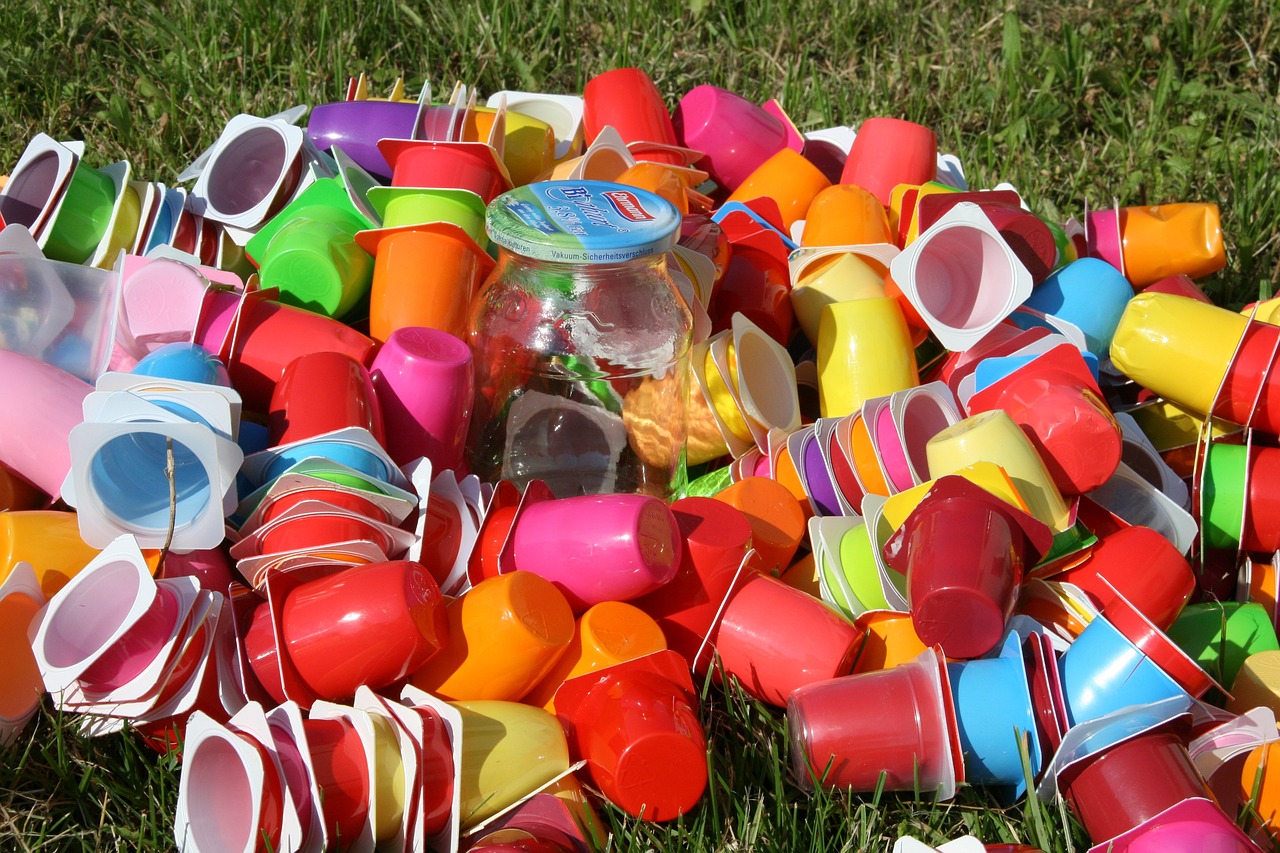 Pre-reading questions:
I will read each question. Then, please answer them.
講師がそれぞれの質問を読むので答えましょう。
Have you ever thought about the environmental impact of using plastic versus glass products?
Do you think that using glass products is more environmentally friendly than using plastic products?
Vocabulary:
I will read the words, meanings, and sample sentences. Then, repeat after me.
単語、意味、例文を読みます。講師に続いて音読しましょう。
product /PROD-uhkt/

[noun] – something that is made to be sold, usually something that is produced by an industrial process or, less commonly, something that is grown or obtained through farming
The new product that my company launched last month is selling really well in the market.

ripple effect /RIP-uhl ih-FEKT/

[idiom] – a situation in which one event produces effects which spread and produce further effects
The ripple effect of the pandemic has affected not only the economy but also people's mental health.

recycle /ree-SAHY-kuhl /

[verb] – to sort and collect trash in order to treat it and produce useful materials that can be used again
It is important to recycle paper, plastic, and glass to help protect the environment.

transport /trans-PAWRT/

[verb] – to take goods or people from one place to another
The company will transport the goods from the warehouse to the store by truck.

decision /dih-SIZH-uhn/

[noun] – a choice that you make about something after thinking about several possibilities
I have to make a decision about which movie to watch tonight.
Article reading:
Please read the whole article. Then, I will check your pronunciation and intonation.
記事を音読しましょう。講師はあなたの発音とイントネーションを確認します。
When we go to the supermarket or order online, we often don't think about the packaging that comes with our products. However, every choice we make has a ripple effect on the planet. Glass and plastic are two of the most commonly used materials for packaging, but which one is better for the environment?
Firstly, glass is often considered a more environmentally friendly option because it can be recycled endlessly without losing quality. It's also free of harmful chemicals and can be reused in many different ways. However, glass is heavier and more fragile than plastic, which means it requires more energy to transport and poses a greater risk of breakage. On the other hand, plastic is lighter and more durable, but it can take hundreds of years to decompose and is harmful to the environment. Ultimately, the choice between glass and plastic packaging depends on several factors, including the product, the distance it needs to travel, and the recycling facilities' availability.
In conclusion, it's crucial to be mindful of the environmental impact of our packaging choices and make informed decisions. 
True or False:
Read the sentences and identify if they are true or false based on the article.
文章を読んで、記事に基づいて正誤を答えましょう。
Every choice we make when buying products has an impact on the planet.
Glass is considered to be more environmentally friendly than plastic.
Glass and plastic are the only materials used for packaging.
Glass is lighter and more durable than plastic.
Plastic can take hundreds of years to decompose.
Fill in the blanks:
Choose the correct word from the table then fill in the blanks.
適切な言葉を選んで空欄を埋めましょう。
| | | | | |
| --- | --- | --- | --- | --- |
| product | ripple effect | recycle | transport | decision |
We need to make a ______ about where to go on vacation this summer.
You should always read the label of a ______ before you buy it to make sure it is suitable for your needs.
When you throw a stone into a pond, it creates a ______ on the surface of the water.
My family separates our trash into different bins so we can ______ as much as possible.
After packing his backpack with books and snacks, Tom decided to ______ it to school on his bicycle.
Listening: