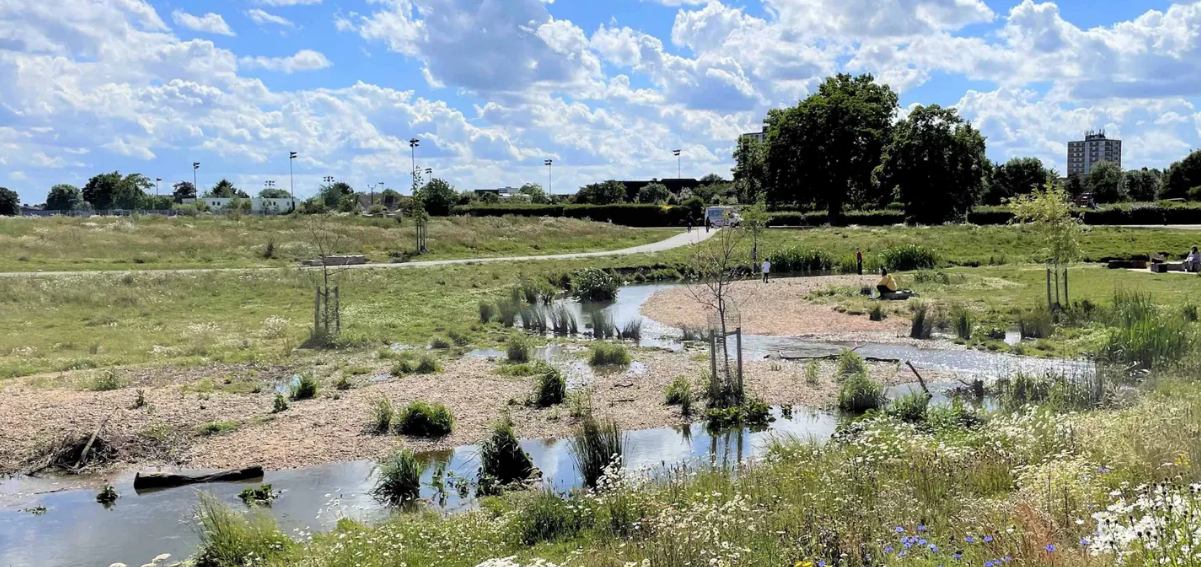 ©Michael Shorey/Enfield Council
Pre-reading questions:
I will read each question. Then, please answer them.
Have you ever heard of the term "lost rivers"? What do you think it means?
Can you think of any reasons why a city might have lost rivers?
Vocabulary:
I will read the words, meanings, and sample sentences. Then, repeat after me.
beneath /bih-NEETH/

[preposition] – in or to a lower position than someone or something, under someone or something
The hidden treasure was buried beneath the old oak tree in the enchanted forest.

inhabitant /in-HAB-i-tuhnt/

[noun] – a person or animal that lives in a particular place
In the small village, each inhabitant knew their neighbors and shared stories at community gatherings.

dare /dair/

[verb] – to be brave enough to do something difficult or dangerous, or to be rude or silly enough to do something that you have no right to do
Emily took a deep breath and mustered the courage to dare herself to perform a solo song in front of the entire school.

existence /ig-ZIS-tuhns /

[noun] – the fact of something or someone existing
The beauty of nature reminds us of the wondrous existence of diverse animals and plants in the world.

urban /UR-buhn/

[adjective] – of or in a city or town
My cousin moved from a small town to the city because he wanted to experience the vibrant urban lifestyle with its bustling streets and tall buildings.
Article reading:
Please read the whole article. Then, I will check your pronunciation and intonation.
Beneath the bustling streets of London lies a concealed world waiting to be discovered—an ancient labyrinth of forgotten waterways that holds the key to the city's past. These hidden rivers, kept secret for centuries, entice curious individuals to unearth the mysteries of a forgotten era and ignite their imagination.
Once the lifeblood of London, these clandestine channels powered industries and provided sustenance for its inhabitants. From the serene flow of the Fleet to the winding bends of the Tyburn, these subterranean arteries were the pulsating veins that echoed with the vibrant rhythm of the city's life. Venturing into these covert waterways is akin to embarking on a journey through time. The atmosphere carries a heavy sense of antiquity as the whispers of the past reverberate through dimly lit tunnels. Ancient brickwork, adorned with moss and ivy, stands as a testament to the passage of time, while the gentle trickle of water whispers forgotten stories to those who dare to listen. Today, a renaissance is underway to revive these lost rivers and breathe new life into their forgotten existence. 
Emerging from the depths, London's lost rivers weave history into the present, unraveling the secrets of bygone eras and infusing the allure of nature amidst the sprawling urban landscape.
Comprehension questions
I will read each question. Then, please answer them based on the article.
What lies beneath the bustling streets of London?
How would you describe the atmosphere in the subterranean waterways?
What is the current effort being made regarding the lost rivers of London?
What do the lost rivers of London reveal about the city's history?
How do the lost rivers add a natural element to the urban landscape of London?
Discussion questions
I will read each question. Then, please answer them.
Have you ever explored any hidden or secret places in your city or town? If so, could you describe your experience? If not, would you like to explore one? Why or why not?
Have you ever visited a place that made you feel like you were stepping back in time? Could you describe that experience and how it made you feel?
Do you agree that exploring hidden rivers beneath a city can provide a fascinating glimpse into its past?
What role do the hidden rivers play in preserving biodiversity and providing a peaceful retreat for city residents?
Reflecting on the article, why do you think these lost rivers are considered a captivating ode to London's spirit?
Listening: